Daybreak's latest leading man hopes to stay for a spell
03/03/09 10:12 AM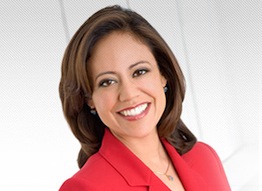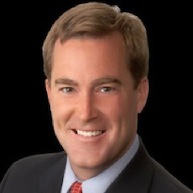 Latest Daybreak team: Cynthia Izaguirre and Chris Flanagan
By ED BARK
WFAA8's
Daybreak
and Cynthia Izaguirre welcomed the show's fourth leading man in eight months Tuesday, with newcomer Chris Flanagan pledging allegiance throughout his first shift.
"Will you make me a promise? That you're not going to leave?" Izaguirre asked/begged him halfway through the 5 to 6 a.m. portion.
"You can't run me off," said Flanagan, who arrives from ABC affiliate WOI-TV in Des Moines, Iowa.
They tried this again in the 6 to 7 a.m. hour, with Izaguirre telling viewers, "And yes, I have a new co-anchor."
"And you're not gonna run me off," Flanagan rejoined.
Both laughed heartily each time, although it's no laughing matter.
Daybreak
currently is running third in the key early morning rating race behind NBC5 and Fox4. And part of the reason may be the merry-go-round of males sitting next to Izaguirre, who herself is only two months into her second year with the program.
Her first partner, Justin Farmer, left in early August after six months as a lame duck enroute to WSB-TV in Atlanta. Interim
Daybreak
co-anchor Brad Hawkins, who was promoted from within, quit the TV news game in December to take a PR job with Dallas-based Southwest Airlines. Then Jeff Brady kept the seat warm for Flanagan while also announcing that he'd be leaving WFAA8 (at the end of this week) to start his own consulting firm.
Flanagan, who's here just in time for St. Paddy's Day, has short-cut reddish hair, a wife, two kids and apparently the essential amiable demeanor for the punishing early morning shift, which he's never worked before.
"I am thrilled to be here, Cynthia. I am so thrilled," he told Izaguirre in the opening minute of
Daybreak
's 5 a.m. start time. "I slept like a baby. I'm gonna beat the kids to bed."
Weatherman Greg Fields then immediately reminded viewers that Flanagan is only the latest jaunty male to wake up and smell the (Irish) coffee.
"Glad to have you," Fields told him. "Hopefully Cynthia will keep you around for a while."
They matched for starters -- Flanagan in a bright red tie and Izaguirre in a bright red top. He might want to unbutton his suit jacket when sitting down, though. It splayed out all day Tuesday, showing the bottom of his tie as well as its knot.
Gentlemen's Quarterly
no doubt would sniff at this semi-bumpkin-ish fashion
faux pas
. Or am I being way too picky?
Flanagan otherwise got through his first program in pretty good shape, using the "thrill" word on six occasions. That almost matched the grand total of seven foundation repair and hearing aid ads fronted by former WFAA8 weatherman Troy Dungan during the two-hour program. No one can accuse Dungan of not giving back. The station once paid him handsomely. Now he's fronting companies that put money in WFAA8's pocket during the ongoing economic death spiral.
WFAA8's morning team also gifted Flanagan -- with a wood-framed Texas flag made of tiles.
"You guys are incredible," said the new guy, who failed to bring a hostess gift. "I may not be lucky enough to be born here, but I'm smart enough to move here to North Texas."
They all say that, of course. Flanagan also renounced the Midwest's cold weather and proclaimed himself a Dallas Cowboys fan before it was time to say goodbye.
"Hey, you can take a deep breath now," Izaguirre told him. "You got your first show under your belt."
Flanagan instead exhaled before exchanging a fist-bump with her.
"We're so glad you're here. Let's this do this thousands of more times," Izaguirre said hopefully.
"Yes, awesome," he rejoined. "I had a lot of fun."
Dungan's fourth hearing aid ad then popped up before
Daybreak
gave way to ABC's
Good Morning America
. In the end, the old dog may have logged almost as much face time as the new pup. Some things never seem to change.