Former NBC5 anchor Jane McGarry talks about returning to TV with 5-part series on WFAA8's Good Morning Texas
01/18/13 07:04 PM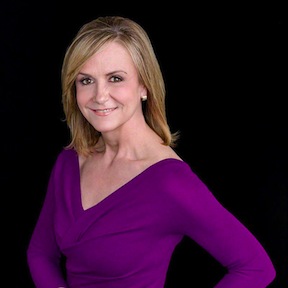 Jane McGarry in photo from her Facebook pageBy ED BARK
@unclebarkycom
Off the air since May of last year, former NBC5 anchor Jane McGarry is getting a test drive on WFAA8's
Good Morning Texas
with a five-part "Starting Over with Jane McGarry" series.
It's scheduled to launch on Thursday, Jan. 24th and continue for the next four Thursdays, In a publicity release
sent to the Fort Worth Star-Telegram
(but not to unclebarky.com as of this writing), WFAA8 said McGarry's weekly stories "will focus on a variety of subjects, all involving local people who have experienced significant change in their lives, often due to unforeseen circumstances."
Reached by phone Friday night, McGarry said she has completed one of the stories and will be in WFAA8's
GMT
studios this Thursday to introduce it during the show's regular 9 a.m. telecast. She declined to say what the topic will be.
"I think it's a terrific project that truly will help a lot of people," McGarry said. "And the people I've been working with at
Good Morning Texas
have been great. I'm excited to be back hopefully serving the community of viewers that I have known for more than two decades."
In that sense it will be a personal "Starting Over" for McGarry, who had been a key player at NBC5 since 1982 until being arrested last May for allegedly driving while intoxicated. She eventually pleaded no contest to a Class B misdemeanor charge and on
July 10th both resigned from NBC5 and apologized
on her still heavily trafficked
Facebook page
for "my irresponsible behavior."
McGarry agreed it was "like riding a bike" to get back in front of a television camera. Her segments are being shot and produced by WFAA8 staffers.
"The thing I've always liked most about TV is I like learning about people," McGarry said. "And this is going to give me a new opportunity to do that. I'm not just saying that. I think there's huge potential here. There's a chance to do some really fun, interesting and helpful work."
McGarry also acknowledged, "Those of us in the media, we love it. We just love it."
She firmly closed at least one door. KTXD-TV (Ch. 47) management had approached her about being a regular contributor to the D-FW station's baby boomer-aimed
The Texas Daily
, which launched on Oct. 1st of last year and since has been moved from an 8 a.m. to 6 p.m. start time.
"It was not a good match for where I wanted to go and what I wanted to do," McGarry said of
Texas Daily
, whose contingent of veteran D-FW television news personalities includes Tracy Rowlett, Troy Dungan, Iola Johnson, Scott Murray and John Criswell.
McGarry said she has other projects in the works, but isn't free to discuss them yet.
WFAA8 already is promoting McGarry's first appearance on
GMT
. Here's the spot.
unclebarky@verizon.net