Pistol-packin' Suzie again off her feed on D: The Broadcast (for which they should be thankful -- for now)
03/06/13 01:52 PM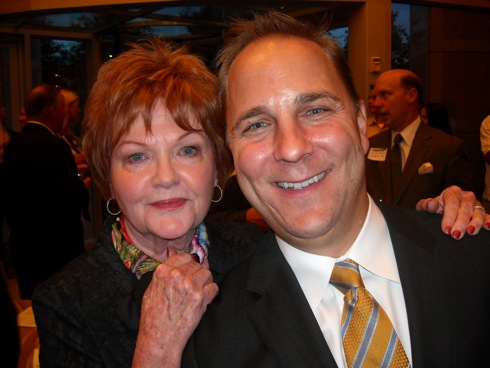 Suzie Humphreys with KTXD-TV station manager Brian Joyce at last September's launch party for The Texas Daily. Photo: Ed Bark
By ED BARK
@unclebarkycom
So did she walk off in a huff, as some viewers perceived? Or was her sudden disappearance from Wednesday's 9 a.m. edition of
D: The Broadcast
more or less planned that way?
Veteran broadcaster/motivational speaker Suzie Humphreys, basically the resident babysitter and truth-teller on the new KTXD-TV (Ch. 47) program, no doubt had a pointed exchange with co-panelist Pat Smith. A reader of unclebarky.com termed it a "smack down" that left the one-hour live program without Humphreys' presence on the couch during the group sign-off with Smith and fellow regulars Lisa Pineiro and Courtney Kerr.
Your friendly content provider didn't see the show, which basically is airing in a vacuum with little or no audience in its early stages, according to the daily D-FW Nielsen ratings. But Phil Hurley, executive VP and chief operating office of Dallas-based London Broadcasting (which owns KTXD), promptly replied to unclebarky.com when asked what happened.
Here's his version, based on talking to the program staffers who witnessed Humphreys' walkout. During a "Suzie Says So" segment, Humphreys and Smith were somewhat at odds on the question: "If you hate your job and your boss, do you quit without having another job to go to?"
Humphreys said the best option was to quit. Smith said it sometimes might be wiser to find another job beforehand because there are still bills to pay.
"Suzie was upset and left the set during the wide shot cutaway," Hurley said Wednesday via email. "She was leaving the show early because she had a speaking engagement in Amarillo. There were no plans for her to return for the remaining segments, so the departure was planned. But the disagreement wasn't planned, and she was upset."
On the way out of the station's North Dallas studios, Humphreys "declared that it probably makes for good television," Hurley added. "And the producer and general manager agreed. I thought it was pretty interesting and natural. And we hope they continue to give different opinions."
Humphreys, formerly a mainstay on radio personality Ron Chapman's long-dominant morning drive-time show, originally signed on as one of the well-weathered "pundits" on KTXD's
The Texas Daily
. Aimed at baby-boomers over the age of 50, that show premiered on Oct. 1st in an 8 a.m. weekday slot but since has been moved to 6 p.m.
But when
D: The Broadcast
launched on Feb. 18th, Humphreys was cast as the show's distaff Andy Rooney. The three trendier women surrounding her each have less mileage on them than one of Humphreys' garter belts. And she hasn't been shy about calling them out if their views and facts seem vacuous or ill-informed to her. That was
evident on the very first show
.
The traveling Humphreys hasn't yet returned an email asking for her side of what happened. But
D
magazine's Tim Rogers, who's been beating the drums for
D: The Broadcast
on the magazine's FrontBurner blog, subsequently filed a
mid-afternoon post
that included both a phone interview with Humphreys and video of the segment in question. In Rogers' account, her speaking engagement was in Midland, not Amarillo.
"I don't think we both even realized what was happening," Humphreys told him in part. "We were suddenly combative. And not combative like ugly, but Pat was headed in one direction, and I was headed in the other."
Humphreys also said of Smith, "I love this woman. She's a fabulous woman."
(In fairness to Smith, the video shows that Humphreys had a pretty short fuse on this one. Things got a little nasty when Smith said, "Suzie, you're not listening" before Humphreys retorted "Oh, I'm sorry" and then sarcastically invited Smith to do the next "Says So" segment.)
For now, it's all good. Because any further attention directed toward this ratings-starved show, even from this corner, is pretty much welcomed by both the
D
magazine people and KTXD.
Whether Humphreys' psyche can co-exist with her three co-hosts is still an open-ended question, though. Wednesday's flare-up in the short term may be good for business. And
D: The Broadcast
, which registered "hashmarks" (no measurable audience) in Tuesday's 18-to-49-year-old Nielsen ratings measurement, could certainly stand a little more "controversy" of this sort.
Perhaps Humphreys next can aim a knitting needle in the direction of Smith or one of the others. That might even make
TMZ
. For now,
D: The Broadcast
already is a whole lot livelier than WFAA8's infomercial-laden
Good Morning Texas
. We'll see how it all shakes out.
unclebarky@verizon.net