Running the shows: Press Club of Dallas salutes five boss ladies of D-FW television news
10/29/12 04:15 PM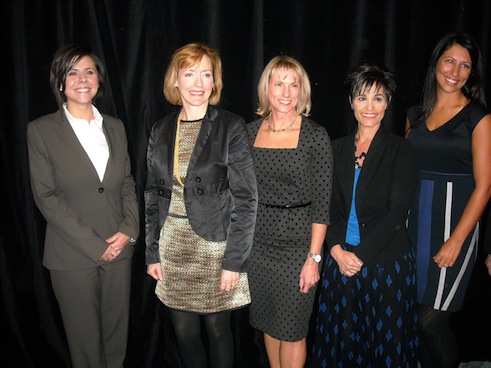 Left to right are D-FW television news directors Adrienne Roark (CBS11); Robin Whitmeyer (Fox4); Susan Tully (NBC5); Carolyn Mungo (WFAA8) and director of content Larissa Hall (CW33). Photos: Ed Bark
By ED BARK
@unclebarkycom
A bright, picture-perfect fall day brought out the sunny dispositions Monday of a unique Dallas-Fort Worth quintet.
No other TV market has women in charge of all five major broadcast station news rooms. And they gathered together for the first time at a sold-out "Breaking News and Ceilings" event sponsored by the Press Club of Dallas.
The mood remained decidedly congenial during a 90-minute luncheon/panel session at the posh Four Seasons Resort and Club Dallas at Las Colinas. No one rained on anyone's parade during the outset of the highly competitive November "sweeps" ratings period. But the dean of the group, NBC5 news director Susan Tully, did acknowledge her fondness for inclement weather and the inflated newscast audiences that usually accompany it.
"To me the fun events are ice storms . . . I love ice storms," she said. Disclaimer: "I hate them personally," she added. But few sights warm a news director's heart more than a live shot from an overhead bridge, complete with a flash-frozen reporter braving the elements. They're ratings gold.
CBS11 news director Adrienne Roark also professed her love for ice storms. "The weather here is just fantastic," she said before also extolling North Texas as home to some of the best hail storms in the business. Fingering wrong-doers also can be a blast, said Roark. "When you catch someone doing something they shouldn't be doing, that is a lot of fun."
The session was moderated by veteran political media strategist Mark McKinnon, whose clients have included George W. Bush, Ann Richards and Bono. But McKinnon never mentioned the upcoming presidential election during his quizzing of the five women. Nor did any of a few pre-written questions from the audience.
All agreed this is still a great time for young journalists to get into the TV news business, even though budgets, salaries and staffing aren't nearly what they used to be. The increasingly heavy "social media" content of local newscasts make them ripe for newcomers who grew up with Facebook, Twitter, blogs and the like, said WFAA8 news director Carolyn Mungo.
"This is the
best
time for interns to come in and work in a news room," she emphasized. And the non-stop, constantly ravenous 24-hour news cycle couldn't agree with her more. "I adore it. I embrace it," Mungo said.
WFAA8 news personalities such as Gloria Campos, one of the station's more frequent tweeters, give viewers an extra bonus by revealing more of themselves, Mungo added. "If she (Campos) pulls back the curtain a little bit, people eat that up."
Fox4 news director Robin Whitmeyer, who worked her way from the ground floor up during a long tenure at WSOC-TV in Charlotte, NC, said she'd still rather hunker down in a news room with her reporters and editors. The closed-door managerial demands of her job often aren't as much fun, she said, but can't be pushed aside.
Breaking news still dominates on most days and nights. But Whitmeyer said she often gets more excited about "the enterprise stories that start out small and then on the air, they just flourish."
Larissa Hall, newest addition to this group as CW33's director of content, is currently devising a revamped 9 p.m.
Nightcap News
hour modeled after the station's early morning, comedy-laced
Eye Opener
. Launch date is Thursday, Nov. 1st, with hopes of retaining a larger percentage of the CW network's 18-to-34-year-old target audience. Many of the old newscast staffers have been terminated during this unsettling transition.
Hall said she considers herself a "change agent" whose mantra is "Let's do something different." Keeping up with the ever-escalating changes in technology and news delivery "can be frustrating," she said. But whatever direction a newscast takes, "at some level we are all entertaining in a way," Hall said.
The audience for the event included a number of prominent anchors and reporters. Fox4's Steve Eagar, Heather Hays, Clarice Tinsley and Brandon Todd made the trek, as did NBC5's Deborah Ferguson, Brian Curtis and Mark Hayes. WFAA8's Campos and Shon Gables also were in the house. But the event's only spontaneous standing ovation was for NBC5 entertainment reporter Bobbie Wygant, whose tenure with the station dates to its very first day on the air.
Here are a few other pictures from Monday's unprecedented gathering: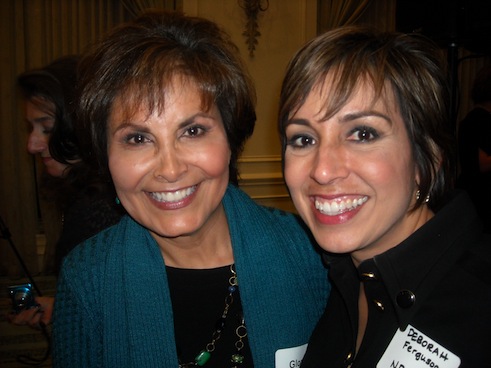 WFAA8's Gloria Campos and NBC5's Deborah Ferguson.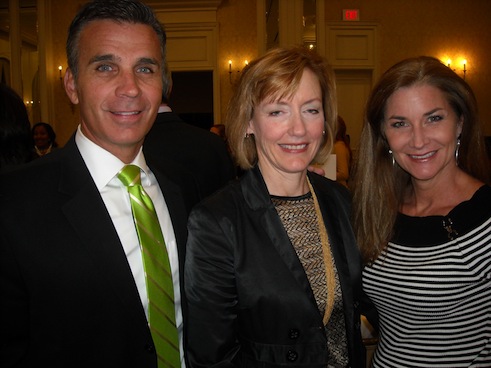 Fox4's Steve Eagar, Robin Whitmeyer and Heather Hays.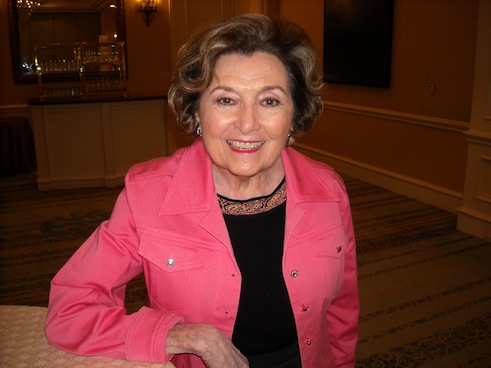 The one, the only Bobbie Wygant, still with NBC5.
unclebarky@verizon.net