CBS11's Ginger Allen opting out of early mornings to become station's lead investigator
07/13/10 12:10 PM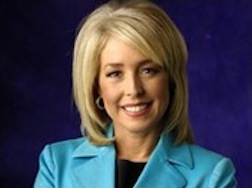 By ED BARK
Ginger Allen
, CBS11's early morning co-anchor for the past three years, is returning to the gumshoe beat as the station's "senior investigative reporter."
Staffers learned of the change in a memo from news director Adrienne Roark, who said that Allen will remain on CBS11's yawn patrol until the end of this month in tandem with holdover Scott Sams.
"We will now start the search for her replacement," Roark said.
Allen previously had been part of a three-reporter investigative unit with Bennett Cunningham and Robert Riggs, both of whom have left the station.
"As most of you know, it is a high priority for us to rebuild our investigative team," Roark said in the memo. "This was a tough decision for Ginger, as she loves anchoring and working with the morning team. But it was one she made for two reasons: her love of investigative reporting, and her love for her family."
Allen and her husband, Scott, have two children who are "getting more involved in school and sports," Roark said. At the same time, her husband's job demands lately are requiring him to travel more.
"This move allows her to put her family first and continue doing what she loves -- stories that make a real difference in people's lives," Roark said.
Allen joined CBS11 in 1999. The station's early morning program, which recently joined Fox4's in starting at 4:30 instead of 5 a.m., continues to run fourth in the D-FW Nielsen ratings. In the summer of 2007, Allen replaced early morning co-anchor Shannon Hori, who left CBS11 to join CBS-owned WFOR-TV in Miami. Roark joined CBS11 from WFOR earlier this year.