NBC5's Snyder vows to take it off
06/23/08 05:57 AM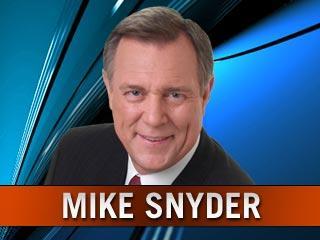 By ED BARK
NBC5 anchor Mike Snyder wants to be 66 pounds lighter 66 days from now. Fat chance?
The veteran TV newsman, on vacation for the next two weeks, says he's ready to be roughly three-quarters of the man he is now. In a dispatch posted Friday (June 20th) on his
"Mike's Open Mic"
blog, Snyder divulges details of his burgeoning weight and his plans to take it off.
"Okay, I get it," he says. "I can see in the mirror, I feel the tightness of my clothes and I hear the comments from many of you, friends and foe alike, that the girth has got to go. I get it! Full disclosure here, I weighed in at 256 lbs. this morning, the heaviest I have ever been in my life. Enough."
Snyder, who joined KXAS (Channel 5) in April 1980 as an investigative reporter, has ballooned during the recent years of his 16-year tenure with co-anchor Jane McGarry. Now he has the gut -- and the guts -- to do something about it. And while vacationing no less. He wants to get down to 190 pounds in just a little over two months by shedding a pound a day.
"I will be first taking a very simple approach, cutting each meal in half, purposely leaving half of what I used to eat on the plate," Snyder writes. "I am going to avoid the fried stuff, breads and pastas I love. I am going to be drinking buckets of water. And the big part of my lower calorie intake equation is to burn more than I take in by walking. Five miles a day is my initial goal."
Snyder says he'll update his weight loss efforts on his blog. He has a soul mate, of sorts, in WFAA8 sports anchor Dale Hansen, who began a Slim-Fast/banana regimen on New Year's Day and
lost roughly 50 pounds
by the end of the February "sweeps" ratings period.
Here's
video
of how Snyder looked when he made his debut with McGarry in April 1992.