Grubs and grackle poop mix -- and yes, that's a compliment
03/11/09 01:35 PM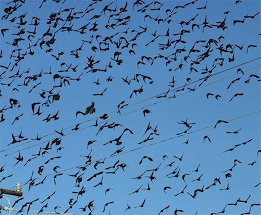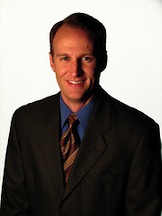 Pooper duper: A flock of grackles and Fox4 reporter Matt Grubs.
By ED BARK
The newsroom at Dallas-based Fox4 has sustained many voluntary and involuntary departures in the past year-and-a-half. Some very good reporters have left the building, but at least one standout arrival is helping to fill those voids.
He's Matt Grubs from KOAT-TV in Albuquerque, NM, who arrived at Fox4 last fall and has shown himself to be both a solid street reporter and an easy-on-the-ears stylist. His storytelling tends to be breezy without being overblown. And his decibel level is bracingly low-key and conversational. Kind of NPR-ish, which is nice.
On Tuesday's 9 p.m. newscast, Grubs deftly tiptoed through the John Wiley Price/Kenneth Mayfield grackle poop spat in a story that also was covered by NBC5 and WFAA8.
In short, the two oft-at-odds Dallas County Commissioners have been arguing over the Tuesday morning power-washing of the sidewalks in front of their weekly meeting place. Mayfield wants it re-scheduled because he recently got sprayed as well. Price, ever the showman, took over for the regular maintenance city crew Tuesday morning, and vowed to keep doing so until further notice.
"This is the seat of county government. We ought to at least have it clean," Price reasoned.
NBC5's Ken Kalthoff and WFAA8's Cynthia Vega recounted this little drama matter-of-factly, and without any puns intended. But Grubs got away with saying that Price "had what you might call an excrement idea."
Then came came the clincher. Grubs first noted that The Sixth Floor Museum is located adjacent to the offices where the commissioners meet on Tuesday mornings. Then he told viewers, "Price argues that the effort to de-turd doesn't seem to have deterred anyone from showing up at the museum."
OK, maybe you have to hear him say it. And you can go
here
for that. But trust me, Grubs pulled it off. Besides, word plays of that caliber are seldom heard anywhere at any level of TV news reporting.
It should be noted that WFAA8's
Gary Reaves had a story
on the previous Tuesday about the initial Price/ Mayfield argument on when to power-spray the pathway to their meeting place. And Reaves had his moments, too, informing viewers that "we did some digging and we got the scoop. And it turns out that the scoop is full of bird poop."
Reaves also spoke of how grackles "darken the skies and lighten the sidewalks with their sticky, stinky droppings." Not bad. But he ended by inviting viewers to "make your own pun."
Grubs left little to viewers' imaginations, instead using his own. And his de-turd/deterred line laid waste to grackle poop-dom's previous grand champion, NBC5 reporter Randy McIlwain. In his
November, 2007 story from Frisco
, the resourceful McIlwain said from a grackle-pocked parking lot: "Experts say if you think those droppings are just a nuisance, you really don't know crap."
That was the yardstick until Grubs took charge. You have to pick your spots with this stuff, but so far so good. Grubs looks like a natural, whatever assignment he's given.
To learn more about his origins, read his official
myfoxdfw bio
, which begins, "My life began like most do: dropped in a basket and floated off down the Nile until I came ashore in some reeds. I frolicked in the jungle with the bear who adopted me, keeping a wary eye out for the tiger that ruled our tiny patch of earth . . . "
Let's put out the welcome -- Matt.