National Geographic Channel's Killing Kennedy revisits site of Oswald's capture for first screening
10/21/13 12:34 PM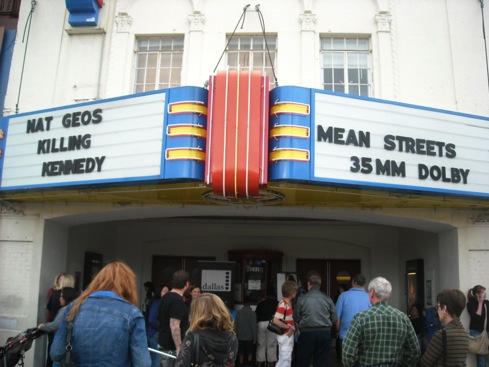 Chilling double bill: National Geographic Channel's world premiere screening of Killing Kennedy had an oddly appropriate marquee mate Friday evening at the Texas Theatre in Oak Cliff. Photos: Ed Bark
By ED BARK
@unclebarkycom on Twitter
Again in character. The venerable Oak Cliff venue where police apprehended Lee Harvey Oswald almost 50 years ago relived its inescapable past Friday night with the inaugural screening of National Geographic Channel's
Killing Kennedy
.
And that's not all. The actor playing Oswald, Will Rothhaar, attended the event, watched himself being arrested on the Texas Theatre's big screen, took a few questions and then agreeably posed for pictures with new fans.
In prepping for the role, "I was overcome with this wave of compassion and sadness for the guy," said Rothhaar, who co-starred last fall in ABC's short-lived
Last Resort
drama series. Unlike Oswald, the actor said he was "lucky to grow up in a house that was filled with love all the time."
Director Nelson McCormick and screenwriter Kelly Masterson joined Rothhaar onstage for a Q&A session after
Killing Kennedy
generated applause by a good number of the invited guests. The film also stars Rob Lowe as John F. Kennedy; Ginnifer Goodwin (currently playing Snow White in ABC's
Once Upon A Time
) as Jacqueline Kennedy; and Michele Trachtenberg (
Buffy the Vampire Slayer, Gossip Girl
) as Oswald's wife, Marina. Adapted from the same-named Bill O'Reilly/Martin Dugard bestseller, the film is set for a Nov. 10th premiere on National Geographic.
McCormick said he first noticed Rothhaar during his unsuccessful audition for a recurring role on Fox's
Touch
, the Kiefer Sutherland series that since has been canceled. "For some reason" the part went to a British actor, McCormick said. But he remembered Rothhaar's work after being hired to helm
Killing Kennedy
.
Rothhaar, who in effect steals the film with an arresting performance, said he didn't hesitate when offered the part. "Am I not an actor?" he asked rhetorically. "You're going to pay me to do this?"
He visited the site of the Nov. 22, 1963 assassination with his family "several times as a child," but hadn't been back to Dallas since, Rothhaar said.
Killing Kennedy
didn't require him to revisit the scene of his character's crimes. It was made entirely in Richmond, VA, McCormick said, contending that "time and money wouldn't allow" for on location filming in Dallas.
Killing Kennedy
took just 18 days to make. Its back-and-forth tracking of JFK and Oswald begins four years before the two men were indelibly intertwined. McCormick said he modeled the overall approach after the feature films
Taxi Driver
and
Argo
.
In that context,
Killing Kennedy
eerily shared the Texas Theatre marquee Friday evening with
Mean Streets
, director Martin Scorsese's breakthrough feature film before he made
Taxi Driver
three years later in 1976.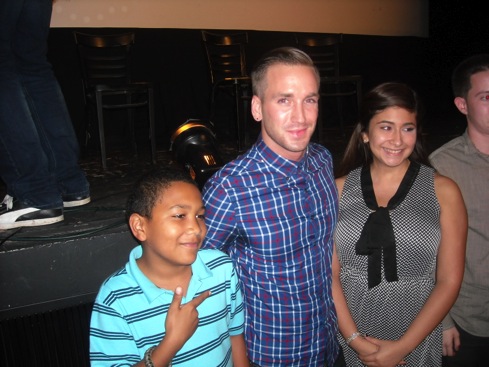 Rothhaar segues from playing Oswald to posing with fans.
Killing Kennedy will be part of an avalanche of TV programming marking the 50th anniversary of the Kennedy assassination in Dallas.
CBS News has just announced its plans, which include former WFAA8 reporter Scott Pelley anchoring the
CBS Evening News
from Dallas on Nov. 22nd.
Bob Schieffer, a reporter with the
Fort Worth Star-Telegram
50 years ago, also will be in Dallas for the Sunday, Nov. 17th edition of his
Face the Nation
. And on Saturday, Nov. 16th, CBS will air a prime-time special titled
As It Happened: John F. Kennedy 50 Years
. Schieffer also will anchor that one-hour program.
Email comments or questions to:
unclebarky@verizon.net