Rebecca Miller bakes and bides her time
06/18/08 10:50 AM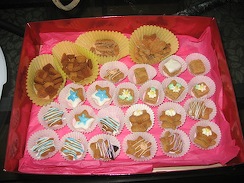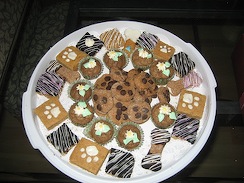 Former NBC5 meteorologist Rebecca Miller is baking gourmet dog treats while otherwise still sitting out a six-month "non-compete" clause. These are some pictures she took of recent cookie batches.
By ED BARK
Rebecca Miller is baking away -- and probably simmering a bit, too -- while her early morning replacement at NBC5, former Weather Channel meteorologist Jennifer Lopez, prepares to make her on-air debut.
Lopez officially began at the station on Monday (June 16th), but is "learning the systems" before joining NBC5's pre-dawn yawn patrol, vice president of programming Brian Hocker said Tuesday.
Meanwhile,
Miller
continues to sit out a six-month "non-compete" clause, even though NBC5 chose not to renew her contract and
dropped her
in early March.
"Here's the dilemma," Miller told unclebarky.com in an email sent Tuesday. "Channel 5 probably couldn't enforce my 'non-compete.' What I have found out is that other stations (in the D-FW market) can't talk to me during my non-compete because they have their own non-competes with their own employees. By talking to me and violating my non-compete, they would send the wrong signals to their own employees, and that's something they don't want to do."
Non-competes are standard in the TV business, with stations wanting to protect themselves from talent jumping to a rival station after they've built their names up. CBS11 anchor Tracy Rowlett was "on the beach" for a while after he decided to leave WFAA8. And former WFAA8 anchor John Criswell likewise had to stay off the air for several months after signing a deal with KDFW-TV (Channel 4) long before it became a Fox-owned station.
In both cases, the warring stations worked out compromises that decreased the anchors' off-air down time. In the interim, Ch. 4 put up billboards showing Criswell with his mouth taped shut.
Miller's case is notably different, because she didn't choose to leave NBC5. But stations can still enforce non-compete clauses in their former employees' contracts. (NBC5 generally does not comment on "personnel matters," particularly sticky ones. That's standard operating procedure with their competitors as well.)
Miller says she'll officially be "available" -- as a TV meteorologist -- in early September. And she'd still like to get back in that game despite recurring bad dreams.
"I thought by now I'd be completely rested," she said. "But I still wake up with nightmares where I'm being yelled at for wearing the wrong jacket or pants, having the wrong hairstyle or color, saying the wrong thing, showing the wrong map."
Her on-line courses in Homeland Security at Texas A&M University will resume in the fall, she says.
"So I continue taking the summer off, but I've been busy . . . I've always loved baking for people and baking for dogs, so I've started a line of gourmet treats."
Some of her canine platters are pictured above, and look tempting to a human named Ed Bark. But no, best not place an order. And our cats probably would pass, too.