WFAA8's Shelly Slater still waiting for 5 p.m. call-up
04/07/09 05:05 PM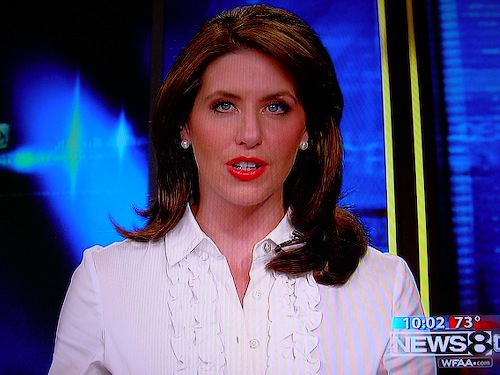 WFAA8's Shelly Slater continues to anchor on weekends. Photo: Ed Bark
By ED BARK
She's competent, confident and, dare it be said, cute.
And by all accounts, WFAA8's Shelly Slater also is very eager to move up the anchor food chain at a station where vacancies exist.
Still, she remains on weekends while the Dallas-based ABC affiliate's ratings-challenged 5 p.m. weekday newscast is still without a permanent anchor team or even a designated solo pilot.
It's been that way since
Macie Jepson
was laid off last August and
Jeff Brady
left WFAA8 in March to start his own media company. Before that he pinch-hit for a few months on the station's early morning
Daybreak
program.
WFAA8 suffered a blow to its pride and its pocketbook in the just-concluded, one-time-only March "sweeps," where it
lost at 5 p.m
. for the first time in at least 22 years. Part of the reason is declining ratings for
The Oprah Winfrey Show
, a onetime juggernaut that now is being narrowly beaten by Fox4's syndicated
Judge Judy
and almost beaten by NBC5's
1st at Four
local newscast.
Still, you can't lay it all on
Oprah
. Viewers simply aren't responding to WFAA8's 5 p.m. newscast the way they had for years. And a revolving door of substitute anchors probably doesn't help matters, even if more often than not it's 6 and 10 p.m. anchors John McCaa and Gloria Campos pulling extra duty.
WFAA8 management has no immediate plans to hire any new anchors. A horrid economy has seen to that. And there's no comment on whether someone in-house might get the 5 p.m. anchoring post on a permanent basis. So that brings us back to Slater, who joined WFAA8 in October 2006 from Fox-owned WDAF-TV in Kansas City.
I initially predicted that Slater would be a full-time weekday anchor within roughly a year's time, but obviously that hasn't happened. Is anyone else surprised about that?
Now in her third year with WFAA8, Slater has been a polarizing figure in these spaces. People seem to love her/loathe her, with little wiggle room. Posts on other D-FW women anchors have a way of detouring toward Slater in the comments sections. Viewers definitely have noticed her.
WFAA8 research may show some of this as well. You don't want an anchor who actively turns too many viewers off. On the other hand, bland usually doesn't work either.
My feeling on Slater is that she remains a very strong talent -- and knows it. There's still a bit of "all that" to her, but that can be tempered in time. For now she continues to anchor on weekends while the 5 p.m. weekday newscast's diminished numbers are starting to hurt the 6 p.m. turnout as well. Could she make a difference at 5 p.m., either as a solo act or with a permanent male sidekick?
Stations didn't use to let this stuff go. In the not so distant past, WFAA8 already would have launched a promotional campaign touting its "new" 5 p.m. newscast. But Jepson and Brady are gone, and Slater still waits in the wings. It might someday reach the point of using her or losing her. For now at least, WFAA8 continues to let it slide.