Budget cuts knock the wind out of Sky 4, Chopper 5 and Chopper 11
01/05/09 01:10 PM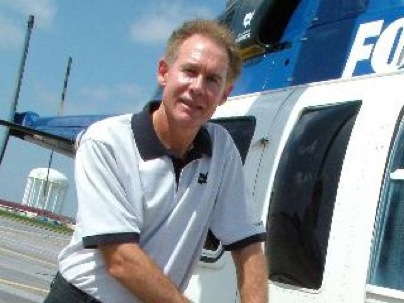 Pilot/reporter Scott Wallace and the newly grounded Sky 4
By ED BARK
Three of D-FW's four major TV news providers are lowering their overheads by opting for cheaper choppers.
Gone are the bigger Bell helicopters that long have assumed the identities of Sky 4, Chopper 5 and Chopper 11. The veteran pilot/reporters who flew them, Fox4's Scott Wallace, NBC5's Ken Arnold and CBS11's Hector Cavazos, also are out of the picture.
"We all had our final flights on New Year's Eve," Wallace said in a telephone interview.
The three stations instead are turning to Garland-based
Sky Helicopters, Inc.
and its smaller Robinson R44 whirlybirds. The company offers less costly weekly, monthly and long-term "turnkey aircraft/pilot packages" to clients. WFAA8 also uses Sky Helicopters on occasion, but otherwise still deploys its trademark HD Chopper 8 with pilot/reporter Troy Bush.
"TV stations aren't making the money they used to make, and one of the biggest budget items is a helicopter," Wallace says. "We're like the fire trucks at the stations. We hop in the helicopters and we go to wherever the news is happening."
Wallace, who was president of the National Broadcast Pilots Association from 2001-'08, piloted Sky 4 for 13 years before the station grounded him. Under the new arrangement with Sky Helicopter, stations "won't have the experienced pilot or reporter on board describing the action on the ground," Wallace says. "That's something they're going to lose. The anchors are going to have to figure out some context for the picture. All they're going to receive is the video feed."
It's debatable how much of value viewers will be missing. It wouldn't hurt a bit, for instance, if stations all but ended their live, blow-by-blow reports of ongoing car chases. We also could survive with fewer overhead shots of burning buildings, car wrecks or neighborhoods that may or may not have a fugitive on the loose or in hiding.
Helicopters obviously can show the bigger picture, too, particularly in times of natural disasters. And they're still the optimum way to go when a reporter and cameraman need to travel fast to a distant, breaking story.
However it all shakes out, this looks like the end of an era. Helicopters used to be major players in typically overblown promotional campaigns. They were considered part of the news team, let alone a "flying billboard for the station," as Wallace puts it. In 2005, CBS11 sold
"limited edition" mini-replicas
of Chopper 11 to benefit the North Texas and Tarrant Area food banks.
Now you can slap a "For Rent" sign on Sky 4, Chopper 5 and Chopper 11 while their trusty pilots all look to fly for someone else.