TV Bulletin Board (Aug. 3)
08/03/07 13:56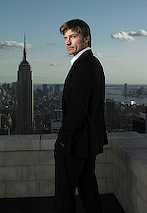 Don't Forget the Lyrics!, is in, triggering a fall cop-out for Fox.
By ED BARK
Fox became the second network Friday to elevate a summertime singing competition to its fall schedule.
The rise of
Wayne Brady
's
Don't Forget the Lyrics!
means at least the temporary demise of the cop drama
New Amsterdam (pictured right), which will be benched for now.

Last month, NBC promoted Joey Fatone's The Singing Bee to its autumn lineup after it came out swinging in the Nielsens opposite Fox's baseball All-Star game.

Lyrics! will follow Are You Smarter Than a 5th Grader? on Thursdays at 8 p.m. (central), beginning Sept. 6th. That displaces the previously announced Kitchen Nightmares, which goes to Wednesdays at 8 p.m. This means that Bones will shift from that slot to Tuesdays at 7 p.m., preceding House.

All of this leaves New Amsterdam, the previously announced Tuesday 7 p.m. show, on the outside looking into a possible void. Might it become the latest Fox series to be announced for fall and then never air at all? Previous shows meeting that fate include Manchester Prep, The Grubbs and The Ortegas.

Fox also has firmed up its Friday lineup, with Are You Smarter doing double duty at 7 p.m. for the first four weeks of the season. The new reality series Nashville follows at 8 p.m., starting Sept. 14th. Then the American Idol-inspired American Band gets a two-hour Friday premiere on Oct. 19th.

But wait, there's more.

Fox has re-positioned its premiere of Anchorwoman, featuring the TV news exploits of model and former wrestling vixen Lauren Jones at KYTX-TV in Tyler, TX. The "comedy/reality hybrid" now will start at 7 p.m. on Aug. 22nd instead of the previous day.

For your edification, here's archival video of Jones' inaugural grand entrance as a wrestling villain. Even then, the transition to TV news seemed inevitable.