05/16/11 15:57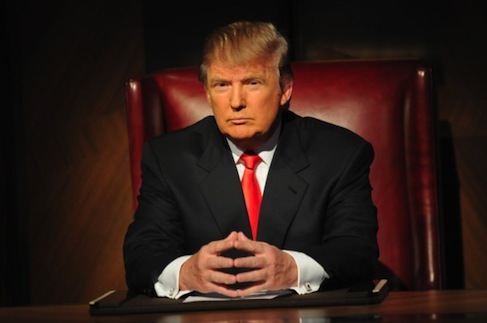 By ED BARK
Having made a collective chump of the national media while drumming up a wealth of free publicity for
The Celebrity Apprentice
, Donald Trump has backed away from his fraudulent,
faux
run for the presidency.
Trump officially declared himself a non-candidate Monday morning during a brief appearance at NBC's "upfront" presentation of its new fall lineup to Madison Avenue advertisers. It clears the way for him to host next season's
Celebrity Apprentice
rather than have a stand-in do the firing in his stead.
"After getting so many calls from Bob and Steve (NBC entertainment chairman Bob Greenblatt and NBC Universal CEO Steve Burke), I've decided that we are going to continue onward with
Celebrity Apprentice
," he said. "We're going to continue making lots and lots of money for charity. I will not be running for president, as much as I'd like to."
Trump, who recently scalded himself by championing the "birther" movement against President Obama, had talked big about an accomplished businessman being needed in the Oval Office to put the United States back on track financially. The national media ate it up while ratings for
Celebrity Apprentice
hit a growth spurt.
He was supposed to save his big non-announcement for this Sunday's season finale of
Celebrity Apprentice
. But NBC had been facing pressure -- even within its own ranks -- to get a definitive answer from rather than continue to put the network's news division in an awkward position.
Trump is nothing if not a blowhard. But he's also a latter day P.T. Barnum who knows that suckers are born every millisecond. So he milked every last ounce of attention for himself before pulling out of a race he almost certainly never intended to run.
***
One wonders what might be coming out of Fred Flintstone's mouth with the
Family Guy
creator at the controls.
Fox announced Monday that the age-old animated series is getting a makeover from Seth MacFarlane, whose other animated shows for the network are
The Cleveland Show
and
American Dad
. Production on
The Flintstones
is set to start this fall, with the series due on Fox's prime-time schedule in 2013.
"The very first cartoon character I drew at age two was Fred Flintstone," MacFarlane says in a network publicity release. "So it 's appropriate that events have come full circle, allowing me to produce the newest incarnation of this great franchise. Plus, I think America is finally ready for an animated sitcom about a fat, stupid guy with a wife who's too good for him."
Fox promises a "modern-day take" from MacFarlane, with Fred, his wife, Wilma and their best friends, Barney and Betty Rubble, all being re-imagined.
The Flintstones
originally aired on ABC from 1960-'66. It ranked among prime-time's 25 most-watched series in both the 1960-'61 and 1961-'62 seasons.