09/12/19 09:49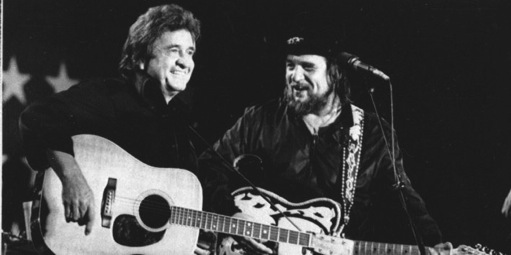 Johnny Cash and Waylon Jennings happily do their thang. PBS photos
Premiering:
Sunday, Sept. 15th through Wednesday, Sept. 18th at 7 p.m. (central), and continuing Sunday, Sept. 22nd through Wednesday, Sept. 25th at the same hour on PBS
Starring:
An array of country music performers, writers, musicians and observers
Directed by:
Ken Burns
Written by:
Dayton Duncan
By ED BARK
@unclebarkycom on Twitter
Be assured beyond any doubt. You'll get the ring, not the finger, by watching
Country Music
.
Ken Burns' latest PBS opus, this one weighing in at 16 hours and eight episodes, is a consistently enthralling and revealing look at a deep drawlin' genre that some have dismissed as something to wipe off their shoes.
There is, of course, a multi-pound companion coffee table book (Alfred A. Knopf, $55 retail). And as Burns writes in its preface, "It is conventional wisdom, accepted by too many, that country music is somehow a lesser art form . . . not befitting the scrutiny of sophisticates and -- God forbid -- scholars."
The long-running TV show,
Hee Haw
, had something to do with that. Nor does The Grand Ole Opry sound quite as high tone as Carnegie Hall. But as Burns and writer/collaborator Dayton Duncan resoundingly show, the music birthed by America's downtrodden -- The Great Unwashed, if you will -- is unvarnished poetry when it comes to life its own self. Whether heart-rending, soul-searching or at times just plain goofy, the music that evolved from hillbilly to country-western to just plain country is something to hear, behold and treasure throughout this long and winding masterwork. As the late architect of
60 Minutes
, Don Hewitt, used to say, "Tell me a story." And the heart of country music beats with the lyrical, autobiographical yarns of its most famous stars, many of whom came from crushing poverty or child abuse -- or both.
Dolly Parton, for instance. The doctor who birthed her was paid with a sack of corn meal. Or George Jones, who married and performed with the equally volatile Tammy Wynette after each endured various childhood traumas they never could conquer. Brenda Lee, the former kid singing sensation once known as "Little Miss Dynamite," got to know both of them well.
Jones "trials and tribulations" completely informed his music, she notes. "George didn't sing country songs. George
was
a country song."
As for Wynette, her "snatches at happiness were few and far between," says Lee. "That's what I observed."
By Burns' count, 101 new interviews were conducted during the eight-year run-up to the finished product. Seventeen of the subjects are now deceased and 40 have plaques in the Country Music Hall of Fame. Among those no longer with us, none are more notable than the legendary Merle Haggard, who was born on April 6, 1937 and died on that same date in 2016.
Not known for being particularly talkative, Haggard turns out to be a generous contributor and keeper of the flame. He details his early years of constant incarceration ("I escaped 17 times from different places in California") before being sentenced to 15 years in that state's notoriously hard-core San Quentin lockdown.
Haggard says he had figured out how to escape from there, too, but was swayed by inmates who convinced him that he had a real talent for writing and singing. Then Johnny Cash came to perform his famous jailhouse concert, with a highly impressed Haggard among the inmates in the audience. He became a model prisoner, earned an early parole for good behavior and then began doing what he did so well for the rest of his life.
One of the more touching moments in
Country Music
comes in Episode 5, when Dwight Yoakam gets teary-eyed while recalling one of Haggard's many achingly poignant lyrics. Yoakam likewise was a big fan of Buck Owens, co-host of the aforementioned
Hee Haw
. Cornpone? Sure. But Owens, with whom Yoakam eventually collaborated on "The Streets of Bakersfield," also was an under-appreciated visionary. He admired The Beatles when many of his ilk and generation didn't. And Owens' hard-driving, high-pitched "Tiger By the Tail" epitomized his desire to "sound like a locomotive comin' right through the front door," in Yoakam's words.
The thoughts and recollections of Yoakam, Haggard, Lee and Parton recur throughout
Country Music
. Loretta Lynn, Willie Nelson, Reba McEntire, Vince Gill, Naomi and Wynonna Judd, Charley Pride, Kris Kristofferson, Garth Brooks, Hank Williams, Jr. and Rosanne Cash are among the many other luminaries offering fresh insights and, in some cases, mini-performances to further underscore what they're talking about. Several artists outside the genre, including Paul Simon, Wynton Marsalis and Elvis Costello, talk briefly about how country music influenced them.
Perhaps the most notable omission is George Strait, who for whatever reason is not interviewed. In turn he's only briefly touched on during a concluding episode in which other "neo-traditionalists," such as interviewees McEntire and The Judds, get appreciably more screen time. Quibble if you will.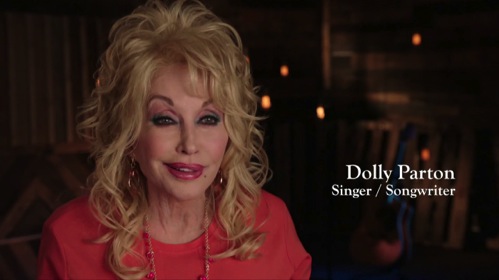 There's also Marty Stuart, a mandolin virtuoso and former best-selling country star who emerges as the film's overall go-to sage, just as Buck O'Neil did in
Baseball
and former Marine John Musgrave in 2017's
The Vietnam War
.
Still very much a pretty boy at age 60, Stuart sports a silver grey coif the size of a Malibu wave and silky smooth makeup that might have made Liberace envious. He also seems to very much know what he's talking about while additionally contributing one of
Country Music
's better anecdotes. As an 11-year-old, he had a big crush on a gorgeous country star named Connie Smith. After briefly meeting her at the Choctaw Indian Fair in Mississippi, Stuart vowed to someday marry her. And 25 years later, in 1997, he did just that. She's now 78, and they're still together after Connie discarded three previous husbands while Marty divorced one of Johnny Cash's daughters, Cindy. That sure does sound like a quintessential country song.
Country Music
begins in 1933 and ends in 1996, save for a climactic carryover to Cash's death in 2003 after his career was revived with a series of acclaimed back-to-basics albums produced by Rick Rubin. Until that happened, the great Cash and his wife, June Carter, had been relegated to performing in Branson, Missouri, sometimes to crowds as small as 200 in theaters seating 2,500.
Daughter Rosanne, a distinct artist in her own right, performed one of her father's most enduring songs, "I Still Miss Someone," at his memorial service.
Country Music
intercuts her rendition with evocative still shots of Johnny and June, all reprised from previous chapters. Earlier on, their Nashville-based TV variety show is shown for what it was -- an under appreciated landmark of the genre that welcomed musicians from all fields, including Louis Armstrong, Joni Mitchell, Eric Clapton and Bob Dylan. Some of the clips are just stunning.
The segment on Kristofferson is also revelatory. One tends to forget what a great songwriter he was, opening "Sunday Morning Coming Down" with the lyric, "I woke up Sunday morning with no way to hold my head that didn't hurt."
Kristofferson notes that he was always unsure of his singing voice. But on Cash's television show, the host convinced him to showcase it. His career then really took off.
Kristofferson also recalls being disowned by his mother after he decided to be a country singer. "Please don't write or come home because you're an embarrassment to us," mama wrote him. Kristofferson's producer at the time, Cowboy Jack Clement, insisted on showing the letter to Cash, who replied, "It's always great to get a letter from home, isn't it, Kris?" Kristofferson laughs richly at this. And indeed it's almost as funny as the title to one of those country "novelty" songs mentioned in Episode 6. It goes like this: "My Wife Ran Off with My Best Friend, and I Sure Do Miss Him."
Cash, Haggard, Parton, you name 'em, owe it all to the country pioneers who set their stages. And
Country Music
does not scrimp on them, devoting generous segments to Jimmie Rodgers, A.P. and Maybelle Carter, Bill Monroe and Hank Williams. They all learned some of their basics from African-American street musicians/mentors who infused their music with varying degrees of the blues. In turn, the likes of Ray Charles and Charlie Parker learned from and appreciated country music for the hardscrabble and intensely human stories it told. One of Williams anthems, "I'm So Lonesome I Could Cry," reflected the anguish within that the "Hillbilly Shakespeare" could never quite shake.
Burns and scriptwriter Duncan again deploy time-tested Peter Coyote as their straight-ahead narrator. Perhaps someone with a bit more lilt would have been a little better fit. But if Coyote's voice never cracks a smile, many of the interview subjects make up for it. Country folk like to spin yarns, as does their music. And darned if they don't feel the need to grin or chuckle heartily at the end of their little stories or observations. Even the taciturn Haggard isn't immune from this.
It's all accompanied by Burns' usual exceptional choices of still pictures and film. And in this case, the subject he's chosen provides him with a treasure trove to sift through. So whatever your thoughts about country music, expect to be immensely entertained, educated and even edified throughout this master course in pickin', grinnin' -- and so very much more.
GRADE:
A
Email comments or questions to:
unclebarky@verizon.net