05/27/08 17:03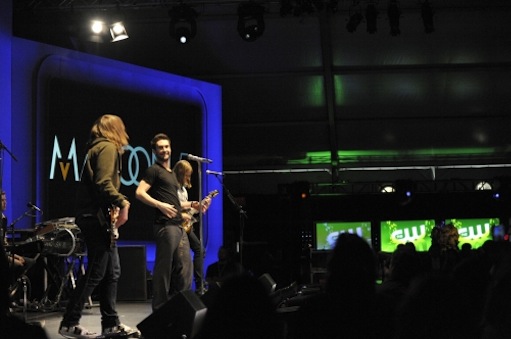 The inevitable Maroon 5 played at CW's "upfront" session in NYC.
By ED BARK
Details can't even be called sketchy. But The CW and its new Sunday night business partner, MRC (Media Rights Capital), at least have announced the titles and creators of four planned new series.
There's no casting announcements or footage yet, though. Production on all four shows supposedly will begin in mid-June, although a possible actors' strike might quickly stop any startups.
The new series are:
***
In Harm's Way
, a reality show about "people doing dangerous jobs" from
Dirty Jobs
producer
Craig Piligian
.
***
Surviving Suburbia
, a comedy about a "family and their new neighbors" from
Kevin Abbott
(
Roseanne
).
***
Valentine, Inc.
, a dramedy built around a dating agency that "finds lost loves, true loves and mends broken hearts." This one's from
Kevin Murphy
(
Reaper
).
***
Easy Money
, featuring a "family that runs a high-interest loan business." Producers
Andy Schneider
and
Diane Frolov
have
The Sopranos
in their blood among other dramas.
05/23/08 13:23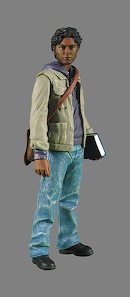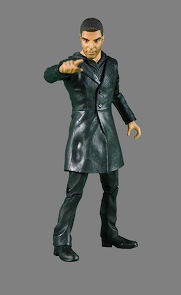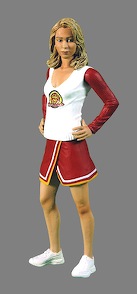 Heroes action figures include Mohinder, Sylar and Claire
By ED BARK
NBC's fall series premiere dates, announced Friday, include an entire night of
Heroes
.
The once red-hot, but since cooled-off comic book action series returns on Monday, Sept. 22nd with a one-hour "compilation" special followed by the show's two-hour season premiere.
Heroes
hasn't been seen since the writers' strike drove a wedge into the networks' prime-time plans.
As anticipated, the fourth-ranked network already has screwed around with a year-long schedule announced earlier this spring. The new sitcom
Kath & Kim
, co-starring former
Saturday Night Live
regular
Molly Shannon
, will shift from Tuesdays to Thursdays, with an Oct. 9 premiere.
NBC also has promoted
America's Toughest Jobs
to fall after first slating it as a summer series. A five-week Friday night run is scheduled to begin on Sept. 12th. The series executive producers are
Lloyd Braun
and
Gail Berman
, formerly the respective entertainment presidents at ABC and Fox.
My Name Is Earl
and
The Office
each will have one-hour season premieres on Thursday, Sept. 25th, followed by that same date's return of
ER for what's been announced as its last season.

30 Rock won't be back until Oct. 30th under the current plan. Other returning series and their announced premiere dates include Law & Order: Special Victims Unit (Sept. 23); Lipstick Jungle (Sept. 24); Chuck (Sept. 29) and Life (Oct. 3).

***Final ratings for the May "sweeps" show Fox easily winning among advertiser-favored 18-to-49-year-olds. But all five major broadcast networks suffered double-digit declines from the previous May.

Fox lost the least viewership in this key demographic, but still had a 10 percent dropoff. Runnerup ABC was down 21 percent, followed by CBS (-13 percent), NBC (-27 percent) and The CW (-15 percent).

The writers' strike obviously didn't help matters. Nor does the ease with which viewers can catch most of their favorite shows on network Web sites. Still, these are discomforting numbers all around.
05/11/08 22:02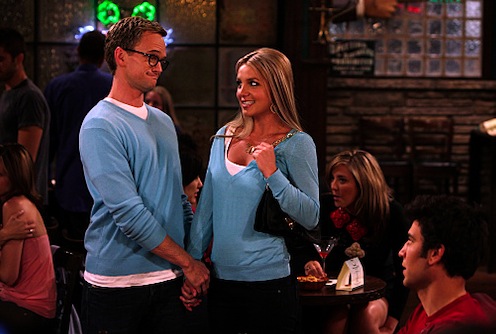 Neil Patrick Harris and Britney Spears re-pair on CBS Monday night.
By ED BARK
It's said that any mention of
Britney Spears
is still a surefire Web site traffic-driver.
That's right,
Britney Spears
, who will make her second guest appearance, as Abby, on the Monday (May 12) episode of CBS'
How I Met Your Mother
.
Ratings for the yet to be renewed sitcom spiked a bit when
Brit
first dropped in on March 24th.
***
Husband and wife
Jeff and Ally Davidson
of Dallas will be among 40 fresh meat "Contenders" when NBC's
American Gladiators
resumes with new episodes Monday (May 12). He's a 29 year-old financial advisor. She's a 24-year-old sales rep who supposedly tried out for
Gladiators
on her wedding day in her wedding veil without telling her groom.
As previously noted,
Gina Carano
, daughter of former Dallas Cowboys backup quarterback
Glenn Carano
, returns to the show as a Gladiator with the code name "Crush."
***
The annual "American Idols Live!" tour, with Rockwall's
Jason Castro
in tow, will make a stop in Dallas on Aug. 25th. The venue is American Airlines Center, and you can begin buying tickets on Saturday, May 17th via Ticketmaster.
***
Comedy Central is reviving
The Gong Show
, with comedian
Dave Atell
as host. It's scheduled to premiere on July 17th. On a somewhat higher plane,
Whoopi Goldberg
has been named to host the 62nd annual Tony Awards ceremony on CBS. The date is June 15th.
***
Spike TV, whose target audience is young males, has announced its latest "non-scripted development slate."
The eye-catcher is
Idiot Hall of Fame
, envisioned as a late-night half-hour series that "takes a humorous look at some of the most truly idiotic actions of all time."
Remember, only the "most truly idiotic actions" are eligible, which makes
Danny Bonaduce
's every waking moment a veritable candyland.
***
Spike somehow missed out on signing
Hulk Hogan
to preside this fall over
Hulk Hogan's Celebrity Championship Wrestling
.
CMT (Country Music Television) instead is doing these honors, with "10 adventurous celebrities" to be named later. Bonaduce obviously is a lock after previously participating in Fox's short-lived
Celebrity Boxing
series. For the record, Bonaduce TKO'd
Barry Williams
of
The Brady Bunch
after flooring him five times in the show's inaugural bout.