11/15/10 14:30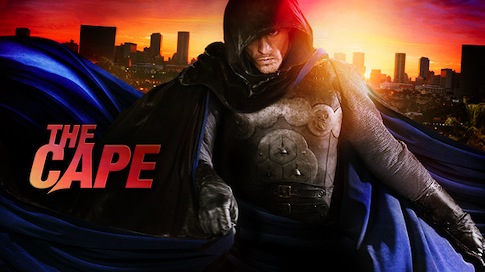 By ED BARK
Downtrodden NBC will try anew in January with a heavily jumbled midseason lineup that turns Thursdays over entirely to comedy, moves the made-in-North Texas
Chase
from Mondays to Wednesdays and premieres a new sci fi-ish cop series,
The Cape
.
The latter series will temporarily supplant
The Event
on Monday nights at 8 p.m. (central) after a two-hour sneak preview on Sunday, Jan. 9th.
NBC's three other newcomers are the legal drama
Harry's Law
(from
Boston Legal/The Practice
creator David E. Kelley), a sitcom titled
Perfect Couples
and a reality-competition series,
America's Next Great Restaurant
.
Perfect Couples
, which NBC bills as the "heroic journey" of three pairs of twosomes, is being slotted on Thursday nights between
Community
and
The Office
. It will mark the first three-hour, all-comedy network lineup since CBS' 1977 Saturday night schedule of
The Bob Newhart Show, We've Got Each Other, The Jeffersons, The Tony Randall Show
and
The Carol Burnett Show
.
NBC's Thursday 9 p.m. hour, currently occupied by
The Apprentice
and previously home base for the likes of
ER, L.A. Law
and
Hill Street Blues
, will be filled by
30 Rock
(already renewed for next season) and
Outsourced
. The new schedule launches on Jan. 20th.
Returning in midseason are
Parks and Recreation, The Marriage Ref, Who Do You Think You Are?, Celebrity Apprentice
and
Minute to Win It
. As previously reported, the freshman series
Outlaw
and
Undercovers
are goners.
School Pride
also is being junked.
Chase
, starring Kelli Giddish as the head of a Texas-based team of U.S. Marshals, will be supplanted on Mondays at 9 p.m. by the new
Harry's Law
, which co-stars two-time Oscar-winner Kathy Bates.
In its new Wednesday slot (beginning Jan. 12th),
Chase
will air at 8 p.m. between
Minute to Win It
and
Law & Order: Special Victims Unit
.
The Cape
stars David Lyons (
ER
) as an honest cop on a corrupt force who's framed for a series of murders and then presumed dead. Instead he re-emerges in disguise as his son's favorite comic book hero. Summer Glau, from Fox's
Terminator: The Sarah Connor Chronicles
, co-stars as an "investigative blogger" named Orwell.
Here's NBC's night-by-night midseason schedule -- which can be kind of dizzying. All times are central.
MONDAY
7 p.m. --
Chuck
8 p.m. --
The Cape
, beginning on Jan. 17th after the Sunday Jan. 9th sneak preview.
The Event
will then return at this hour on Feb. 28th.
9 p.m. --
Harry's Law
, starting on Jan. 17th before
Parenthood
switches from Tuesdays on March 7th.
TUESDAY
7 to 9 p.m. --
The Biggest Loser
9 p.m. --
Parenthood
for four episodes before
Law & Order: Los Angeles
supplants it on Feb. 8th.
WEDNESDAY
7 p.m. --
Minute to Win It
, starting Jan. 5th
8 p.m. --
Chase
, beginning Jan. 12th until
America's Next Great Restaurant
replaces it on March 16th.
9 p.m. --
Law & Order: Special Victims Unit
, on Jan. 12th after a two-hour episode the week before.
THURSDAY
(with the entire schedule taking effect on Jan. 20th)
7 p.m. --
Community
7:30 p.m. --
Perfect Couples
8 p.m. --
The Office
8:30 p.m. --
Parks and Recreation
9 p.m. --
30 Rock
9:30 p.m. --
Outsourced
FRIDAY
7 p.m. --
Who Do You Think You Are?
, starting on Jan. 21st
8 to 10 p.m. --
Dateline NBC
, on Jan. 7th
SATURDAY
7 to 10 p.m. -- various reruns
SUNDAY
6 p.m. --
Dateline NBC
as usual
7 p.m. --
The Marriage Ref
, starting March 6th
8 to 10 p.m. --
The Celebrity Apprentice
, also on March 6th
11/12/10 08:30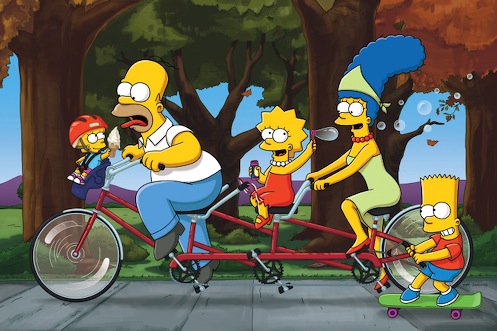 Homer and brood will ride again next season on Fox. Fox photo
By ED BARK
It'll be Season 23 next fall for
The Simpsons
.
Fox announced the pickup on Thursday while also noting that the longest-running comedy series in TV history will have 515 episodes under its belt at the end of the 2011-12 season.
"Like many 22-year-olds,
The Simpsons
is extremely happy remaining at home, on Fox, and hopes it doesn't have to go out into the real world for many years to come," co-executive producer Al Jean said in a publicity release.
Fox also will offer the "World Broadcast Premiere" of 2007's
The Simpsons Movie
on Thanksgiving night.
***
Fox has hired another CNN expatriate. Lou Dobbs will be getting his own show sometime next year on Fox Business Channel while also contributing regularly to Fox News Channel. He left CNN a year ago after his repeated rallying cries against illegal immigration finally clashed with the network's still steadfast opposition to "advocacy" journalism.
Greta Van Susteren, also formerly of CNN, continues to host a long-running prime-time program on Fox News Channel. And Glenn Beck is self-explanatory. The No.1-rated all-news network also has recurringly dipped into the ABC News pond, hiring Brit Hume, Chris Wallace and John Stossel over the years.
***
It's going to be curtains for NBC's
Undercovers
and Fox's
Raising Hope
.
NBC has said it won't be running
Undercovers
, from
Lost/Fringe
creator J.J. Abrams, after its initial 13 episodes have played out. And Fox is taking
Running Wilde
off the air for the remainder of the November "sweeps" ratings period. If it returns, it will only be to burn off any remaining new episodes.
***
AMC has renewed
The Walking Dead
for a second season after its 90-minute Halloween night premiere broke a ratings record for the network with 5.3 million viewers. The ongoing Season 1 of
Walking Dead
will last for just six episodes, but AMC has ordered a full complement of 13 for Season 2.
***
Gene Shalit has left NBC's
Today
show after 40 years as its movie critic. His last day was Thursday, Nov. 11th.
11/03/10 13:50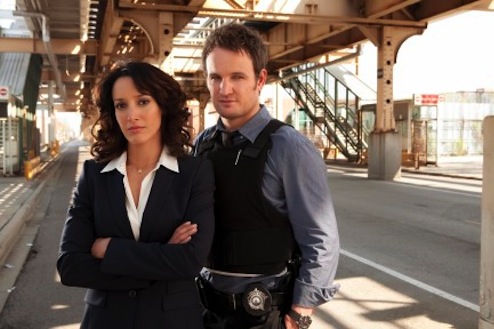 Jennifer Beals and Jason Clarke of The Chicago Code. Fox photo
By ED BARK
Initially promoted during the World Series, Fox's
The Chicago Code
will be unveiled in full on Monday, Feb. 7th, the day after Super Bowl XLV from Cowboys Stadium.
Its principal executive producer, Shawn Ryan, is best known for
The Shield
, which put the FX cable network on the map as a home for hard-edged, male-centric dramas and comedies.
Chicago Code
stars Jennifer Beals (
Flashdance, The L Word
) and Jason Clarke (
Brotherhood
) as ex-partners on the Chicago police force. She's now the city's first woman superintendent while he's still working the streets "on a crusade to clean up crime and avenge his brother's murder."
Matt Lauria from
Friday Night Lights
also is a series regular.
Chicago Code
will follow
House
and replace
Lie to Me
, which supposedly will return "at a later date."
***
ABC has announced the so-called "celebrity cast" for its new
Skating with the Stars
competition series, scheduled to premiere on Monday, Nov. 22nd following the fall season's last performance edition of
Dancing with the Stars
.
As celebrities go, these are the biggest stretches since Joan Rivers' latest cosmetic surgery. The six skaters, all being paired with pro partners are:
All My Children
cast member Rebecca Budig
"Skinnygirl Margarita" creator Bethenny Frankel
Former Olympic skier Johnny Moseley
Heavy metal singer and "heartfelt philanthropist" Vince Neil
Sonny With A Chance
co-star Brandon Mychal Smith
Faded actress Sean Young
Be still your beating hearts.