04/21/09 14:15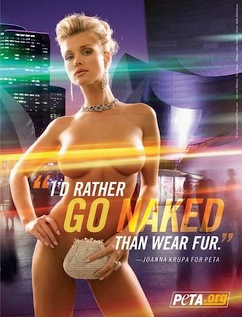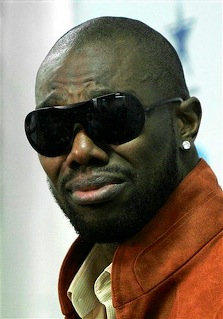 By ED BARK
He's not the Cowboys' problem anymore, so good luck with all that, Buffalo Bills.
Still, who can resist another off-field chapter in the life of wide receiver
Terrell Owens
, who will be paired with lush model
Joanna Krupa
when ABC's
The Superstars
premieres on June 23rd.
Krupa, best known for her "I'd Rather Go Naked Than Wear Fur" campaign on behalf of PETA, will join T.O. at the Atlantis Resort in the Bahamas for the six-episode series. It's a carryover from a
Wide World of Sports
gambit in which various sports stars competed against each other to determine the world's greatest athlete.
In ABC's "fresh take," each of the athletes will be joined by a celebrity. Competitions include swimming, biking, running and kayaking. Here are the other pairings:
***
Baseball player
Jeff Kent
and actress
Ali Landry***
Basketball player
Robert Horry
and actress
Estella Warren***
Winter Olympics playboy washout
Bode Miller
and
Extreme Makeover: Home Edition
design team member
Paige Hemmis***
X Games free-skier
Kristi Leskinen
and
Dancing with the Stars
regular
Maksim Chmerkovskiy***
Basketball player
Lisa Leslie
and actor
Dan Cortese***
Tennis player
Jennifer Capriatti
and actor
David Charvet***
Soccer player
Brandi Chastain
and singer
Julio Iglesias, Jr.
Owens already has another summertime reality series in the works. He'll be
playing himself,
with cameras in tow, of course, in a still untitled VH1 series. The network says that viewers will discover a "quiet, sensitive, mild-mannered guy" behind "all the braggadocio, emotional histrionics, and sculpted physique that is the outspoken media magnet known to the world as T.O."
04/15/09 10:31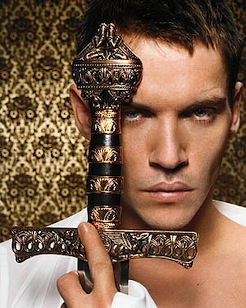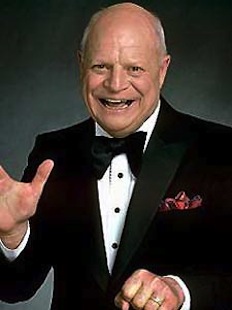 New perks for Henry VIII, Don Rickles, who presumably haven't met.
By ED BARK
Showtime has renewed
The Tudors
, currently in the early stages of Season 3, for a fourth and final 10-episode season.
Production is set to start this June in Dublin, Ireland, with a focus on King Henry VIII's "tumultuous relationships with his last two wives (Catherine Howard and Catherine Parr), and his final descent into madness."
Jonathan Rhys Meyers
stars as Henry VIII.
***
Remember that spat between NBC and Boston affiliate WHDH-TV, which said it would carry local newscasts this fall instead of
Jay Leno's
new 9 p.m. (central) talk show? Never mind. WHDH owner
Ed Ansin
has capitulated
after talking tough. His station will carry Leno after all, the two parties announced earlier this week.
***
The 2009 TV Land Awards, airing Sunday, April 26th on the network, will present
Don Rickles with its annual Legend Award.

Host Neil Patrick Harris also will be joined by presenters Will Ferrell, Teri Hatcher, Amy Poehler, Jimmy Kimmel, Jamie Lee Curtis and Dr. Phil. Besides Rickles, they'll be distributing trophies to the likes of Julia Louis-Dreyfus (Legacy of Laughter Award); ER (Icon Award); Married With Children (Innovator Award); M*A*S*H (Impact Award); Home Improvement (Fan Favorite Award); Magnum, P.I. (Hero Award); Two and a Half Men (Future Classic Award) and Knots Landing (30th Anniversary Award).

And since that's not enough, Sid and Marty Kroft will get the Pop Culture Award after Cyndi Lauper and David Cassidy perform for them. Could be quite a cheese-fest. But where's Joe Piscopo?

***TBS has ordered 10-episodes of Neighbors From Hell, which will be the network's first original animated series.

No voice-over talent has been named yet, but the premise is this: A family with the surname Hellman has been sent from down low to Earth to "pose as normal suburbanites with a mission to keep humans from finding their way to Hell." But that task is complicated, says TBS, by patriarch Balthazar Hellman's "growing affection for humans and their odd but endearing qualities."

The producers are animated big shots Jeffrey Katzenberg (Shrek), Pam Brady (South Park) and Mireille Soria Mireille Soria (Madagascar).

***TBS' sister cable network, TNT, has decided to red-light its Trust Me series after just one season. The modern day ad agency drama, which starred Eric McCormack and Tom Cavanaugh, is now history.
04/08/09 17:38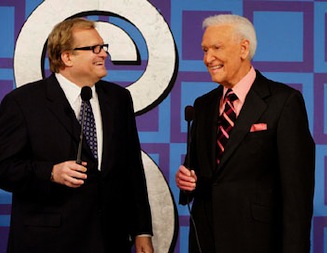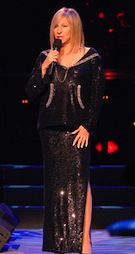 By ED BARKBob Barker
, plugging his autobiography
Priceless Memories
, will join host
Drew Carey
on the April 16th edition of CBS'
The Price Is Right
(10 to 11 a.m. central).
The network says Barker and Carey will share the stage for the first time on the Showcase Showdown portion of the venerable game show. Barker hasn't been back since he retired from
Price
in June 2007.
***
Another show biz icon,
Barbra Streisand
, will be feted by CBS with a reprise of her 2006
Streisand: Live In concert
special from Fort Lauderdale, Fla. She's also plugging something -- the release of the three-disc DVD of
Streisand: The Concerts
.
The CBS telecast is on Saturday, April 25th, with the DVD set due to be released on April 28.
***
ABC is the latest network to announce its sizzling summer schedule of mostly new and returning reality fare. In order of appearance, here it is:
May 25
--
The Bachelorette
returns with a two-hour opener starring former rejectee
Jillian Harris
, who had hoped to land
Jason Mesnick on a previous edition of The Bachelor.

May 25 -- Here Come the Newlyweds, hosted by comic Pat Bullard, premieres following The Bachelorette. Nine newly hitched couples vie for an unspecified "grand prize," with one pair sent home each week.

May 27 -- Wipeout returns, promising to be "bigger, better, wilder than ever." Your hosts are John Henson, John Anderson and Jill Wagner.

May 27 -- The Goode Family, a new cartoon series from Austin-based King of the Hill creator Mike Judge, stars a politically correct family determined to, among other things, "buy organic apples and call minorities by their right names." But alas, "something always goes haywire," says ABC.

June 23 -- Another premiere, The Superstars, pairs eight athletes from difference sports with a like number of celebrities. They'll compete in various events until only one team survives. The talent hasn't been named yet, but temper your expectations.

July 8 -- For some reason, I Survived a Japanese Game Show is returning.

July 20 -- Here comes Dating in the Dark, which asks, "Is love blind?" Somebody named Rossi Moreale hosts. Contestants will gather in a house, separated by gender, and "date" in a "completely dark room," says ABC. Then uh-oh, they see the light. Sounds like the guiltiest pleasure imaginable.

ABC also has announced the Saturday night dates in which it'll burn off remaining new episodes of the canceled Pushing Daisies, Eli Stone and Dirty Sexy Money.

Daisies will run from May 30 to June 13.

Eli Stone then gets June 20 to July 11 followed by Dirty Sexy Money from July 18 through Aug. 8.