02/24/12 10:46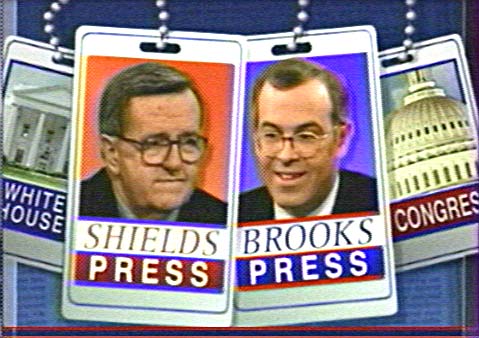 By ED BARK
You can never hand out or have enough awards. So PBS duelists Mark Shields and David Brooks will gladly accept this one.
They're the first recipients of The Allegheny College Prize for Civility in Public Life. And they plan to talk about it on the Friday, Feb. 24th edition of the
PBS Newshour
.
Brooks argues from a conservative position and Shields is the program's designated liberal go-to guy. Neither is a flame-thrower.
"Their civil and informative discussion of politics stands in stark contrast to the partisan and often prickly environment that dominates the political landscape today,"
Newshour
executive producer Linda Winslow said in a publicity release.
Allegheny College president James Mullen Jr. said Shields and Brooks "demonstrate that civility does not require one to be tepid." And in the view of
Newshour
executive editor Jim Lehrer, they "deserve this and all other awards there are or ever will be for civility."
This'll probably be it. But for good measure, Shields and Brooks are this year's inaugural recipients of the Uncle Barky Good Conduct Medal.
***
FX has renewed its ribald animated spy series
Archer
for a fourth season of 13 episodes. Its ongoing Season 3, which ends on March 22nd, is averaging 3.3 million viewers per episode, with 2.49 million of them in the motherlode 18-to-49 demographic.
02/22/12 17:44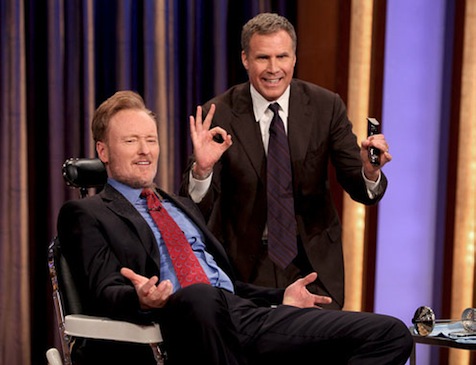 Conan survives a close shave with Will Ferrell. TBS photo
By ED BARK
The buzz is mostly gone, and so is his beard.
TBS is seeing to it, though, that Conan O'Brien's
Conan
will stay the course.
The network announced Wednesday that the late night talker has been renewed through April of 2014.
Conan
premiered in November 2010, pushing comedian George Lopez's incumbent
Lopez Tonight
to a later hour. It since has been canceled.
"I am excited to continue my run with TBS because they have been fantastic partners," O'Brien said in a publicity release. "This means I'll be taping episodes of
Conan
well into the Ron Paul presidency."
TBS says that
Conan
has "enjoyed three consecutive months of audience growth" and also is a "true powerhouse when it comes to online activity and engagement." O'Brien's
Twitter following
is 5,020,000 and counting, the network noted, while the
Team Coco
Facebook page has drawn over 1.8 million fans.
"Night after night, Conan and his team have put together terrific shows that draw a young and fiercely loyal audience," TBS programming head Michael Wright said.
***
Simon Cowell and L.A. Reid, maestros of Fox's
The X Factor
, held a teleconference with TV critics Wednesday to announce they haven't yet hired anyone to replace the two judges and host fired after Season 1.
But Cowell did make a bit of news by saying that hosts of opposite sexes would be named to replace the banished Steve Jones.
"I always wanted a boy and a girl to host the show," Cowell said. "And I think that's definitely going to happen now."
Replacements also must be found for Paula Abdul and Nicole Scherzinger. Rumored new judges have included the likes of Brittney Spears, Fergie, Janet Jackson and the late Whitney Houston.
Cowell deferred to Reid regarding Houston. "It never quite came to that," he said of any actual talks with her. "There was an interest there, but we never had meetings about it."
Charter
American Idol
host Ryan Seacrest is in the final year of his contract with Fox, but Cowell discounted any notion that he'd jump to another network or preside over any rival singing competition.
"I think Ryan's brilliant at what he does. I think Ryan's also a very good negotiator, and I admire him for that," Cowell said. "He'll stay on
Idol
."
Cowell tweeted on Feb. 16th that "maybe the winner of The X Factor USA this yr should compete with the winner of The Voice & Idol in a super final. Just a thought. I'd be up for for it."
He's "disappointed" by the disinterest from the two shows, Cowell said. "I like the idea of superfinals . . . I thought it would be something different."