03/28/11 13:53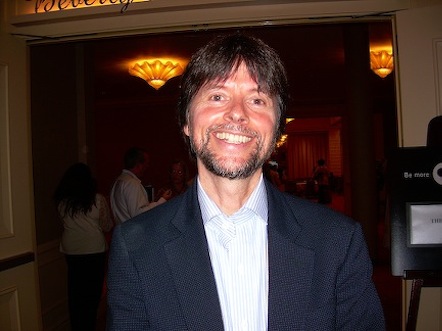 Ken Burns selling The War at summer 2007 PBS event. Photo: Ed Bark
By ED BARK
Having done that -- if not been there -- for
The Civil War
and World War II (via
The War
, PBS filmmaker Ken Burns is turning his elongated lens on Southeast Asia.
Scheduled to premiere in 2016, Burns' 10-12 hour documentary on the Vietnam War was announced Monday, with longtime collaborator Lynn Novick also in tow.
"Nearly everyone has an opinion about the Vietnam War, but few Americans truly know its history and there is little consensus about what happened there or why," Burns said in a publicity release. "Our series will shed light both on the history of the war, and on our inability to find common ground about it."
There in fact have been many movies and documentaries on Vietnam, although some might feel that it's officially "arrived" now that Burns is tackling the so-called "war of lost illusions," as it's described in the PBS release. Novick contends that the film she's making with Burns "will help heal the deep divisions that have endured in America for decades over this enormously controversial and tragic war."
That's assuming an awful lot, to say the least. Meanwhile, the 1990 film that made Burns famous,
The Civil War
, will be rebroadcast in its entirety next month, beginning Sunday, April 3rd on PBS. Burns and Novick also have a new film,
Prohibition
, scheduled to premiere this fall.
***
Fringe
fans rejoice. The J.J. Abrams sci-fi series has survived its initially dreaded shift to Fox's Friday night death slot and will return for a fourth edition.
"When we moved the show to Fridays, we asked the fans to follow and they did," Fox entertainment president Kevin Reilly said of the renewal. "We're thrilled to bring it back for another full season and keep it part of the Fox family."
Producer/creator Abrams initially told TV critics that the move to Fridays made him
"horrified beyond belief."
But he now "could not be happier that the fans of
Fringe
and our most excellent partners at Fox have allowed us to continue telling stories from the fringe for another season."
Abrams also is developing the potential fall series
Alcatraz
for Fox. The cast includes Sam Neill and Jorge Garcia from
Lost
, another series that Abrams put on the prime-time map.
***
Futurama
, the animated series birthed and canceled by Fox, is continuing to live long and prosper on Comedy Central. The network ordered 26 new episodes of
Futurama
on Monday, with the first batch of 13 due to launch in summer 2012 and the rest in summer 2013.
03/17/11 15:43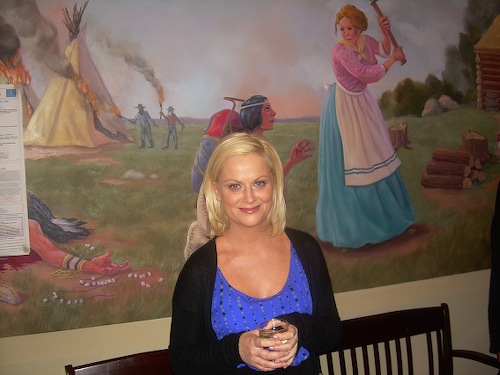 Star Amy Poehler on Parks and Recreation set. Photo: Ed Bark
By ED BARK
NBC announced renewals Thursday for three of its six current Thursday night comedies, including an eighth season of
The Office
that will be without star Steve Carell.
Also picked up for the 2011-'12 TV season are
Parks and Recreation
and
Community
, both of which are running fourth in their time period but fare better with both younger and more upscale audiences, according to NBC.
Another Thursday night entry, the Emmy-laden
30 Rock
, previously was picked up for next season. That leaves
Perfect Couples
, which definitely is a goner, and
Outsourced
, which now looks to be iffy at best.
***
ABC's
Good Morning America
has reclaimed Lara Spencer from
The Insider
, worst of the syndicated rag mags. She'll be
GMA
's new "lifestyle anchor," ABC News president Ben Sherwood said in a memo to staffers that also was sent to television writers.
Spencer previously had joined
GMA
in 1999, but left in 2003 for an anchoring slot on
The Insider
. Her new responsibilities at ABC also will include regular reports for
Nightline
.
***
Fox's expensive "epic family adventure,"
Terra Nova
, has been pushed back to a fall premiere in the interests of getting its special effects in order.
Set in the year 2149 and co-executive produced by Steven Spielberg, it originally had been scheduled to preview via a two-night "event" on May 23-24. But Fox entertainment president Kevin Reilly said that the "cutting edge" visuals for the weekly series "require more time to be realized." One of
Terra Nova
's stars, Stephen Lang, played the principal villain on
Avatar
. This time around he'll be the more benevolent commander of "the beautiful yet forbidding land" that he founded.
***
ABC will return the reality competition series
Shark Tank
to its prime-lineup on Sunday, March 20th, with Dallas Mavericks and HDNet owner Mark Cuban eventually popping in as one of the program's "guest sharks."
Cuban, who previously starred in ABC's
The Benefactor
, will be among the well-heeled entrepreneurs making investments in various hare-brained schemes -- er, worthy start-up businesses. Comedian Jeff Foxworthy also is scheduled to swim with the sharks.
03/08/11 17:13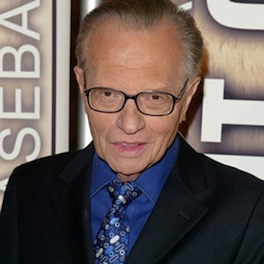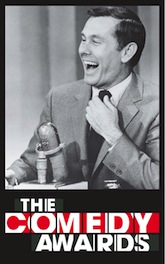 By ED BARK
Larry King is finding that it's pretty cool to be deposed as CNN's featured prime time talker.
While his successor, Piers Morgan, keeps flailing about, King continues to thrive. He's mounting a one-man touring stage show, recently went over big on TBS'
Conan
and also has been a featured guest of Morgan's. Now, on May 23rd, he'll emcee the 70th annual George Foster Peabody awards ceremony at Manhattan's Waldorf-Astoria.
King himself has two Peabodys, one in 1980 for his nationally broadcast radio program and the other in 1992 for his kingmaking presidential election coverage on CNN's
Larry King Live
.
***
He-e-e-e-e-e-e-re's Johnny anew. The Comedy Awards, billed as the "first-ever multi-network, multi-platform, annual event dedicated to honoring and celebrating the world of comedy (puff-puff)," has established the Johnny Carson Award for Comedic Excellence as its most prestigious honor.
On April 10th, during a ceremony simulcast on Comedy Central, Spike TV, VH1, CMT, TV Land, Logo and Nick at Nite, it will be given to "an individual who embodies the comedic excellence of the renowned and beloved comedic powerhouse."
David Letterman, who long has revered Carson, seems like a no-brainer choice for the inaugural award. And Johnny loved Dave, too, intentionally spurning his
Tonight Show
successor, Jay Leno, to instead spend a little quality time on
Late Show with David Letterman
during his otherwise reclusive retirement years.
***
CBS has renewed
How I Met Your Mother
for two more years, extending the sitcom through the 2012-'13 TV season.
"We are so proud of this show and all of its creative and ratings achievements," CBS entertainment president Nina Tassler enthused in a publicity release. CBS made the announcement on the same day the network and Warner Bros. Television officially parted ways with former
Two and a Half Men
star Charlie Sheen by firing him.
***
Showtime, the premium cable corporate cousin of CBS, has renewed both Matt LeBlanc's
Episodes
and William H. Macy's
Shameless
for second seasons.
The ratings popularity of
Shameless
, starring Macy as the irresponsible, falling down drunk father of five children, admittedly is a surprise to your friendly content provider, who envisioned just a single season for the drama. After all, who'd want to watch something like that? But then along came the "bitchin' rock star from Mars," a k a Sheen, to emphatically prove there's an app for that.
***
Christina Aguilera, who apparently won't be in charge of lyrics, has been named one of four "musician coaches" on NBC's upcoming talent competition
The Voice
, scheduled to premiere on April 26th. She'll be joined by Cee Lo, Blake Shelton and Adam Levine.
***
Absent Skeet Ulrich, who's been bounced, NBC is re-launching
Law & Order: Los Angeles
with a two-hour episode on Monday, April 11th. Corey Stoll, who played his detective partner, returns to team with Alfred Molina, who had been a bi-weekly deputy district attorney in the previous version of
LOLA
.