TV Bulletin Board (Thurs., March 17) -- NBC renews three of its Thursday night comedies
03/17/11 15:43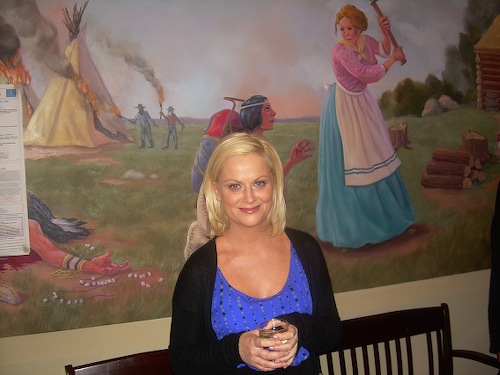 Star Amy Poehler on Parks and Recreation set. Photo: Ed Bark
By ED BARK
NBC announced renewals Thursday for three of its six current Thursday night comedies, including an eighth season of
The Office
that will be without star Steve Carell.
Also picked up for the 2011-'12 TV season are
Parks and Recreation
and
Community
, both of which are running fourth in their time period but fare better with both younger and more upscale audiences, according to NBC.
Another Thursday night entry, the Emmy-laden
30 Rock
, previously was picked up for next season. That leaves
Perfect Couples
, which definitely is a goner, and
Outsourced
, which now looks to be iffy at best.
***
ABC's
Good Morning America
has reclaimed Lara Spencer from
The Insider
, worst of the syndicated rag mags. She'll be
GMA
's new "lifestyle anchor," ABC News president Ben Sherwood said in a memo to staffers that also was sent to television writers.
Spencer previously had joined
GMA
in 1999, but left in 2003 for an anchoring slot on
The Insider
. Her new responsibilities at ABC also will include regular reports for
Nightline
.
***
Fox's expensive "epic family adventure,"
Terra Nova
, has been pushed back to a fall premiere in the interests of getting its special effects in order.
Set in the year 2149 and co-executive produced by Steven Spielberg, it originally had been scheduled to preview via a two-night "event" on May 23-24. But Fox entertainment president Kevin Reilly said that the "cutting edge" visuals for the weekly series "require more time to be realized." One of
Terra Nova
's stars, Stephen Lang, played the principal villain on
Avatar
. This time around he'll be the more benevolent commander of "the beautiful yet forbidding land" that he founded.
***
ABC will return the reality competition series
Shark Tank
to its prime-lineup on Sunday, March 20th, with Dallas Mavericks and HDNet owner Mark Cuban eventually popping in as one of the program's "guest sharks."
Cuban, who previously starred in ABC's
The Benefactor
, will be among the well-heeled entrepreneurs making investments in various hare-brained schemes -- er, worthy start-up businesses. Comedian Jeff Foxworthy also is scheduled to swim with the sharks.