01/31/12 12:16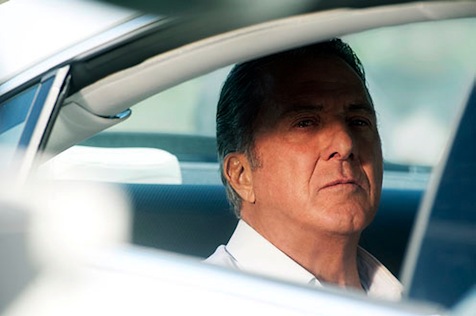 Dustin Hoffman is among the thoroughbreds on Luck. HBO photo
By ED BARK
HBO waited just two days after its Sunday night launch of
Luck
to announce that the mostly critically praised horse race drama will mount up for a Season 2.
"We are very excited about where David and Michael plan to take these incredible characters," HBO programming president Michael Lombardo said Tuesday, referring to co-executive producers David Milch (
Deadwood
) and Michael Mann (
Miami Vice
).
Luck's
stars include Oscar winner Dustin Hoffman and three-time Oscar nominee Nick Nolte. Season 1 will run for 10 episodes, with filming on a 10-episode Season 2 scheduled to start at the end of February, HBO says.
***
Fox's
The X Factor
will begin its second season next fall without host Steve Jones and judges Paul Abdul and Nicole Scherzinger. All have been sacked, according to various reports. The mega-hyped singing competition gave Fox's usual moribund fall ratings a significant boost, but didn't approach the 20 million viewers predicted by executive producer/judge Simon Cowell, who isn't about to fire himself. Instead
X Factor
averaged 12.5 million viewers per episode.
***
PBS' hit series
Downton Abbey
will add Shirley MacLaine to the cast for Season 3. She'll play a new character named Martha Levinson, mother of Lady Grantham (Elizabeth McGovern), the network says.
"Shirley MacLaine is a great actress and she's as American as the day is long,"
Masterpiece
executive producer Rebecca Eaton enthused in a publicity release. "I can't wait to see her go toe-to-to-toe with Maggie Smith's Lady Violet."
Downton Abbey
, currently in its second season and airing under the
Masterpiece
banner, is the reigning Emmy winner in the made-for-TV movie/miniseries category.
***
CBS and the Academy of Country Music have a new deal that will make them broadcasting partners all the way through 2021.
It means the network will keep reaping ratings gold from ACM's annual prime-time awards ceremony, which will air this year on April Fool's night with Blake Shelton and Reba McEntire repeating as hosts.
***
Spike TV continues to stand tall as the knuckle-dragging network for men. Its three new announced series include
Rat Bastards
, in which Louisiana-bred "Cajun Commandoes" hunt 40-pound swamp rats for selling and eating purposes.
Spike's other newcomers are "Tattoo Nightmares and
Full Bounty
, which features a dozen apprentice bounty hunters trying their hands at corralling dangerous fugitives.
***
On an infinitely higher plane, CBS' eighth Jesse Stone mystery movie,
Benefit of the Doubt
, will air on Sunday, May 20th. Tom Selleck returns in the title role.