06/29/12 12:59
Savannah Guthrie, Matt Lauer on June 29th Today show. NBC photo
By ED BARK
@unclebarkycom
NBC made a quick date with Savannah Guthrie Friday, officially announcing her as the new co-host of
Today
after predecessor Ann Curry
sobbed her way out of the picture
during Thursday's edition.
Guthrie, whose first official day is Monday, July 9th, has co-hosted the third hour of
Today
since June of last year. She also retains the title of NBC News' chief legal correspondent after earlier serving as the network's featured White House reporter from December 2008 until June 2011. She was widely reported to be Curry's successor, although Hoda Kotb (co-host of
Today's
fourth hour) and
Today
news anchor Natalie Morales also had been mentioned as possibilities. Meredith Vieira, who preceded Curry, turned down an offer to return, according to some news reports.
NBC News president Steve Capus termed Guthrie "the ultimate team player" in a publicity release. "She's got an undeniable range, and she's earned the trust of the news community, her colleagues and our viewers alike."
Today
executive producer Jim Bell likewise gushed about Guthrie, citing her "one-of-a-kind combination of sharp wit and approachability. And our viewers value her journalistic skills and legal background just as much as her humor and charm. She can effortlessly go from interviewing the Secretary of State to jumping Olympic-sized hurdles on the Plaza."
Guthrie will be called upon to do much more of the latter on an increasingly fun n' games
Today
, currently locked in a tight battle for network morning show supremacy with ABC's
Good Morning America
. Under such circumstances, winningly pan-frying a trout with a guest chef in reality is more important than interviewing public officials of import.
In typical fashion, Curry went unmentioned in the announcement of Guthrie's promotion. Virtually all networks and local TV stations act in this fashion. Here today, gone tomorrow, with Curry already barely an afterthought even though she'll still ostensibly be a featured reporter on
Today
.
***
FX says that Thursday night's premiere of Charlie Sheen's
Anger Management
sitcom ranked as the "most-watched scripted comedy series premiere in cable history -- excluding children's programming."
According to the national Nielsen ratings, Episode 1 of
Anger Management
had 5.47 million viewers before Episode 2 inched up to 5.74 million.
Anger Management
also averaged 2.65 million and 2.89 million viewers in the advertiser-prized 18-to-49-year-old demographic. FX says that's also a comedy series record in the cable firmament.
FX offered less detail on the ratings performances of the following
Wilfred
and
Louie
, but said that their new season premieres respectively were up 71% and 55% over their previous seasons' audience averages.
The network's closing act,
Brand X with Russell Brand
, "got off to a good start" with its debut episode, FX said. It drew 1.1 million viewers, with 687,000 in the 18-to-49 range.
***
TNT has renewed its resident power hitter,
Rizzoli & Isles
, for a fourth season. The crime drama, co-starring Dallas native Angie Harmon, has been averaging a robust 7.1 million viewers this summer in its new Tuesday night slot. Season 4 will have 15 episodes, TNT announced Friday.
Over at sister network TBS, the first-year comedy
Men At Work
has been green-lighted for a sophomore season. Its Season 1 finale will be on July 12th.
***
Finally, TNT has scheduled a Fourth of July
Dallas
marathon, with the four previously shown episodes airing in sequence from 4 to 8 p.m. (central) before a new hour at 8 p.m.
06/05/12 17:35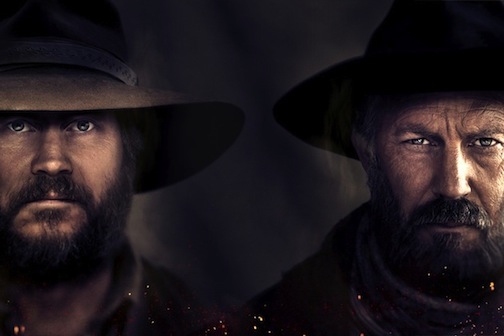 Bill Paxton, Kevin Costner of History network's Hatfields & McCoys.
By ED BARK
@unclebarkycom
Never before had a single cable network topped the weekly national Nielsen ratings with not one, not two, but the three most-watched prime-time programs.
That changed with last week's three chapters of the History network's
Hatfields & McCoys
, all of which outdrew the most-watched broadcast network offering.
The timing was right, with the finales of Fox's
American Idol
and ABC's
Dancing with the Stars
out of the way before
H&M
launched on Memorial Day night. Still, this has never happened before in either the regular season or summer.
The Wednesday May 30th conclusion of
H&M
ranked No. 1 for the week of May 28th to June 3rd with 14.287 million total viewers. Part 1 was second with 13.866 million viewers and Part 2 came in third with 13.127 viewers.
The No. 4 program for the week, NBC's
America's Got Talent
, had 11.513 million viewers, with ESPN's Sunday night Game 4 of the Heat-Celtics Eastern Conference finals ranking No. 5 with 11.068 million viewers.
That's a major breakthrough for cable and another blow to the Big 4 broadcast networks, which might want to seriously consider a return to some "Event" miniseries programming of old in hopes of stemming the tide.
Western Civic felled by another kidney punch
-- Spike TV announced Tuesday that it's ready for the "Mayan interpretation of the Apocalypse," which currently is scheduled for December 21st in case you'd like to start stockpiling cans of indestructible lima beans.
The network's six-episode
Last Family On Earth
, scheduled for this fall, will reward the winners with an underground bunker built by Vivos, supposedly the world leader in this area.
Spike says the finale will air "just in time for the family to move into their bunker." A publicity release hailing the new show is headlined, "Will Spike TV's New Reality Series . . . Determine The Future of Mankind?"
Probably not. But the way things are going in this country, the election of Mitt Romney or re-election of President Obama will be seen as a cataclysmic event by most of those on the losing side. So Spike TV may be on the cutting edge even if the End of Days fails to keep its appointed date.
First Lady reads Letterman's Top 10 List
-- Mitt Romney did it earlier this year. And on the Tuesday, June 5th edition of
Late Show with David Letterman
, First Lady Michelle Obama did the Top 10 list in connection with her new gardening book. CBS sent a few samples ahead of time, including No. 7 ("In his lifetime, the average American will eat half a radish") and No. 5 ("Later this year, the Supreme Court will finally rule on 'tomato' vs. 'tomahto' ").
Romney's topic was the "Top 10 things Mitt Romney would like to say to the American people." Included: "What's up, gangstas, it 's the M-i-double tizzle."