09/12/11 08:49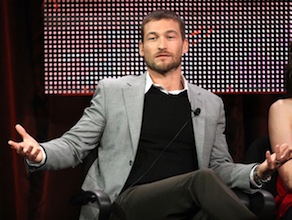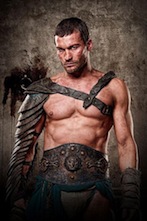 Andy Whitfield in interview and in character. Starz photos
By ED BARK
Andy Whitfield, who played the title character in the Starz network's graphic Spartacus: Blood and Sand, died Sunday of cancer in Australia.

The Wales-born actor was just 39 years old. He had been diagnosed in March of last year, with Starz crafting a six-episode prequel, Gods of the Arena, in hopes of marking time until Whitfield recovered. The role later was recast, with Liam McIntyre set to star as the fabled gladiator when Spartacus: Vengeance premieres in January.

In a statement released Monday morning, Starz president and CEO Chris Albrecht praised Whitfield as a "champion on-screen" who also was a "champion in his own life. Andy was an inspiration to all of us as he faced this very personal battle with courage, strength and grace."

During a late July interview session as part of the Television Critics Association summer "press tour," Spartacus executive producer Stephen S. DeKnight said he had seen a photo of Whitfield "a couple of months ago and he looked better than I ever have in my life. We are hoping he makes a full recovery. He's permanently stepped away from this role, but Andy and I always joke about one day working together again. And I would like nothing more than to work on another series with Andy."

McIntyre said that Whitfield was "exceptional" in a role "you wish was never there . . . But I've got an obligation to the fans, to the show and to Andy's Season 1 legacy to deliver on that."

Whitfield had contacted him to say, 'Good luck, well done,' and give me some tips and advice on how to get through the grueling schedule," McIntyre said. "I think that speaks volumes of the man."

***Sunday night's Creative Arts Emmys, prelude to the Sept. 18th major awards ceremony on Fox, also had their share of notable trophy bearers.

HBO led all networks with 15 wins, followed by PBS with 10. Here are some highlights:

Guest actress in a drama series -- Loretta Devine, Grey's Anatomy (ABC)
Guest actress in a comedy series -- Gwyneth Paltrow, Glee (Fox)
Animated program -- Futurama (Comedy Central)
Guest actor in a comedy series -- Justin Timberlake, Saturday Night Live (NBC)
Guest actor in a drama series -- Paul McCrane, Harry's Law (NBC)
Non-fiction special -- Gettsyburg (History)
Non-fiction series -- American Masters (PBS)
Reality program -- Deadliest Catch (Discovery Channel)
Reality or reality-competition host -- Jeff Probst, Survivor (CBS)

HBO's Boardwalk Empire topped all programs with seven wins, all of them for behind-the-scenes activities.
09/07/11 09:02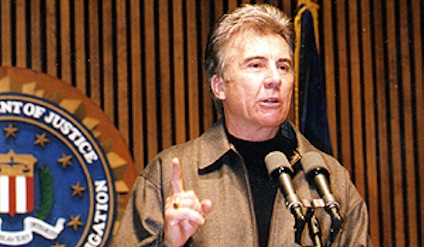 AMW host John Walsh in photo from show's website.
By ED BARK
Lifetime has thrown a lifeline to
America's Most Wanted
, which Fox earlier dropped as a weekly series because it supposedly was losing money for the network.
AMW
and its charter host, John Walsh, will return for a 25th season on an unspecified date "later this year," the network announced Tuesday. Fox also will retain some ties to the show with quarterly two-hour specials, the first of which will air on Oct. 29th,
AMW
says on its
official website
.
Lifetime president and general manager Nancy Dubuc praised
AMW
as a "seminal program that provides a very valuable service to both viewers and law enforcement agencies." And Walsh said, "We are back in the game and ready to saddle up for another season to get justice for victims and put dangerous criminals behind bars."
A Lifetime publicity release also says that
AMW
has "played a major role in the capture of more than 1,100 fugitives in the U.S. and 30 countries" since its 1988 launch on Fox, where it became a Saturday night staple in tandem with
COPS
.
***
Facing the financial realities of acclaimed but expensive dramas such as
Mad Men
and
Breaking Bad
, the AMC network is joining the more cost-efficent "reality" game in hopes of balancing its checkbook.
The network has green-lighted Kevin Smith's
Secret Stash
, an unscripted ode to the comic book culture, and
JJK Security
, which will highlight a firm in rural Georgia. Both are due sometime next year.
AMC also is splitting its most-watched scripted series,
The Walking Dead
, into a two-pronged Season 2. It returns on Oct. 16th with a 90-minute episode, with five more new hours to follow.
Dead
then goes dark until Feb. 12th, when a second run of six episodes is scheduled.
***
TNT has canceled Jada Pinkett Smith's medical drama,
HawthoRNe
, after three seasons. The series co-starred singer/actor Marc Anthony, whose marriage to Jennifer Lopez also is being canceled.
"Hey everyone . . . if you don't know HawthoRNe will not be returning for another season, I want to say thank you to all," Pinkett Smith said on her
Twitter page
.
09/06/11 15:26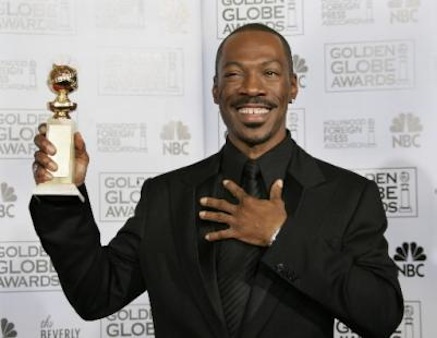 By ED BARK
Is this really a good idea? Eddie Murphy, whose big-screen bombs have outpaced his hits in recent years, has been named to host the 84th annual Academy Awards.
Murphy, an Oscar nominee and Golden Globe winner for his work in 2006's
Dreamgirls
, represents a renewed back-to-basics approach for the Academy, which tried and failed to youthify its TV audience last year with the combo of Anne Hathaway and James Franco. She tried hard, he didn't seem to care and Oscar's TV ratings dropped significantly from the previous year (when veterans Steve Martin and Alec Baldwin hosted) in both total viewers and advertiser-coveted 18-to-49-year-olds.
"Eddie is a comedic genius, one of the greatest and most influential live performers ever," Oscar co-producer Brett Ratner said in a publicity statement Tuesday. Not coincidentally, Murphy's latest feature film,
Tower Heist
, is directed by Ratner and scheduled for a November open.
Murphy, 50, is notoriously un-fond of the press and angrily left the 2007 Oscar ceremony immediately after losing to Alan Arkin in the best supporting actor category. But in the publicity release sent by ABC, he pledged to work with Ratner and co-producer Don Mischer to put on a show that is "enjoyable for both the fans at home and for the audience at the Kodak Theatre."
ABC again will televise the Oscars, which are scheduled for Feb. 26th. Murphy is the fourth
Saturday Night Live
"Not Ready for Prime Time" player to host the ceremony, following Chevy Chase, Billy Crystal and Chris Rock.
***
Regis Philbin's last day as co-host of the syndicated
Live with Regis and Kelly
will be on Friday, Nov. 18th, the show announced Tuesday. Until then, get ready for the "Regis Farewell Celebration Season," as it's being dubbed.