02/26/13 17:46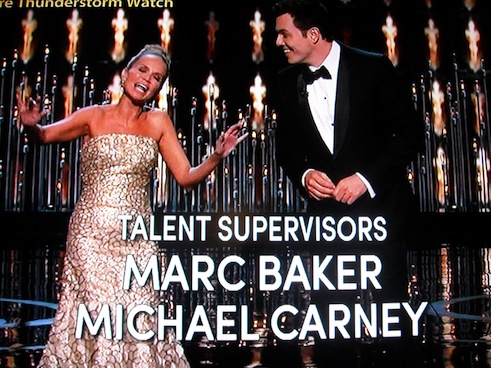 Kristin Chenoweth and host Seth MacFarlane wound down with "Here's to the Losers" at Sunday's Oscar ceremony. Photo: Ed Bark
By ED BARK
@unclebarkycom
Ratings for Sunday's Oscar ceremony were
down some in D-FW
but up some nationally. Which means host Seth MacFarlane may not be history yet despite some heavy criticism of his jokes and bits.
The three hour, 35 minute show averaged 40.4 million viewers compared to 39.3 million for last year's Billy Crystal-hosted ceremony.
That's the biggest Oscar audience since 2010, when 41.7 million watched
The Hurt Locker
beat the mega-blockbuster
Avatar
for Best Picture.
Sunday's Oscar-cast otherwise was the most-watched in the past eight years. The 2005 telecast had 42.1 million viewers.
The 2013 Oscars also upped their percentage of advertiser-prized 18-to-49-year-olds by 11 percent. That was one of the main reasons the Academy and ABC went with MacFarlane. But it also helps to have a roster of popular pictures as nominees. And this year's telecast spotlighted hits such as
Argo, Lincoln, DJango Unchained, Zero Dark Thirty
and
Silver Linings Playbook
.
The most-watched Oscars -- and a record not likely to ever be beaten -- were in 1998, when 55.2 million turned out. Not coincidentally, that was the year when the hugely popular
Titanic
won big.
***
ABC has announced the celebrity hoofers for its 16th edition of
Dancing with the Stars
, which returns on Monday, March 18th.
As usual, there are Olympians, a Disney Channel star, a pro football player, a goofball and a soap star.
Here they are, with their pro partners in parentheses:
Zendaya Coleman
(Val Chmerkovskiy)
Andy Dick
(first-timer Sharna Burgess)
Dorothy Hamill
(Tristan McManus)
D.L. Hughley
(Cheryl Burke)
Jacoby Jones
(Karina Smirnoff)
Wynona Judd
(Tony Dovolani)
Victor Ortiz
(first-time Lindsay Arnold)
Kellie Pickler
(Derek Hough)
Ingo Rademacher
(Kym Johnson)
Alexandra Raisman
(Mark Ballas)
Lisa Vanderpump
(first-timer Gleb Savchenko)
And yes, you read it right. Dance pro Maksim Chmerkovskiy is not participating this time. He says in a statement: "I'm going to take this time to dive into producing and acing, while fulfilling my sponsorship obligations."
unclebarky@verizon.net
02/14/13 12:52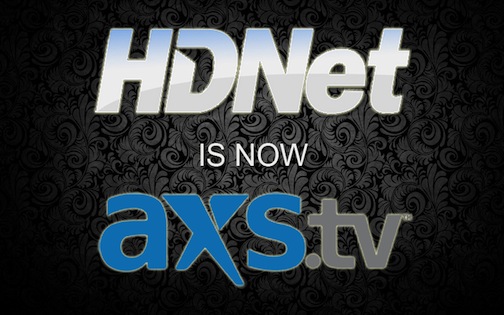 By ED BARK
@unclebarkycom
Mark Cuban's
fledgling AXS TV
, launched in July as an offshoot of HDNet, now has CBS as a high-profile partner.
The sweetheart deal was announced on Valentine's Day, although no programming specifics were.
"CBS is happy to provide AXS TV with live event content as the basis of this partnership," CBS Corporation president and CEO Leslie Moonves said in a publicity release. "This is an innovative way to use our tentpole programming to gain more ownership in the cable network business. AXS TV will now serve as a terrific complement to our existing broadcast television entertainment programming."
Cuban, also a co-star on ABC's popular
Shark Tank
series, said that CBS "brings the industry's best and most respected resources and experience to AXS TV, which will accelerate our growth and realization of our vision that 'The future of TV is TV.' "
The Dallas Mavericks owner launched HDNet in September 2001 as the country's only fully high-definition network. Many rival networks, including CBS, now are in wall-to-wall HD. The shift to AXS TV, which also is available in standard definition, was made in partnership with Ryan Seacrest Media, Creatives artists Agency and AEG.
One likely use of AXS TV by CBS would be for live red carpet shows preceding some of the network's awards ceremonies. CBS currently has the rights to the Grammys, the Tony Awards, The People's Choice Awards and the Academy of Country Music Awards.
Cuban and CBS have partnered before. In 2003 the network launched a new prime-time version of
Star Search
, to which Cuban owns the rights. It was hosted by Arsenio Hall and ran until 2004.
***
NBC has dumped
Do No Harm
after two abysmally-rated episodes. The Doctor Jekyll/Mr. Hyde-like medical drama is being replaced by repeats of
Law & Order: SVU
, beginning on Valentine's night.
NBC also has lost the co-star of
Up All Night
after Christina Applegate announced this week that she wants no part of the sitcom's new creative direction. The Peacock is trying to re-launch it as a live-before-a-studio-audience vehicle after it premiered last season as a single-camera comedy with no audience or laugh track sweetener.
***
Just when it seemed Kate Gosselin had gone away . . . she's back. ABC says that Gosselin and
Playboy
playmate Kendra Wilkinson will assume each other's lives for a week on the first episode of
Celebrity Wife Swap
, which premieres on Tuesday, Feb. 26th at 7 p.m. (central).
That incursion will push
The Taste
back an hour while displacing the comedy series
Happy Endings
to Fridays at 7 p.m., beginning March 29th. Back-to-back new episodes of
Happy Endings
will air in place of
Last Man Standing
and
Malibu Country
, which will have their season finales before that date, ABC says.
***
HBO has set the Season 2 premiere of Julia Louis-Dreyfus'
Veep
for Sunday, April 14th at 9 p.m. (central). And The CW network has announced that
The Vampire Diaries, Supernatural
and
Arrow
all will return next season.
unclebarky@verizon.net