11/04/08 13:31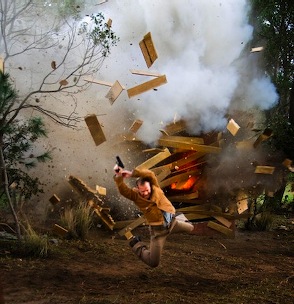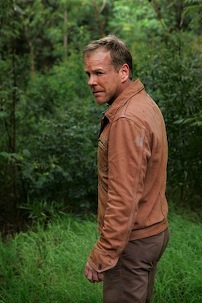 Jack Bauer's blown away but of course still standing on Fox's 24.
By ED BARK
Fox's big-ticket attraction for the November "sweeps" finds agent Jack Bauer still ticking while on the lam in Africa.
24: Redemption
, premiering as a self-standing movie on Nov. 23rd, sets the stage for
24
's seventh season launch as a two-night, four-hour "event" on Jan. 11-12.
Kiefer Sutherland
, officially back as Jack on Nov. 23rd, is doing missionary work in Africa when called on to stop a ruthless warlord from drafting school kids by force into his "murderous militia."
Meanwhile, back in the U.S., it's inauguration day for president-elect Allison Taylor (
Cherry Jones
). Little does she know -- or does she? -- that "malevolent mastermind" Jonas Hodges, played by guest star
Jon Voight
, is working hard behind the scenes to further inflame an international crisis.
January's official kick-off of
24
in its usual hour-by-hour format will re-introduce
Carlos Bernard
as presumed dead CTU agent Tony Almeida. CTU is officially dead, too, according to Fox publicity materials. But two of Jack's longtime CTU comrades, Chloe O'Brian (
Mary Lyn Rajskub
) and Bill Buchanan (
James Morrison
), will be returning to the series in new guises.
24
also is adding "First Gentleman" Henry Taylor, played by
Colm Feore
, and returning
Janeane Garofalo
as agent Janis Gold.
Season 7 of
24
was supposed to begin unfolding in January, 2008, but the Writers Guild strike knocked it entirely off the air. So Jack hasn't been seen since May of 2007 in
24
's sixth season finale. He looked pretty vexed.
FOX IS OVER THE "HILL"
King of the Hill
has survived previous planned cancelations, but this time it's official -- on Fox at least. The network will be dropping its second-longest-running animated series -- starring the fictional Hills of fictional Arlen, TX -- after new episodes run out sometime next year.
"After 13 cycles, Hank and family are gone," Fox senior VP of communications Scott Grogin confirms.
There's a chance, though, says the trade newspaper
Variety
, that ABC might be interested in picking up
King
and pairing it at some point in late 2009 or early 2010 with its planned new animated series,
The Goode Family
. Both shows are creations of Austin's
Mike Judge
, whose first claim to fame was MTV's
Beavis & Butt-head
.
King of the Hill
premiered on Jan. 12, 1996 and at last count has more than 250 episodes under its belt.
RATINGS HIGHS AND LOWS
Final national Nielsen numbers are in for
Barack Obama's
Oct. 29th half-hour prime-time pitch to the electorate and Fox's rain-delayed, five-game World Series between the victorious Philadelphia Phillies and Tampa Bay Rays.
The Series averaged 13.6 million viewers for its five games, making it by far the least-watched ever. The previous record-holder, 2006's five-gamer between the winning St. Louis Cardinals and Detroit Tigers, drew 15.8 million viewers on Fox.
Nielsen Media Research has been keeping total viewers data on the World Series since 1973, when an average of 34.8 million viewers watched the Oakland A's defeat the New York Mets in seven games.
The all-time most-watched Series during that 36-year period is NBC's 1978 six-gamer between the victorious New York Yankees and Los Angeles Dodgers.
It averaged 44.3 million viewers during the course of further anointing
Reggie Jackson
as "Mr. October." In the 1977 Series, Jackson clubbed three straight home runs at Yankee Stadium in the deciding Game 6, with the Dodgers again on the losing end. A relatively modest 37.2 million viewers watched the '77 Series on ABC.
Obama's Oct. 29th presentation, carried on four broadcast and three cable networks, drew a total of 33.6 million viewers nationally. That shattered by previous record by Dallas billionaire
Ross Perot
, whose Nov. 4, 1996 half-hour commercial on three broadcast network was seen by 22.7 million viewers, according to Nielsen.
Here's the official viewership scorecard for the Obama ad:
NBC
-- 9.8 million
CBS
-- 8.6 million
Fox
-- 7.1 million
Univision
-- 3.6 million
MSNBC
-- 3.5 million
BET
-- 714,000
TV One
-- 307,000
ABC's competing telecast of its ratings-starved
Pushing Daisies
had 6.7 million viewers. In other words, it couldn't beat Obama's competing commercial on any of ABC's rival Big Three broadcast networks. This likely means that
Pushing Daisies
will be pushing daisies -- a k a -- canceled -- before the New Year rings in.