08/29/07 14:16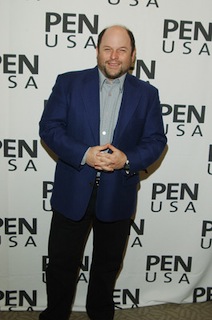 Serious business for Katie Couric; more comedy for Jason Alexander.
By ED BARK***Katie Couric
will mark her first anniversary as anchor of the
CBS Evening News
by journeying to Iraq for the first time.
CBS announced Wednesday that she'll report and anchor the program from Iraq and Syria during Sept. 4-7. Couric took over the
Evening News
from Bob Schieffer on Sept. 5, 2006, the day after Labor Day. Her broadcast currently is running third in the dinnertime news ratings after an initial burst into first place.
There's other timing involved. Couric's reports will come a week before Gen.
David Petraus
' scheduled status report to Congress on the progress of the U.S. effort in Iraq.
***
Two old
Seinfeld
castmates,
Jason Alexander
and
Julia Louis-Dreyfus
, will reunite on her CBS show sometime in the coming season. Alexander is a cast as a "lizard handler" for children's birthday parties who ends up dating Louis-Dreyfus' title character on
The New Adventures of Old Christine
.
CBS has renewed the sitcom, but not as part of its fall schedule. It's supposed to return in midseason.
***
Fox has a celebrity contingent ready to show how smart -- or dumb -- they are on its hottest new show. Set for November "sweeps" appearances on
Are You Smarter Than a 5th Grader?
are
Regis Philbin, Billy Bush, Tony Hawk
, former
American Idol
stars
Clay Aiken and Kellie Pickler and Miss America Lauren Nelson.

All will be playing for charity, Fox says.