05/29/12 14:51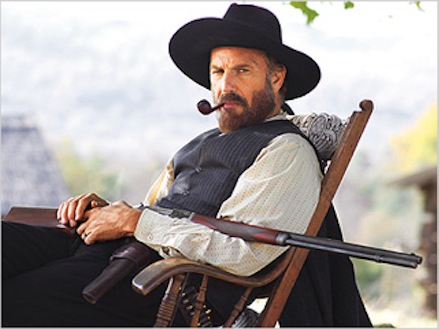 Kevin Costner fired up his pipe, shotgun as Devil Anse Hatfield.
History photo
By ED BARK
@unclebarkycom
Setting a pace that likely will make it the week's most-watched attraction on any form of television, History's Part 1 of
Hatfields & McCoys
amassed a national audience of 13.9 million viewers on Memorial Day night.
The network says that makes it the No. 1 "non-sports telecast in ad-supported cable television history." But them's fightin' words to both CNN and the Disney Channel.
The latter network's
High School Musical 2
drew 17.2 million viewers on the night of Aug. 20, 2007. It technically wasn't advertiser-supported at the time, although Disney did take programming breaks to promote its other attractions and enterprises. Disney now includes some ads.
HSM 2
beat the cable viewer record held for 14 years by CNN's contentious Al Gore-Ross Perot NAFTA debate on a special edition of
Larry King Live
. It had 16.8 million viewers and wasn't a sports telecast. Plus, CNN has always accepted advertising. Perhaps this can be settled with a tobacco-spittin' match between Hatfield/McCoy ancestors and the flinty team of King/Perot.
The grand champ among cable attractions is Auburn's win over Oregon in the 2011 college football National Championship game. It had 27.3 million viewers in smashing the previous cable high, a 2009
Monday Night Football
game between the Green Bay Packers and Minnesota Vikings (21.8 million viewers). Both matchups aired on ESPN.
However it's sliced, though, 13.9 million viewers is a huge haul for History, which continues with the six-hour
Hatfields & McCoys
on Tuesday and Wednesday nights of this week.
***
Television clearly doesn't have enough talent competitions. So NBC has ordered up another one.
The Winner Is
, which doesn't have an air date yet, is described as a "new vocal game show that spotlights talented singers from all ages singing and negotiating to win the cash prize of $1 million." Whatever.
***
Meanwhile, CNN will be serving chef Anthony Bourdain as host of a new weekend program set to premiere early next year.
The network says the still to be titled series "will be shot on location and examine cultures from around the world through their food and dining and travel rituals."
05/04/12 11:00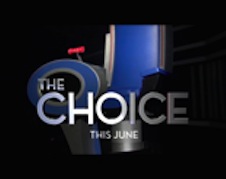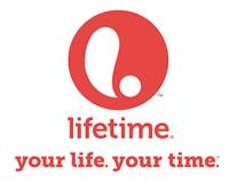 By ED BARK
@unclebarkycom
Saturday Night Live
has landed iconic Mick Jagger to host the iconic show's May 19th season finale.
He'll also be the musical guest, marking his third time in that capacity. Jagger also has participated in a handful of
SNL
sketches over the years, but this will be his inaugural stint as ringmaster.
***
The sly, cunning Fox network isn't joking with
The Choice
, a new celebrity dating game show that will feature swivel chairs and "the world's most eligible celebrities" pulling "love handles" to see whom they've picked sight unseen.
Premiering Thursday, June 7th and obviously spun from NBC's
The Voice
, the one-hour series will be hosted by Cat Deeley, who has the same task on Fox's summertime
So You Think You Can Dance
.
Each episode of
The Choice
will end with celebs making a date with one of the "sexy singles" up for grabs. No names have been announced yet, but George Clooney can safely be ruled out while Bob Saget looks as though he'll fit right in.
***
Lifetime has a new logo (shown above) and a new movie in development,
Prosecuting Casey Anthony
, starring Rob Lowe as courtroom interrogator Jeff Ashton.
Earlier this year, Lowe played accused killer Drew Peterson in Lifetime's
Drew Peterson: Untouchable
, which drew 5.8 million viewers. Lifetime says it was the most watched made-for-TV movie since the network's
The Pregnancy Pact
, which was shown in 2010.
Lifetime's latest logo and slogan -- "your life, your time" -- were unveiled earlier this week. They supposedly reinforce the network's determination to "create times for viewers to laugh, to cry, or be inspired. These aspirational moments and life experiences will continue to be the essence of the Lifetime brand," according to president and GM Nancy Dubuc.
Aimed primarily at women, Lifetime has struggled in recent seasons, but lately has seen growth for the first time in seven years in women viewers in the 18-to-49 and 25-to-54 demographic, says a network publicity release. Its newest series, Jennifer Love Hewitt's
The Client List
, is Lifetime's most-watched launch in nearly three years.
***
If NBC's
Today
show wasn't worried before, it's definitely worried now.
ABC's
Good Morning America
, which last month ended
Today's
unparalleled 16-year winning streak, has now beaten the NBC cash cow in two of the last three weeks.
GMA
won the week of April 23-27 by an average of 180,000 viewers. That's a considerable increase over the paper-thin 31,000 viewer margin that ended
Today
's streak in the week of April 9-13.
Today
still leads among 25-to-54-year-olds, the primary target audience for news programming. But that margin also has been shrinking. The April 23-27 gap of 104,000 viewers in this key demographic was the smallest since the week of Nov. 27, 1995, ABC crows.
***
TNT has ordered a 10-episode Season 5 of
Southland
, which it rescued after NBC canceled the acclaimed cop series to make room for Jay Leno's very ill-fated prime-time stint. And The CW has renewed
The Vampire Diaries, Supernatural
and
90210
for next season.