TV Bulletin Board (Mon., May 29) -- History's Hatfields & McCoys corrals big crowd
05/29/12 14:51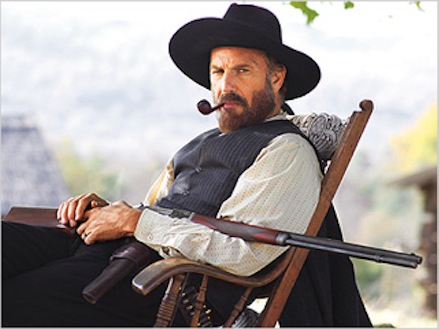 Kevin Costner fired up his pipe, shotgun as Devil Anse Hatfield.
History photo
By ED BARK
@unclebarkycom
Setting a pace that likely will make it the week's most-watched attraction on any form of television, History's Part 1 of
Hatfields & McCoys
amassed a national audience of 13.9 million viewers on Memorial Day night.
The network says that makes it the No. 1 "non-sports telecast in ad-supported cable television history." But them's fightin' words to both CNN and the Disney Channel.
The latter network's
High School Musical 2
drew 17.2 million viewers on the night of Aug. 20, 2007. It technically wasn't advertiser-supported at the time, although Disney did take programming breaks to promote its other attractions and enterprises. Disney now includes some ads.
HSM 2
beat the cable viewer record held for 14 years by CNN's contentious Al Gore-Ross Perot NAFTA debate on a special edition of
Larry King Live
. It had 16.8 million viewers and wasn't a sports telecast. Plus, CNN has always accepted advertising. Perhaps this can be settled with a tobacco-spittin' match between Hatfield/McCoy ancestors and the flinty team of King/Perot.
The grand champ among cable attractions is Auburn's win over Oregon in the 2011 college football National Championship game. It had 27.3 million viewers in smashing the previous cable high, a 2009
Monday Night Football
game between the Green Bay Packers and Minnesota Vikings (21.8 million viewers). Both matchups aired on ESPN.
However it's sliced, though, 13.9 million viewers is a huge haul for History, which continues with the six-hour
Hatfields & McCoys
on Tuesday and Wednesday nights of this week.
***
Television clearly doesn't have enough talent competitions. So NBC has ordered up another one.
The Winner Is
, which doesn't have an air date yet, is described as a "new vocal game show that spotlights talented singers from all ages singing and negotiating to win the cash prize of $1 million." Whatever.
***
Meanwhile, CNN will be serving chef Anthony Bourdain as host of a new weekend program set to premiere early next year.
The network says the still to be titled series "will be shot on location and examine cultures from around the world through their food and dining and travel rituals."