05/30/19 11:58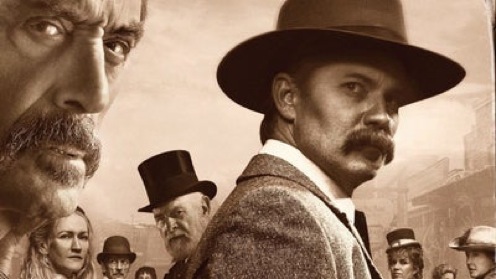 How its West was won: Deadwood finally gets an epitaph. HBO photo
By ED BARK
@unclebarkycom on Twitter
The abundant profanity remains in place. How could it not?
This time, though, add equal parts poignancy.
Deadwood
, the series that died too soon after three season on HBO, breathes its last with a letter-perfect eulogy.
Deadwood: The Movie
(
Friday, May 31st, 7 p.m. central
) reunites the principal characters and serves each of them exceedingly well. Who could ask for anything more?
The film is set in 1889, a decade after the series left off. In real time, it's been close to 13 years since HBO aired the last original episode of
Deadwood
on August 27, 2006. Although it's been a long time in coming, with several false starts, the movie couldn't come soon enough for creator David Milch. In 2015 he was diagnosed with Alzheimer's disease. He has no other projects in the works, so this could be his epitaph.
Deadwood's
closing episode as a series ended with vile, vengeful, land-grabbing George Hearst (Gerald McRaney) riding out of town while Marshal Seth Bullock (Timothy Olyphant) sneered his contempt for him. Now Hearst is back, this time as a U.S. senator on the occasion of South Dakota becoming the 40th state. For purely voracious business purposes, he covets the land owned by longtime Deadwood resident Charlie Utter (Dayton Callie), who remains adamant about not selling. But Hearst, as he's shown before, will stop at nothing.
Bullock is still Deadwood's straight-shooting, deliberate striding, flinty-eyed marshal. Married to Martha Bullock (Anna Gunn) out of duty as much as love (she had been the wife of his late cavalryman brother), Bullock retains feelings for Alma Ellsworth (Molly Parker), herself a widower whose daughter Sofia (Lily Keene) has grown into a young lady.
Meanwhile, brothel owner Al Swearengen (Ian McShane), fastest f-bomber in the West, is fading fast from a life of heavy drinking and very bad behavior. At the end of the series, he slit one of his prostitute's throats and put her in a coffin as a stand-in (so to speak) for Trixie (Paula Malcomson), who had tried to kill Hearst but only wounded him. The ruse worked. But 10 years later, Hearst has come to believe he was duped.
Calamity Jane (Robin Weigert) also has returned to town, riding a horse in her usual drunken state while hoping to rekindle a beyond platonic relationship with Joanie Stubbs (Kim Dickens). Weigert's performance has always been my favorite, and she continues to excel. Another key character, Bullock's best friend, Solomon "Sol" Star (John Hawkes), has hankerings, too -- for Trixie.
Scenes from the series' past -- it's been a long time, after all -- are nicely intercut in very brief form to remind viewers of events that continue to resonate.
Deadwood
's trademark blend of literacy and crudity continues to harmoniously co-exist. Bullock can be a man of few words, all of which count for something. "My job ain't to follow the law," he tells Swearengen in no uncertain terms. "My job is to interpret it, then enforce it -- accordingly."
A few major characters are missing, but through no fault of Milch's. Principally among them is the late Powers Boothe, who played cutthroat Cy Tolliver. Titus Welliver, who played Swearengen cohort Silas Adams, was otherwise occupied as the star of his Amazon Prime series
Bosch
.
Deadwood: The Movie
ends with beautifully paired scenes featuring Bullock and Swearengen. Both are moving in their own distinctive ways, bringing one of HBO's very best series to an end that does David Milch proud. Very proud indeed.
GRADE:
A
Email comments or questions to:
unclebarky@verizon.net