HBO's What's My Name: Muhammad Ali is in the ring and in his words
05/14/19 11:46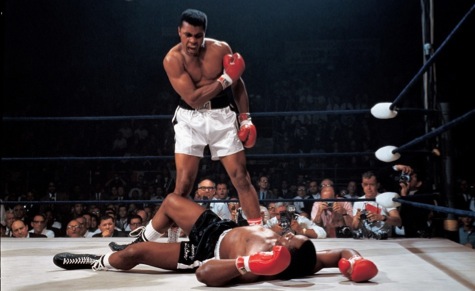 The iconic shot of Ali standing over a fallen Sonny Liston. HBO photo
By ED BARK
@unclebarkycom on Twitter
Weighing in at two hours, 40 minutes and airing in one sitting, HBO's
What's My Name: Muhammad Ali
, is as thrilling today as it was in his yesteryears.
You can answer its bell on
Tuesday, May 14th at 7 p.m. (central)
. And if you do, there'll be no turning away. It's that mesmerizing.
Co-produced by LeBron James and directed by Antoine Fuqua (
Training Day
), the documentary film draws its title from the buildup for a Feb. 6, 1967 bout with Ernie Terrell at the old Houston Astrodome. Terrell kept calling Ali by his birth name, Cassius Clay, during a pre-fight verbal battle.
"You're acting just like an old Uncle Tom," Ali retorted. He vowed to punish his opponent in the ring and did so, repeating taunting Terrell with "What's my name?" while battering him with punch after punch but refusing to move in for the knockout. The fight instead went the full 15 rounds, with Ali winning all of them according to two of the three judges' scorecards.
As the film shows, Ali could be vindictive in the ring, as he also was with Floyd Patterson in their 1965 fight. Patterson likewise had refused to call him Ali. He ended up being pummeled for 12 rounds before Ali won on a technical knockout that easily could have come much earlier in their bout.
Ali mostly was glorious, though, both verbally and with fists flying during an unmatched career that only stands taller as time moves on. The film marches to the beat of his words and recollections, the bulk of them from the champ's many TV interviews and press conferences. Howard Cosell latched on to him most famously. But Ali also spent considerable time with Dick Cavett and Michael Parkinson, a British talk show host who heretofore has been little known to American audiences.
What's My Name
begins with the prelude to 1971's "Fight of the Century," in which Ali squared off against Joe Frazier following a three-year layoff. He had been stripped of his boxing license and heavyweight title for refusing to be inducted into the military.
Ali remained despised by many for pledging allegiance to Elijah Muhammad shortly after his shocking 1964 upset of the seemingly invincible Sonny Liston. The name change, from Cassius Clay to Muhammad Ali, sent even bigger shock waves through America. Even trailblazing Jackie Robinson denounced him for dodging the draft on religious grounds. But current-day black athletes were publicly in his corner, with Bill Russell, Jim Brown and the then Lew Alcindor holding a supportive press conference also attended by the Rev. Martin Luther King, Jr.
Before becoming, Ali, Clay was steeled by the treatment he received after fighting his way to a gold medal in the light heavyweight division during the 1960 Olympics in Rome. "I done whipped the world for America . . . I know I can eat downtown now," Clay declared.
But he couldn't, not even in his hometown of Louisville, KY. "We don't serve Negroes," he recalled being told after sitting down at a diner. "I don't eat 'em either," he supposedly said in response. All he wanted was a meal, but left without one.
The young Clay modeled his brashness after Gorgeous George, a vain wrestler with blonde curls who filled arenas with those who loved to hate him. It seemed like a good business plan. So Clay became a rhyming braggart, telling TV host Steve Allen before the first Liston fight, "If you like to lose your money, be a fool and bet on Sonny."
His eventual three fights with Frazier and the stunning knockout of George Foreman are all vividly recaptured in
What's My Name
. The wars with Frazier were all uniformly brutal, with Ali for the most part dispensing more punishment than he received. But they clearly took their toll on him. And when it came time to quit, Ali couldn't. He instead stayed too long at the party, and had nothing left in his final two fights against former sparring partner Larry Holmes and journeyman Trevor Berbick. The man who once said, "I'm so bad, I make medicine sick," was slurring his speech at the close of his last fight in 1981. "Father Time caught me," he acknowledged. "I'm retiring. I don't think I'll change my mind."
Ali's last big hurrah, lighting the Olympic torch at the 1996 Summer Games in Atlanta, remains immensely poignant. His body shook from the ravages of Parkinson's Disease as the crowd showered him with affection. The official end didn't come until 20 years later, at age 74.
What's My Name
doesn't delve into its subject's personal life, focusing only on his career in the ring and his activism outside of it. That's more than enough to easily fill its extended running time -- which will float like a butterfly, sting like a bee and fly by before you know it.
GRADE:
A-minus
Email comments or questions to:
unclebarky@verizon.net