03/24/15 16:39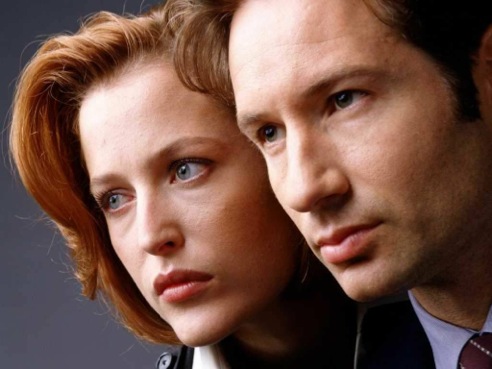 X-rated anew on Fox: truth-seekers Dana Scully and Fox Mulder.
By ED BARK
@unclebarkycom on Twitter
It had begun to seem as though a continuation of
The X Files
on Fox was about as likely as a
24
feature film. Lots of false starts but no payoff.
But a renewal of the famed sci-fi series is now an officially announced reality, with David Duchovny and Gillian Anderson reuniting as Fox Mulder and Dana Scully in a six-episode "event series." Creator/executive producer Chris Carter also is returning as show runner, Fox said Tuesday. Production is scheduled to start this summer.
"I think of it as a 13-year commercial break," Carter said in a publicity release. "The good news is the world has only gotten that much stranger, a perfect time to tell these six stories."
The X Files
premiered on Fox in September, 1993, ages before Facebook, Twitter and the whole social media upheaval. It nonetheless became a much-talked about phenomenon in those primitive times. The series ran for nine seasons and 202 episodes while also spawning two big-screen films starring Duchovny and Anderson.
***
Showtime has ordered 12 episodes of
Billions
, a new drama series starring Paul Giamatti and Damian Lewis, who will be returning to the network after three seasons as the ill-fated Nicholas Brody on
Homeland
.
The network describes it as a "complex and contemporary drama about power politics in the New York world of high finance." The series is due in 2016, with Giamatti playing "hard-charging, politically savvy" U.S. attorney Chuck Rhoades and Lewis cast as "brilliant, ambitious" hedge fund king Bobby "Axe" Axelrod.
***
Easter Sunday, April 5th, threatens to run DVRs into the ground with a wealth of significant premieres plus the return of AMC's
Mad Men
for its concluding seven-episode run, subtitled "The End of an Era."
Besides Don Draper's last stand, here's what else is coming on Easter night.
*
PBS'
Wolf Hall
, a six-part
Masterpiece
presentation starring Mark Rylance as Thomas Cromwell and the aforementioned Lewis as Henry VIII.
*
HBO's
Sinatra: All or Nothing At All
, a two-night, four-hour documentary on the legendary singer.
*
NBC's
American Odyssey
, an ambitious,
Homeland
-like drama series delving into global politics, corporate espionage and military skullduggery.
*
Lifetime's
The Lizzie Borden Chronicles
, an eight-episode continuation of the network's hit movie starring Christina Ricci in the title role.
*
NBC's
A.D. The Bible Continues
, post-crucifixion sequel to the History network's
The Bible
.
*
ABC's annual reprise of
The Ten Commandments
Email comments or questions to:
unclebarky@verizon.net
03/09/15 12:41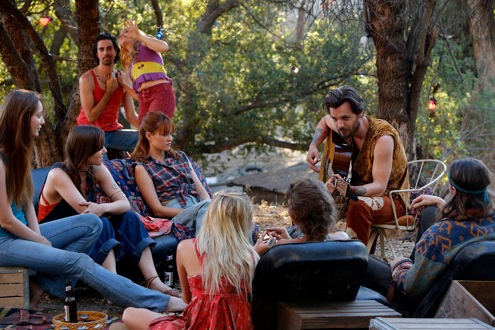 Charles Manson (Gethin Anthony) strums up business in Aquarius.
NBC photo
By ED BARK
@unclebarkycom on Twitter
NBC's "tentpole" summertime premieres include three name-brand returnees and a new series in which David Duchovny chases down Charles Manson.
Aquarius
, starting on Thursday, May 28th, stars Duchovny as LAPD Sgt. Sam Hodiak, who joins two other cops in pursuing Manson (Gethin Anthony) "down a rabbit hole of drugs, sex, murder and a cultural revolution." It's set in 1967.
Another twisted psycho, Hannibal Lecter, is due back on Thursday, June 4th for Season 3 of
Hannibal
. That'll put the series in tandem with
Aquarius
for a full two-hours of maniacal killers and manipulators.
The Peacock's biggest summertime hit,
America's Got Talent
, launches its 10th season on Tuesday, May 26th. And
American Ninja Warrior
will be back the night before on Monday, May 25th.
***
CBS has its major hot weather attractions lined up.
Big Brother
is first in line with a Wednesday, June 24th re-launch. It also will air on Thursdays and Sundays.
Season 3 of
Under the Dome
gets going on Thursday, June 25th and the second season of
Extant
is due on Wednesday, July 1st.
The network's summertime newcomer is
Zoo
, adapted from the James Patterson novel. James Wolk (
Mad Men, The Crazy Ones
) heads the cast as a "renegade biologist" battling a wave of animal attacks against humans who presumably aren't members of PETA. Kristen Connolly (
House of Cards
) co-stars.
***
Kevin Spacey, currently skewering his many enemies as President Frank Underwood on Netflix's
House of Cards
, has been signed to produce the six-part docu-series
Race For the White House
for airing in 2016 on CNN.
Each of the one-hour chapters will revisit a "no-holds-barred" presidential campaign. CNN hasn't announced which ones yet.
***
CBS on Monday, March 9th launched "Viewers to Volunteers," which the network says "empowers people to give to a charity of their choice without spending their own money." D-FW is the one of the first four "launch markets," joining Los Angeles, Philadelphia and Minneapolis. For more information on how this all works,
go here
.
Email comments or questions to:
unclebarky@verizon.net