06/25/18 12:22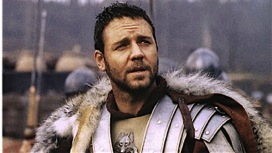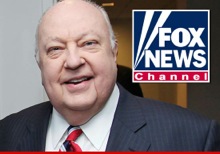 By ED BARK
@unclebarkycom on Twitter
Russell Crowe has put on a few since his
Gladiator
days. Even so, Showtime's announcement Monday that he'll playing Roger Ailes in a limited series came as a distinct but nonetheless intriguing surprise.
Crowe, no doubt with the aid of some prosthetics, will be the principal star of an eight-part limited series based on the bestselling book
The Loudest Voice in the Room
by Gabriel Sherman. Ailes, the founder of Fox News Channel, died in May of last year at age 77 after resigning from FNC in the midst of multiple allegations of sexual misconduct.
Ailes' "Fair and Balanced" mantra for FNC became both mocked and embraced during the network's steady climb to the top of the cable news ratings heap. The network in fact is a conservative force and latter day fervent supporter of President Trump, for whom Ailes briefly became an advisor before his death.
"In many ways, the collision between the media and politics has come to define the world we live in today," Showtime president and CEO David Nevins said in a statement accompanying the announcement of the series and Crowe's casting. "We've seen this phenomenon depicted on screen as far back as the story of Charles Foster Kane, and it finds contemporary embodiment in the rise and fall of Roger Ailes. With Russell Crowe in the lead role, this limited series promises to be a defining story for this era."
The principal executive producers are Jason Blum (
Whiplash, Get Out
) and Tom McCarthy, who won a Best Original Screenplay Oscar for 2015's Best Picture winner,
Spotlight
.
Crowe, 54, has three Oscar nominations for his acting, including a win for
Gladiator
, which made him an international star and occasionally tabloid fodder for a series of off-screen escapades tied to a volatile temper that seemingly has since been tamed.
Casting the New Zealand-born actor as Ailes seems to be a rather odd fit on the face of it. But Tom Selleck once credibly played Dwight D. Eisenhower in an A&E network film while Bill Murray and Woody Harrelson respectively have been cast as Franklin Delano Roosevelt and Lyndon Baines Johnson in recent feature films that did little business at the box office. And way back in 1986, Richard Crenna played Dallas billionaire and former two-time presidential candidate H. Ross Perot in the 1986 NBC miniseries
On Wings of Eagles
. The makeup department didn't even try to make him look like Perot
This will be Crowe's first role in a U.S. television series. Showtime does not have a firm title yet, or an air date.
Email comments or questions to:
unclebarky@verizon.net