05/03/18 15:16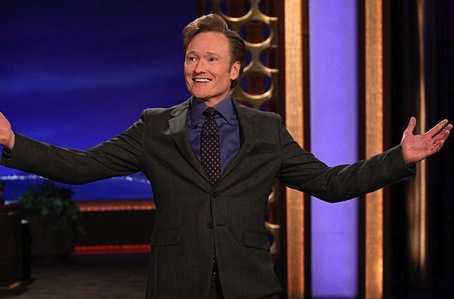 Conan O'Brien has hosted Conan since Nov. 8, 2010. TBS photo
By ED BARK
@unclebarkycom on Twitter
Let's get to the conventional bottom line first:
Conan
, a staple of TBS' late night lineup since Nov. 8, 2010, will be shrinking from an hour to half an hour at the start of next year.
Otherwise you'll see more of Conan O'Brien, if you'd like, on other digital age "platforms." It's a move that O'Brien has been considering for the last few years, and now TBS is finally playing along with him.
In its announcement Thursday, TBS said the "expanded partnership" will be "spanning television, digital, social and live events that will enable the late night icon to capitalize and interact with his multi-generational fan base across platforms."
One of the main new ventures, launching in late 2018, TBS says, is a multi-city tour with a "curated team of comics" that will be "hosted by O'Brien himself."
O'Brien, who first entered the after-hours arena in 1993 as host of NBC's
Late Night
program, notes that "TV has changed exponentially" in the quarter-century since. "Now it's time for me to take the next leap. A half-hour show will give me the time to do a higher percentage of the comedy in, and out, of the studio that I love and that seems to resonate in this new digital world. It's still going to be me hosting a very silly show, but I want segments on my half-hour program to link to digital content, deepening the experience for my younger fans, and confusing my older ones."
Having recently turned 55, he's not a kid anymore and is now well outside the 18-to-49-year-old audience demographic craved by most advertisers.
TBS said O'Brien will be continuing his hour-long
Conan Without Borders
specials, which last took him to Cuba. Also, O'Brien's "entire catalogue" of
Late Night
and
Conan
shows will be digitally available on TBS. Not surprisingly, this doesn't include his short tenure as NBC's
Tonight Show
host before the network gave the program back to Jay Leno. While trying to recover from the bitterness he felt, O'Brien went on a nationwide tour that preceded his hiring by TBS.
***
In decisions that were no-brainers since the recent starts of their second seasons, HBO has renewed
Westworld
for a third season while Hulu has green lit a Season 3 of
The Handmaid's Tale
.
Email comments or questions to:
unclebarky@verizon.net