10/24/07 14:34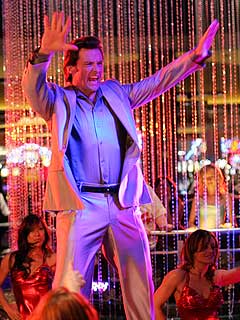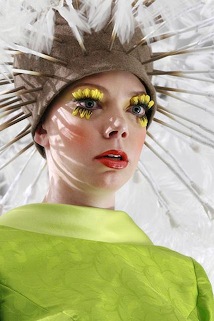 Tales of two series: CBS' Viva Laughlin, ABC's Pushing Daisies
By ED BARK
ABC's
Pushing Daisies
joins a so far small group of new series getting full-season orders from their networks. But CBS'
Viva Laughlin
already is pushing up daisies after just two episodes.
Laughlin
, a poorly executed musical murder mystery, got axed after luring just 6.4 million viewers nationally Sunday night. The previous Thursday's sneak preview drew a disappointing 8.4 million viewers following
CSI: Crime Scene Investigation
(21.2 million).
That makes
Laughlin
the new season's first scripted cancelation. Fox earlier stopped the music on
Nashville
, a reality series chronicling the exploits of young, sex-capading country twangers. Actually that one seemed pretty much scripted, too.
Daisies
so far ranks 24th among advertiser-craved 18-to-49-year-olds. ABC's
Private Practice
, which follows it on Wednesday nights, also has a full-season pickup and a far higher perch (No. 9) in the 18-to-49 demo.
CBS'
Big Bang Theory
, The CW's
Gossip Girl
and Fox's
Kitchen Nightmares
are the other newcomers getting extended life spans from their networks.
Laughlin
's Sunday, 7 p.m. (central) replacement, starting on Nov. 4th, is the 12th edition of
The Amazing Race
. A
CSI: Crime Scene Investigation repeat fills in this Sunday.

***Fox's Game 1 of the Boston Red Sox-Colorado Rockies World Series swings into view Wednesday night after encouraging ratings for Sunday's Game 7 of the Red Sox-Cleveland Indians matchup. It drew a robust 19.2 million viewers to rank third for the week behind only CSI: Crime Scene Investigation and ABC's Dancing with the Stars performance show.

Better yet for Fox, the Red Sox-Indians beat NBC's usually potent Sunday Night Football in a head-to-head matchup. The down-to-the-wire game between the Denver Broncos and Pittsburgh Steelers finished 16th for the week with 13.1 million viewers.

***NBC will go gang green from Nov. 4-10 with environmentally conscious episodes in both prime-time and late night. Some of this is a stretch, particularly on Late Night with Conan O'Brien. The carrot-topped host will welcome guests "whose names incorporate the word green," says NBC.

On the Tonight Show, host Jay Leno will drive a variety of "environmentally sound vehicles" to his Burbank Studios workplace. And Al Gore will guest on Nov. 8th.

Here's some of what NBC is doing in prime-time. And no, we're not making these up.

Chuck (Nov. 5) -- The reluctant secret agent returns to Stanford University, where he earlier was expelled. He's just in time for the annual "Green Festival."

Heroes (Nov. 5) -- The character West "helps with some energy-saving fixes around the house."

Bionic Woman (Nov. 7) -- Jaime Sommers attends an international environmental conference in Paris, where she also flirts with a guest character named Tom.

30 Rock (Nov. 8) -- Al Gore drops in here, too, joining a GE-wide "green initiative" that includes creating a green mascot for NBC.

ER (Nov. 8) -- Morris buys an energy-efficient car while County General Hospital likewise strives to conserve energy during rolling brownouts.

Friday Night Lights (Nov. 9) -- A guest character named Shelley drops in to promote "the need to live a green lifestyle, even in a less-than-progressive town like Dillon, Texas."

Las Vegas (Nov. 9) -- The nation's leading energy burner dims a few bulbs while hosting an "environmentally friendly conference" at the Montecito casino.