TV Bulletin Board (Oct. 25)
10/25/07 16:19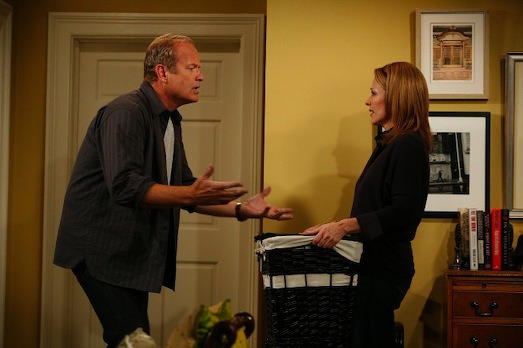 Kelsey Grammer and Patricia Heaton will still be arguing a while.
By ED BARK
Fox commendably has picked up
Back to You
for a full season despite its so far lackluster ratings.
The
Kelsey Grammer-Patricia Heaton
sitcom ranked 58th in the latest weekly Nielsens, drawing 7.1 million viewers to rank just a hair above ABC's new Tuesday night duo of
Cavemen
and
Carpoolers
.
Back to You
, set in a fictional Pittsburgh TV newsroom, airs Wednesdays at 7 p.m. (all times are central).
***
ABC is switching its top and bottom Friday night attractions.
20/20
will return to 9 p.m. after leading off the night this fall. And the second year series
Men In Trees
downshifts from 9 to 7 p.m. Changes are effective Nov. 2nd.
***
The Alphabet Network also plans to bring back two of last spring's freshmen for second seasons.
October Road
returns on Nov. 22nd at 9:02 p.m. central, getting the
Big Shots
spot before moving to Mondays at 9 p.m. when
The Bachelor
ends its latest run.
Notes From the Underbelly
also will be on Mondays, paired with the first-year sitcom
Samantha Who?
Its return date is Nov. 26th (8:30 p.m.)