12/20/07 14:49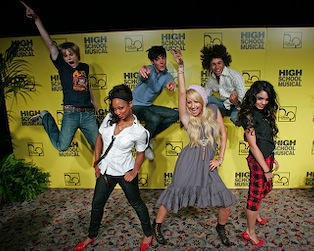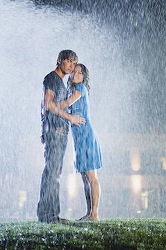 Posing for HSM 1. A bit more grown up for the sequel.
By ED BARK
Scream
I and II are back. Except they're titled
High School Musical
and
High School Musical 2
The Disney Channel will pair the two smash movies up on Friday, Dec. 28th, beginning with the original at 5 p.m. (central) and then the sequel at 7 p.m. Lyrics to all songs in both movies will be on-screen so that any kid who somehow doesn't already know them by heart can still feel like part of the clique.
HSM2
had owned the all-time cable record of 17.2 million viewers for its August premiere until ESPN's New England Patriots-Baltimore Ravens
Monday Night Football
game snapped it with 17.5 million viewers on Dec. 3rd. But Disney contends that
HSM
and its cousin respectively have been seen by 250 million and 147 million viewers around the world. So there.
***
Three North Texans are among the 24 peasants selected to battle NBC's 12
American Gladiators
when the new version premieres on Jan. 6th. They are:
Adam Levin, a 29-year-old shark fisherman who lost his home in Hurricane Wilma. He's since relocated to Bedford.

Toni Oppliger, a 46-year-old power-lifting champ from Carrollton who's also the show's oldest contender. She otherwise teaches high school.

Bonnie Blanco, 25, of Arlington. She's a Marine sergeant and mother of two who's survived a tour of duty in Iraq.

As previously posted, Dallas native Gina "Crush" Carano, daughter of former Cowboys backup QB Glenn Carano, is one of the dozen Gladiators.

***Not that anybody would be too broken up by its cancellation. But CBS emphatically announces that its annual People Choice Awards will air as scheduled on Jan. 8th with or without the cooperation of nominees and striking writers.

"The People's Choice tradition on CBS will continue and we plan to introduce some new ideas in the process," the network says.