TV Bulletin Board (Dec. 3)
12/03/07 16:31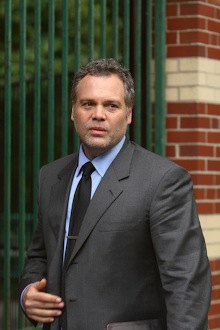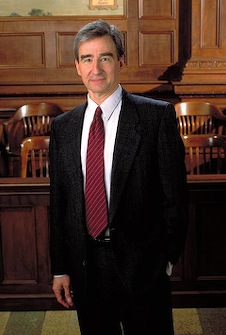 Law & Order doubleplay: Vincent D'Onofrio, Sam Waterston.
By ED BARK
NBC will be pulling
Law & Order: Criminal Intent
from sister cable network USA and pairing it on Wednesdays in early January with the flagship
Law & Order
.
Both moves are writers' strike related. Incumbent Wednesday night freshmen
Bionic Woman
and
Life
will have run out of new episodes by then.
Law & Order
, originally set to return for its 18th season on Sunday nights after football, instead will relaunch with a two-hour premiere on Jan. 2nd at 8 p.m. (central). This season's
Criminal Intent
cable episodes then will begin their "broadcast premieres" on the following Wednesday at 8 p.m., preceding
Law & Order
.
At least half-inoperative is NBC's previously announced midseason Sunday lineup of
Dateline NBC, Law & Order, Medium
and
Lipstick Jungle
. Still in place for now are
Dateline
and
Medium
. But as previously reported,
Lipstick Jungle
has been shifted to Thursdays at 9 p.m., where it will replace
ER
on Feb. 7th.
***
CBS also announced a series of midseason shuffles late Monday afternoon. Here are the highlights:
As predicted in these spaces,
Big Brother 9
has received a rush order and will premiere in February instead of next summer. CBS will deploy the cutthroat reality competition on Tuesdays, Wednesdays and Sundays, beginning Feb. 12th.
The Tuesday
BB
will replace
The Unit
at 8 p.m. Wednesday editions will be at 7 p.m., supplanting
Kid Nation
. And on Sundays,
BB
will stand in for the previously canceled
Viva Laughlin
at 7 p.m.
CBS also has announced the return of a limited second season run of
Jericho
, which will fill the failed first-year
Cane
's Tuesday, 9 p.m. slot on Feb. 12th.
The
Drew Carey
-hosted game show,
Power of 10
, will return on Wednesday, Jan. 2nd at 7 p.m. until
Big Brother 9
takes over on Feb. 13th.
On Mondays, new episodes of
The New Adventures of Old Christine
get the 8:30 p.m. slot (in place of
Rules of Engagement
), beginning Jan. 28th. Also on that date, at 7:30 p.m., CBS premieres the new sitcom
The Captain
, fronted by
Jeffrey Tambor
and
Raquel Welch
. It presents a so-called "wildly eclectic group of people whose lives are intertwined through the place they all call home, a fabled Hollywood apartment building, El Capitan." Shelved for now is
The Big Bang Theory
CBS also has re-scheduled its six-hour
Commanche Moon
miniseries, a prequel to Texas author
Larry McMurtry
's
Lonesome Dove
. Previously pitted against college football bowl games, it's now earmarked for Jan. 13th, 15th and 16th at 8 p.m. each night.
***
The first chapter of Sci-Fi Channel's six-hour
Tin Man
miniseries set a ratings record for the network Sunday night. It drew 6.3 million viewers nationally, bettering the 6.1 million who watched the first night of
Steven Spielberg
's
Taken
Dec. 3, 2002 on Sci Fi.
Tin Man
continues on Monday and Tuesday nights this week.