04/26/19 11:28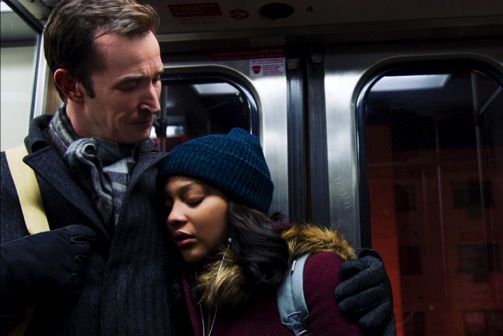 Noah Wyle & Aliyah Royale play father & daughter in
The Red Line
. CBS photo
Premiering:
Sunday, April 28th at 7 p.m. (central) on CBS
Starring:
Noah Wyle, Aliyah Royale, Emayatzy Corinealdi, Noel Fisher, Vinny Chhibber, Howard Charles, Michael Patrick Thornton, Elizabeth Laidlaw, Conor O'Farrell, Glynn Turman, Corey Reynolds
Produced by:
Ava DuVernay, Greg Berlanti, Sarah Schechter, Caitlin Parrish, Erica Weiss, Sunil Nayar, Kevin Hooks
By ED BARK
@unclebarkycom on Twitter
Still striving for atonement after past perceived sins of omission, CBS circles all the bases with
The Red Line
.
The eight-hour limited series, spread out over four Sundays in the heart of the May "sweeps" ratings period, bundles racism, LBGT activism, gender equality, police malfeasance and misogyny in both effective and over-wrought fashion. CBS certainly is trying hard -- sometimes too hard.
In fall 2017, the network took a critical beating for premiering six new series fronted by mostly white male characters. Men also were the driving forces behind the camera, prompting new entertainment president Kelly Kahl to promise a significant course correction on his watch. That in fact happened -- and it was more of a U-turn. CBS' half-dozen new series in fall 2018 starred either people of color or, in the case of the
Murphy Brown
reboot, the same woman (Candice Bergen) who made the title role famous a generation earlier.
The Chicago-set
Red Line
, created by Caitlin Parrish and Erica Weiss with Ava DuVernay (
Selma
) serving as a principal executive producer, still might be erring in the eyes of some by deploying a name brand white male in the top billed role.
Former
ER
star Noah Wyle, now wearing his middle age quite well, plays openly gay high school history teacher Daniel Calder. His African-American husband, Dr. Harrison Brennan (Corey Reynolds), is picking up milk at a convenience store after his nighttime ER shift when an armed African-American robber intrudes and immediately pistol-whips the clerk. Harrison pleads that "I have a daughter," which is enough to initially spare his life. He's trying to help the injured clerk when a young white police officer named Paul Evans (Noel Fisher) arrives seconds ahead of his partner and impulsively shoots Harrison fatally in the back -- twice.
Daniel and the couple's adopted 17-year-old African-American daughter (Aliyah Royale as Jira Calder-Brennan), are left shocked and shattered while also demanding that justice be served. Fast forward to "Six Months Later," with Evans and his true blue squad car partner, Victoria "Vic" Renna (Elizabeth Laidlaw), still on the force without any official charges or recriminations.
Red Line
also has a parallel story that soon meshes with the main event. Tia Young (Emayatzy Corinealdi) is a firebrand intent on running for a city council seat long occupied by fellow African-American Nathan Gordon (Glynn Turman), who oozes sexism and corruption. She doesn't want to add more police officers. She wants to re-train the ones already on duty.
Tia otherwise is married to Chicago Transit Authority Red Line driver Ethan Young (Howard Charles), who borders on being saintly. They have a pre-teen boy together, but Tia also is the birth mother of Jira, who's newly searching for her. "I want more family," she tells Daniel, who rebuffs her with, "It's my job to protect you, so I'm going to keep you away from the one person that didn't want you."
That's probably enough said in terms of
Red Line
's basic plot points. So let's get to some of the problems with how this tale is told.
For one, there's way too much intrusive mood music, with a companion abundance of pop vocals. These artificial additives have taken root at CBS' sister network, The CW, where young adult-driven melodramas long have held the balance of power. But the serious business of
Red Line
is ill-served by incessant reminders that what we're watching is supposed to be heart-rending or at the very least, poignant. Give it a rest.
Red Line
also has a penchant for being polemical or preachy. The old-time entrenched councilman is a particularly easy target in the #MeToo era. At a campaign debate, his haughty demeanor is branded "the specialty of powerful men. You just think you can get away with anything that you want."
Old Nathan is undeterred, later even using the term "witch hunt" to describe Tia's investigation of his past coverups. OK, got it.
Wyle's lead performance is solid, although more than a little weepy. "I want to smile more," he says in the later going (all eight episodes were made available for review), almost as if noting that he's been called on to sob with a frequency that can get a little grating.
Red Line
is a revelation, though, in terms of introducing Aliyah Royale to a national audience. Her portrayal of Jira is terrifically compelling and natural. The pain, the teen sarcasm, the resilience in the face of repeated roadblocks -- they're all there.
Noel Fisher, who's played Mickey Milkovich on Showtime's
Shameless
since the show's 2011 launch, is likewise first-rate as the young police officer who himself is a victim of circumstances. His brutish father, Gary (Conor O'Farrell), a retired old-line cop, has put his youngest son on a career path that he's never entirely embraced. To
Red Line
's credit, Paul Evans ends up being a character of considerable nuance whose upbringing has much to do with how he perceived a black man on that very ill-fated night.
Red Line
can be contrived in its zeal to be inclusive, with another key supporting character, Liam Bhatt (Vinny Chhibber), discriminated against because he's a gay Muslim.
So yes, CBS' demonstrable good intentions also can be overbearing in terms of fully effective and involving storytelling. ABC's under the radar
American Crime
series, which nonetheless had a three-season run, was comparatively superior in terms of addressing issues of race, gender, poverty and impoverished thought.
Red Line
force-feeds more than it should. It has some messages of true value while also failing to resonate to the degree it could have and should have.
GRADE:
B-minus
Email comments or questions to:
unclebarky@verizon.net