Sam Rockwell/Michelle Williams make no missteps in FX's Fosse/Verdon
04/08/19 14:07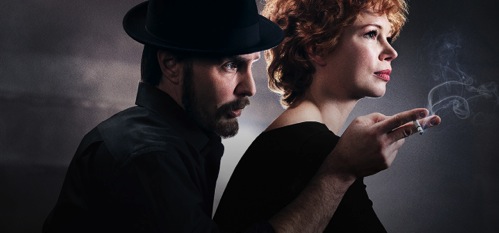 Sam Rockwell & Michelle Williams light up Fosse/Verdon. FX photo
Premiering:
Tuesday, April 9th at 9 p.m. (central) on FX
Starring:
Sam Rockwell, Michelle Williams, Paul Reiser, Norbert Leo Butz, Margaret Qualley, Aya Cash, Nate Corddry, Evan Handler, Susan Misner, Kelli Barrett, Bianca Marroquin, Blake Baumgartner
Produced by:
Thomas Kail, Steven Levenson, Joel Fields, Lin-Manuel Miranda, Nicole Fosse, Charlotte Stoudt, Tracey Scott Wilson, George Stelzner
By ED BARK
@uncleebarkycom on Twitter
From a storytelling standpoint, the back-and-forth choreography is not without stumbles.
Performance-wise, though, FX's eight-part
Fosse/Verdon
is never less than all that jazz. Sam Rockwell as dance maestro/taskmaster Bob Fosse and Michelle Williams in the role of dancer/mate/muse Gwen Verdon are exceptional embodiments of this peerless but problem-plagued partnership.
Rockwell, coming off an Oscar nomination as George W. Bush in
Vice
, makes that role seem like a mere trifle. His comb-over alone is something of a wonderment.
Williams, the least-noted member of
Dawson's Creek
's fab four, has gone on to accomplish more than her three co-stars combined with four Oscar nominations and what should be a certain Emmy win for this prolonged showcase of her talents.
Among Broadway's giants, Fosse has few if any peers. He won eight Tonys for his choreography and was nominated an additional three times. Verdon received best actress honors in three of the musicals they did together (
Damn Yankees, New Girl in Town, Redhead
) and was nominated in two others (
Sweet Charity, Chicago
).
But she was never seen on camera in Fosse's small but noteworthy collection of feature films. He won an Oscar for directing
Cabaret
and was nominated for his two other movies,
Lenny
and
All That Jazz
, in which Roy Scheider and Leland Palmer played approximations of Fosse and Verdon under the names Joe Gideon and Audrey Paris.
In increasingly visual times, and as time passes, this makes it lamentably easier for younger generations to be completely ignorant of their towering accomplishments on Broadway, which in reality have been seen by only a select few.
The self-destructive Fosse died in 1987 of a heart attack while Verdon expired in 2000 after a number of inconsequential film and TV roles in later life, including two appearances in
Walker, Texas Ranger
as a character named Maisie Whitman. Broadway legend Angela Lansbury became better known later in life for her many years as the star of CBS'
Murder, She Wrote
. In contrast, Verdon never had anything close to a defining TV vehicle.
Fosse/Verdon
, of which the first five episodes were made available for review, revisits their gloriously turbulent times in a way that seems too piecemeal at first. Its flashbacks are frequent and at times all too brief, with white-on-black subheads -- "19 Years Left, 16 Years Left," etc. -- spelling out Fosse's remaining life span.
Stick figure approximations of Shirley MacLaine and Liza Minnelli are fleetingly seen in the early going. MacLaine starred in Fosse's film flop version of
Sweet Charity
while Minnelli won an Oscar for his acclaimed
Cabaret
. But neither registers in
Fosse/Verdon
.
Fosse's first wife, Joan McCracken (Susan Misner), is more of an in-and-out presence during the womanizing Fosse's courtship of Verdon. She suffers from some sort of illness, with one of the between-flashback subheads reading "2,369 days before Joan McCracken's death." OK, but otherwise what's the point here?
Fosse/Verdon
also can have a
Mad Men
vibe, with pals Paddy Chayefsky (Norbert Leo Butz) and Neil Simon (Nate Corddry) coming to the fore in an Episode 5 that pretty much stays in place at Fosse's Southhampton, NY beach house. The rainy weekend gathering also includes impressionable young daughter Nicole Fosse (Blake Baumgartner), Verdon with her new boyfriend, and Fosse's latest conquest, Ann Reinking (Margaret Qualley).
Verdon is still cajoling Fosse to choreograph a Broadway version of
Chicago
, with her in the lead while she can still dance. But he wants to direct Dustin Hoffman in the film
Lenny
, about controversial groundbreaking comedian Lenny Bruce. He's otherwise recently removed from the Payne Whitney Psychiatric Clinic, where a previously suicidal Fosse checked out after six days instead of staying for the prescribed one month. He's supposed to be taking extended time off, but as Verdon tells Reinking, "The best thing for Bob Fosse to do is work."
Williams is particularly superb in this episode, whether singing a touching torch song in memory of her late close friend, Joan Simon (Aya Cash), or vowing to do
Chicago
with or without her husband, from whom she separated but never divorced. Verdon is something of a cunning enabler/disabler, knowing that both of their careers depend on collaboration. Her concern for his well-being is genuine, but also self-serving. If he doesn't work, neither does she -- at least not in a gainful way. And without her eye in the editing room,
Cabaret
might well have been a disaster instead of a triumph. The FX title is perfect in that sense. They really are one entity, although his constant cheating can be a considerable irritant.
Fosse/Verdon
at times is chilling in its depiction of choreographer as sexual predator. Fosse cavalierly continues an affair in Germany while pleading with Verdon by phone to fly to his aid on the set of
Cabaret
. And while prepping
Pippen
for the Broadway stage, Fosse's physical advances are rejected by a beautiful blonde cast member with a lead role. On the following day he humiliates her at rehearsal before telling another actress to step in. She later capitulates, knowing full well what it will take to get her role back. (
All That Jazz
also depicts this particular seduction/rejection.)
Rockwell is fully invested in a role that challenges him well beyond the semi-caricature he played in
Vice
. Self-assured and brusque when calling the shots, he's otherwise an emotional adolescent, or sometimes an infant.
As with
Feud: Bette and Joan
, FX is pulling back the curtain on a powerful but inherently flawed show business partnership. Except that Gwen Verdon and Bob Fosse endured, prospered, battled and used one another for a far longer period.
Fosse/Verdon
can be flawed in some of the ways it pieces together their lives and times. But any faults are not with the stars.
GRADE:
A-minus
Email comments or questions to:
unclebarky@verizon.net