01/28/19 10:35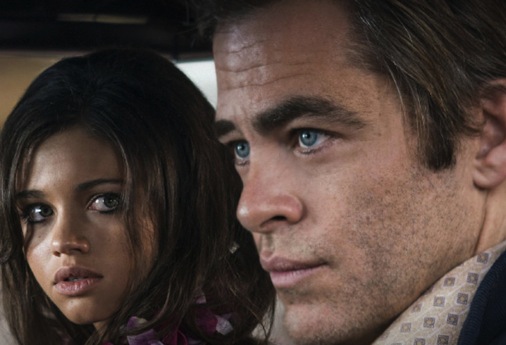 Chris Pine, India Eisley drive the story in I Am the Night. TNT photo
Premiering:
Monday, Jan. 28th at 8 p.m. (central) on TNT
Starring:
Chris Pine, India Eisley, Jefferson Mays, Connie Nielsen, Yul Vazquez, Leland Orser, Theo Marshall, Justin Cornwell, Dylan Smith, Jay Paulson, Golden Brooks
Produced by:
Patty Jenkins, Chris Pine, Carl Franklin, Michael Sugar, Sam Sheridan
By ED BARK
@unclebarkycom on Twitter
Chris Pine's character regularly takes a beating, as does the overall believability of TNT's ambitious but convoluted
I Am the Night
.
Very loosely "inspired by the life" of the late Fauna Hodel, the six-part limited series officially premieres on Monday, Jan. 28th after Episode 1 was sneak-previewed following TNT's Sunday night telecast of the Screen Actors Guild awards. Hodel's autobiographical book carried the elongated title of
One Day She'll Darken: The Mysterious Beginnings of Fauna Hodel
.
For Pine and executive producer/director Patty Jenkins, it's a re-teaming after
Wonder Woman
, for which they also collaborated on a recently filmed sequel in which she again directs and he plays jaunty Steve Trevor. TNT made all six hours of
I Am the Night
available for review.
Pine, who's also played Capt. James T. Kirk in three latter day
Star Trek
feature films, is cast as battered and beaten down Jay Singletary, a haunted Korean War vet who drinks and drugs between whatever freelance assignments he can get from
The Los Angeles Examiner
.
As the story very slowly unfolds, viewers also will learn of his past with
The Los Angeles Times
, where hotshot reporter Jay ran afoul of powerful forces, including a corrupt cop shop. The story is mostly set in 1965, where Jenkins and company strive for a film noir-esque
L.A. Confidential
vibe that mostly escapes them. There also are a few brief flashbacks.
The fault is not with the two principal stars. Both Pine and the comparatively unknown India Eisley (
The Secret Life of the American Teenager
) are fully invested. Eisley plays the teenage Fauna, who's been raised in Nevada as the "mixed race" Patty by embittered adoptive mother Jimmie Lee (a somewhat overwrought performance by Golden Brooks). "You was given to me in a goddamned bathroom" by a white woman, Jimmie Lee tells her.
But Patty soon learns of her real name, and impulsively catches a bus to Los Angeles in hopes of meeting the man she thinks is her grandfather. He's creepy Dr. George Hodel (Jefferson Mays), a gynecologist to the rich who turns out to have some very sinister sidelines. The real-life and still unsolved Black Dahlia murder case eventually factors prominently into this careening story. And in this particular area,
I Am the Night
takes more leaps than a pole-vaulter in training. It also doesn't help that the intended mood music is pat and generic throughout, save for when a couple of Rolling Stones tunes are worked in toward the later stages.
It takes a while for Jay and Fauna to intertwine. In the meantime, he's boozing, snorting coke, haunted by demons from his killing days in Korea and roughed up by a police sergeant named Billis (Yul Vazquez), whose mug is bisected by a nasty scar. Luckily for Jay, the LAPD also deploys an old war buddy named Ohls (Jay Paulson), whose life he saved. But Ohls has grown weary of rescuing Jay from both himself and the brutish Billis. So this is the last time, ya hear?
Fauna keeps snooping around, and it's rather amazing how easily she gains entrance into the palatial homes of both George Hodel and his haughty, arty ex-wife, Corinna (Connie Nielsen). At the same time, Jay keeps badgering a hard-drinking newspaper editor named Peter Sullivan (Leland Orser). He's convinced that George is either the actual Black Dahlia killer, or a copycat.
Pine's efforts to tame his demons and Fauna's search for her birth mother are compelling at times, but
I Am the Night
just can't seem to keep things humming or plausibly close the deal. Their travails and small triumphs take the two of them both to Hawaii and through the Watts riots. Still, the sought after scope and tension remain elusive.
Those who get through the first several hours of this meandering mystery/morality play may well be invested to see it all the way through. It's not terrible in the end. Nor is it spellbinding or particularly memorable. Pine gets lots to chew on while the makeup department is taxed to keep up with his various cuts and bruises. In that respect he's served a full plate. Too bad that too much of this is either overcooked or under-prepared.
GRADE:
C+
Email comments or questions to:
unclebarky@verizon.net