The CW's Roswell, New Mexico crash lands along with its extraterrestrials
01/14/19 16:25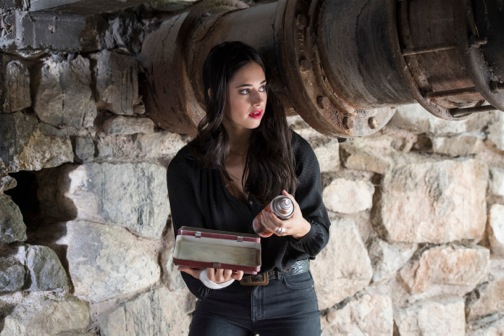 Liz Ortecho (Jeanine Mason) investigates the ABCs of UFOs. CW photo
PREMIERING
: Tuesday, Jan. 15th at 8 p.m. (central) on The CW
STARRING
: Jeanine Mason, Nathan Parsons, Lily Cowles, Michael Vlamis, Tyler Blackburn, Michael Trevino, Heather Hemmens, Karan Oberoi, Riley Voelkel
PRODUCED BY
: Carina Adly MacKenzie, Kevin Kelly Brown, Justin Falvey, Darryl Frank, Lawrence Bender, Julie Plec
By ED BARK
@unclebarkycom on Twitter
The overriding -- or more to the point, the only -- reason to visit Roswell, New Mexico is its UFO phooey. Once is more than enough.
In television and feature films, though, the operative word is "revisit." We're never all that far from another look at the ramifications of that allegedly covered up 1947 spacecraft crash. This time it's The CW's
Roswell, New Mexico
, a reboot of the now defunct WB network's 1999
Roswell
. Cue the alien angst, this time with three twentysomething extraterrestrials in human form but ever fearful they'll be detected and then dissected. In the earlier WB go-around, also adapted from the Melinda Metz books, they were all high schoolers.
The central character in both treatments is an earthling. Liz Parker is now Latina Liz Ortecho (Jeanine Mason), a biomedical researcher and Roswell pariah who returns home on the 10th anniversary of her sister, Rosa's, death. Following her obligatory opening narrative, Liz instantly resents being stopped by a cop because of her race. She reams out deputy Max Evans (Nathan Parsons), threatening a lawsuit before recognizing him as a former high school classmate who's had a nearly lifelong crush on her. Max also later informs Liz that she was detained because her car had a busted light.
Max is one of three aliens who emerged from hidden birth pods and then "just assimilated and swore to keep our secret." His married sister, Isobel Evans-Bracken (Lily Cowles), and unruly, embittered Michael Guerin (Michael Vlamis) are the other visitors from another planet.
Liz's father, Arturo (Carlos Compean), who came to the U.S. illegally, still works at one of Roswell's main tourist traps, the Crash Down cafe. The Ortechos have been ostracized ever since an allegedly drunk and drug-addled Rosa drove into a tree and killed both herself and two teen passengers. Liz fled Roswell and eventually became a biomedical researcher in Denver.
"We were on to something special," she tells Max. "But of course we lost funding because someone needs money for a wall." (The series takes a few other partisan political shots during the three episodes made available for review.)
As in the 1999 version, Liz is waitressing when shots ring out and she's very seriously wounded. But Max has super healing powers and uses them to save her. She's then told that what she thought was blood is merely spilled ketchup. Unfortunately for Max's secret identity, his rainbow-colored palm print remains on Liz's torso. By the end of Episode 1, Max is already copping to his alien origins while swearing her to secrecy. This does not set well with Isobel and Michael. Her husband, Noah (Karan Oberoi), still doesn't know he's an extraterrestrial while gay Michael is having an escalating affair with Alex Manes (Tyler Blackburn), an impaired Iraqi war veteran whose father, Jesse (Trevor St. John), is a bare-knuckled master sergeant determined to hunt down any and all aliens.
Liz keeps threatening to leave town again, but of course, doesn't. Max keeps pleading with her to love him, but she suspects him of duplicity in terms of how her sister really died. Grating, soft-serve pop tunes, an essential CW ingredient, break in on a moment's notice. Sample lyric: "You can't hide from what you are." Gawd, please stop.
The town also is rife with bigots who want to purge Roswell of all its aliens, principally those with brown skins. Max keeps coming to the rescue, but at the risk of further exposing himself. And so on.
The original
Roswell
made it through three seasons, 61 episodes and a happy ending for Liz.
Roswell, New Mexico
can go in any directions it chooses -- and already has to a degree. But as with CW's ongoing and likewise newly Latina-centered
Charmed
do-over, the story already seems played out in times when re-exploiting name brands unfortunately has become an end in itself.
GRADE:
C
Email comments or questions to:
unclebarky@verizon.net