06/26/07 11:50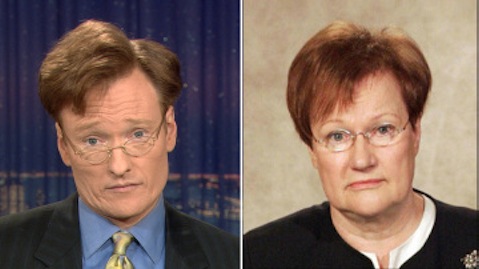 By ED BARK
No one does a funnier late night monologue than Conan O'Brien. As a public service, here's a recent sampling:
"The members of the
Spice Girls
announced that they are getting back together for a reunion as a farewell gift to their fans. Then they promised to break up again as a gift for everyone else."
"It's been reported that
Tom Cruise
is eligible to perform weddings because he's reached the highest level of Scientology. Cruise says, 'It's been a long, difficult climb, but I've finally reached the summit of Mount Crazy.' "
"
Hillary Clinton
has a new campaign ad that spoofs
The Sopranos
finale. In the ad she orders carrot sticks at a diner and then switches the jukebox to a
Celine Dion
song. Hillary is calling the ad 'a lot of fun' and
Bill
is calling it 'a chilling window into my personal hell.' "
"A new report suggests that television journalists are biased because 90% of the money they donate to politicians goes to Democrats. Apparently it's true because earlier today,
Larry King
sent a huge check to President
Woodrow Wilson
."
"Wal-Mart is getting an advance shipment of the final
Harry Potter
book and they've asked their employees not to reveal the ending because they don't want to spoil it for fans. Wal-Mart says the first thing they did was fire the greeter who kept saying, 'Welcome to Wal-Mart. Harry's dead.' "
"Earlier today, Yankee
Jason Giambi
told Major League Baseball he will testify about his own steroid use but he will not mention the names of any other players. Instead Giambi says he's going to talk about someone whose name is
Harry Honds
.' "
***
Former
American Idol
finalist
Chris Daughtry
will be on a bill with Nickelback and Puddle of Mud at an Aug. 19 concert in Frisco's Pizza Hut Park, 9200 World Cup Way. Ticket sales start on June 30th at 10 a.m. via all Ticketmaster outlets.
***
NBC has tabbed
Dancing with the Stars
runnerup
Joey Fatone
to host
The Singing Bee
, a new competition reality series premiering July 10th opposite Fox's telecast of baseball's All-Star Game. The Peacock had planned to premiere the series this fall, but struck back after Fox announced a similar show,
Don't Forget the Lyrics!
, which as of now is set to premiere on July 11th.
Wayne Brady
hosts that one.