03/31/09 12:19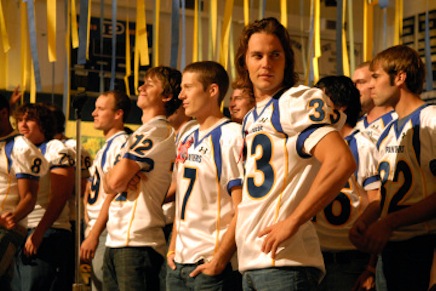 By ED BARK
DirecTV has agreed to carry the ball again, giving NBC's Austin-made
Friday Night Lights
new life all the way through the 2010-11 season.
As detailed in
The Hollywood Reporter
, DirecTV has agreed to underwrite two more 13-episode seasons of the acclaimed high school football drama. Under the arrangement, the pay satellite service will premiere
FNL
in the fall, with NBC then repurposing the show in mid-season.
FNL
's third season is nearing an end on NBC, with the last episode set for Friday, April 10th (8 p.m. central). The series is averaging an unimposing 4 million viewers on the slump-shouldered Peacock, ranking 142nd in the season-to-date prime-time Nielsen ratings. But that's almost a match for Fox's heavily hyped new
Dollhouse
series, which is drawing just 4.2 million viewers opposite
FNL
.
***
Oh, please. Fox is touting its new
More to Love
reality series, premiering sometime later this year, as an "inspirational" matchmaker starring plus-sized romance-seekers.
"This is a dating show that sends the right message about embracing and loving yourself no matter your shape or size," executive producer Mike Fleiss says in Fox publicity materials. "When you're comfortable with your own body, you can really allow yourself to be open to the possibility of finding the right person to love."
Perhaps Fleiss is trying to atone for his many previous reality sins, most notably 2003's sub-loathsome
Are You Hot? -- The Search for America's Sexiest People
on ABC. That's the one in which judge Lorenzo Lamas brandished a laser pointer that he used to pick apart contestants' body flaws.
Fleiss' other credits include
World's Wildest Police Shootouts
and
The Real Gilligan's Island
.
***
Fox has announced its "sizzling" summer lineup, made up of mostly returnees plus a new scripted drama titled
Mental
.
Premiering May 22nd,
Mental
follows the mind games of Los Angeles psychiatrist Jack Gallagher (Chris Vance), whose "effective, yet highly unorthodox treatment methods" of course clash with his conservative boss, with whom -- of course -- he shares a romantic past.
Fox also is bringing back its legitimately hottest summer series,
So You Think You Can Dance
, for a fifth season that starts on May 21st. Here are the three other returnees:
Are You Smarter Than a 5th Grader
resumes on July 3rd.
Don't Forget the Lyrics!
will be back on May 22nd.
Hell's Kitchen
begins frying more contestants on July 21st.