02/26/19 15:07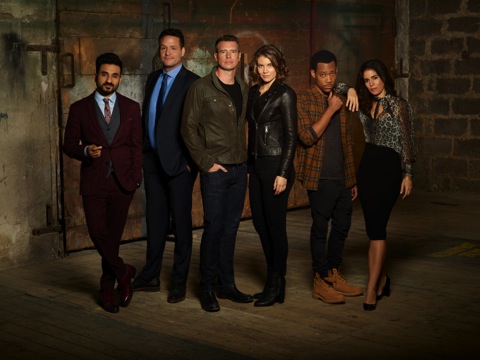 Happy hour. And Whiskey Cavalier is worth a shot. ABC photo
Premiering:
Wednesday, Feb. 27th at 9 p.m. (central) on ABC
Starring:
Scott Foley, Lauren Cohan, Ana Ortiz, Tyler James Williams, Vir Das, Josh Hopkins
Produced by:
Bill Lawrence, David Hemingson, Jeff Ingold, Peter Atencio
By ED BARK
@unclebarkycom on Twitter
ABC clearly is very high on
Whiskey Cavalier
, even if Jimmy Kimmel wasn't during his chainsaw massacre of the show's very title during the network's "upfront" presentation to advertisers last May.
"It took a while, but we finally came up with a title worse than
Cougar Town
. . . Should we cancel it now?" Kimmel wondered.
But you can't judge a book by its cover. And in this case, the same goes for a TV series. So after a big promotional push and a post-Oscars "sneak preview" (pushed back in D-FW in deference to WFAA8's late night newscast), here comes an amusing, easily digested spy caper series from, among others, the executive producer of --
Cougar Town
. That would be the accomplished Bill Lawrence, whose credits also include
Scrubs
and Spin City.
Wednesday's official premiere is the same episode that aired late Sunday night. So you didn't miss anything if bedtime got the upper hand.
Starring Scott Foley (fresh from ABC's long-running Scandal) and Lauren Cohan (recently departed from AMC's
The Walking Dead
after a contract dispute),
Whiskey Cavalier
's international derring-do is almost beside the point. But stick around for the banter, a wealth of well-choreographed action scenes and some picturesque international locales. And to repeat -- never mind the missions. Unlike NBC's new and deadly serious
The Enemy Within
, you likely won't find this one a chore or headache to watch.
Foley plays emotionally vulnerable FBI agent Will Chase (code name Whiskey Cavalier), who's first seen in Paris, sobbing to a pop tune that reminds him of his emotionally wrenching betrayal by a girlfriend named Gigi. But a new "target" is quickly in play, which means that Will soon gets to be in a Chase scene. A toxin that "could wipe out half of Europe" must be delivered out of the wrong hands.
The target is wisecracking Edgar Standish (Tyler James Williams all grown up from UPN's
Everybody Hates Chris
), who's destined to become a series regular by the end of the first hour. It turns out that Will and hard-edged CIA agent Frankie "I don't do emotional attachments" Trowbridge (Cohan) are both intent on collaring Standish. He has the upper hand, but then she does. Before he does. There's ample gunplay to go along with the oneupmanship, plus a couple of somewhat grisly extractions -- of a bullet via use of a long, sharp knife and a tooth with a pair of pliers. But your stomach will survive.
Next Wednesday's episode, subtitled "The Czech List," finds the team fully formed. Besides Will, Frankie (code name Fiery Tribune) and Standish, it's composed of FBI profiler Susan Sampson (Ana Ortiz), CIA agent Jai Datta (Vir Das) and FBI agent Ray Prince (Josh Hopkins), who's also been Will's best friend until . . .
The one-liners are plentiful, well-delivered and for the most part do their jobs. As when Will tells Frankie, "I'm sorry. I couldn't hear you over the wall of mistrust you've built around yourself." Or when Frankie tells Will, "I don't know every assassin. I liked her hair, though."
Besides Paris, the international locales include Prague, Vienna, Nuremberg and Moscow. Whatever the actual extent of on-location filming, none of these venues looks like a pedestrian back lot.
Foley, Cohan and the supporting cast members need not unduly worry whether their adventures are all that plausible. What matters is whether this show is fun to watch regardless. Which it is. "You better give me a cute scar," Cohan's Frankie twits Foley's Will before he plays doctor near the end of Episode 1.
Whiskey Cavalier
as a whole comes much closer to leaving its own little beauty mark.
GRADE:
B
Email comments or questions to:
unclebarky@verizon.net