What in God's name was TBS thinking with Miracle Workers?
02/11/19 14:11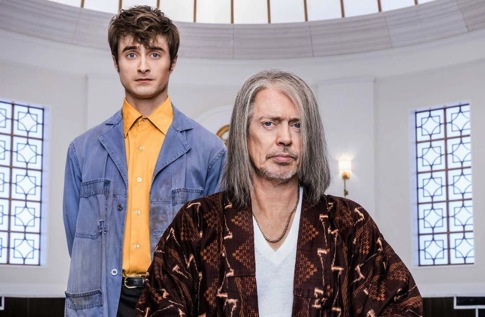 God's on the right, in the form of Steve Buscemi. TBS photo
Premiering:
Tuesday, Feb. 12th at 9:30 p.m. (central) on TBS
Starring:
Steve Buscemi, Daniel Radcliffe, Geraldine Viswanathan, Karan Sonj, Jon Bass, Sasha Compere, Lolly Adefope
Produced by:
Lorne Michaels, Andrew Singer, Simon Rich, Daniel Radcliffe, Steve Buscemi
By ED BARK
@unclebarkycom on Twitter
As sitcom Gods go, Steve Buscemi's may be the most irreverent ever.
He replaced the originally cast Owen Wilson in TBS' seven-episode
Miracle Workers
, which is adapted from the novel
What in God's Name
but also can be seen as TBS' answer to NBC's
The Good Place
. Not that there's any halo effect.
Wilson perhaps balked at playing a lazily dimwitted and vindictive God who in Episode 2 orders the demolition of Bill Maher's penis before spending much of Episode 3 battling the runs. I hope these aren't considered spoilers.
TBS made all seven episodes available for review. It wasn't quite hell on Earth watching them. But with Buscemi and Daniel Radcliff of Harry Potter fame in the cast, and Lorne Michaels producing, more was expected than occasional amusements amid a multitude of misfires. Sophomoric humor doesn't violate any of the Ten Commandments per se. Even so, squandering talent at the very least is a no-no.
Radcliffe plays the well-meaning Craig, who's been toiling alone in Heaven, Inc's Department of Unanswered Prayers. Those prayers deemed "impossible" are no longer applicable. Craig instead devotes himself to menial, achievable tasks such as helping an earthling find her keys. But an impatient God yearns to call the whole thing off, vowing to blow up his creation rather than deal with all of Earth's imperfections and neediness.
Well, we can't have that -- at least not without a fight. So new arrival Eliza (the series' best performance by Geraldine Viswanathan) makes a bet with God after lobbying for a position in the Department of Unanswered Prayers. He agrees to give Earth a two-week reprieve while Eliza and Craig strive to answer an impossible prayer. In one of the series' handful of good lines, they immediately discard a request to "Please make everyone just chill out on Twitter."
Eliza and Craig instead strive to make dweebish earthlings Sam (Jon Bass) and Laura (Sasha Compere) fall in love before God figuratively pushes the button. The rest of
Miracle Workers
is spent on this main objective and a series of weekly subplots -- including Maher's seriously endangered penis. (He's seen only in archival clips.)
God's overall obsession otherwise is the development of a Lazy Susans restaurant that's just too much trouble to explain further. Buscemi gives all of this a game go, but his God is basically an unfunny misfit idiot with an unchecked mean streak. TBS perhaps hopes to reap a little extra publicity via denunciations from pulpits or
The 700 Club
. Hey preachers, it's probably not worth the bother.
The
Miracle Workers
cast is rounded out by God's two put-upon assistants, Sanjay and Rosie (Karan Soni, Lolly Adefope). Producer Michaels also has provided guest shots for a pair of former
Saturday Night Live
inevitabilities, Tim Meadows and Chris Parnell.
It all ends predictably -- and flatly. A grin or two may intrude amid all the bountiful bad taste. It's certainly not enough, though, to redeem a series that false starts and then keeps stumbling. Full of grace it's not.
GRADE:
C-minus
Email comments or questions to:
unclebarky@verizon.net