10/28/11 14:14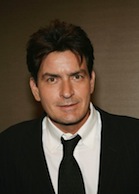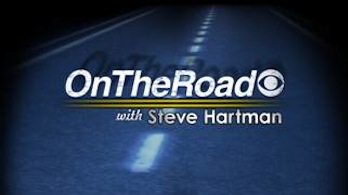 By ED BARK
Charlie Sheen's sitcom career is back on track with the announcement Thursday that FX has ordered 10 episodes of
Anger Management
for a summer 2012 premiere.
The network also said that it will order 90 more episodes if the ratings are good. It cited the "unique syndication model" TBS cable is utilizing for its lengthy pickups of sitcoms produced by Tyler Perry and Ice Cube.
The TV version of
Anger Management
is "losely based" on the 2003 feature film, which starred Adam Sandler and Jack Nicholson. Sheen, who has a "significant ownership stake" in the FX series, would play the Nicholson role of a therapist who perhaps needs more counseling than his patients.
The principal show-runner for
Anger Management
is Bruce Helford, whose previous TV comedies include
The Drew Carey Show
and
George Lopez
.
Sheen's former hit comedy, CBS'
Two and a Half Men
, continues to do well with Ashton Kutcher as the oft-volatile actor's replacement. But ratings for the show have come back to earth in recent weeks after a blockbuster start.
***
The CBS Evening News with Scott Pelley
is reviving the
On the Road
segments that were a trademark of the late Charles Kuralt. Its new peripatetic traveler will be Steve Hartman, best known for his distinctive
Everybody Has a Story
and
Assignment America
features for CBS News.
Hartman's first
On the Road
piece will air during the Friday. Oct. 28th edition of the
Evening News
. He'll be visiting Dauphin, PA for a story tied to the 125th anniversary of The Statue of Liberty.
***
AMC's most popular scripted series,
The Walking Dead
, has been renewed for a third season while still in the early stages of Season 2. And Showtime has given its ongoing new
Homeland
series the go-ahead for a Season 2.
10/14/11 15:57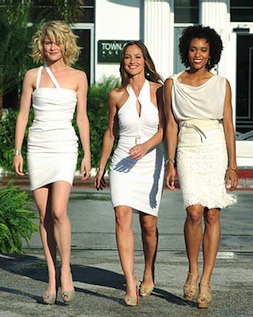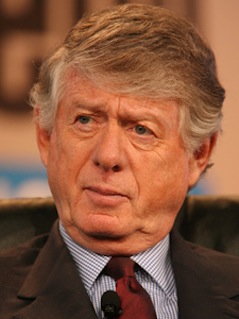 By ED BARK
Two ABC icons have new digs, although
Charlie's Angels
' relocation will be six feet under.
The network is canceling its
Angels
reboot after four episodes, although the remaining few completed hours will be burned off until the network officially announces a replacement for the Thursday 7 p.m. (central) slot. Dismal ratings doomed the new version after just four airings. The original
Charlie's Angels
ran from 1976-'81 on ABC.
Meanwhile, former ABC News mainstay Ted Koppel will be joining NBC's new
Rock Center with Brian Williams
, where he'll be a special correspondent.
"My goal has been to make
Rock Center
the Cooperstown of our craft," Williams said in a publicity release. "Ted is a consensus Hall of Famer . . . and it's an enormous honor to work with this giant and former competitor."
Koppel, 71, anchored ABC's
Nightline
for a quarter-century before leaving the landmark program in November 2005. He then reported a series of documentaries for The Discovery Channel before the two parted ways in 2008.
Nightline
since has been prospering in the late night ratings with a notably lighter format in which gossipy entertainment and lifestyle stories have taken on an increasingly visible role.
Rock Center
, scheduled to premiere on Halloween night in place of NBC's canceled
The Playboy Club
, also has former CBS News anchor-reporter Harry Smith as one of its regular correspondents.
10/06/11 09:22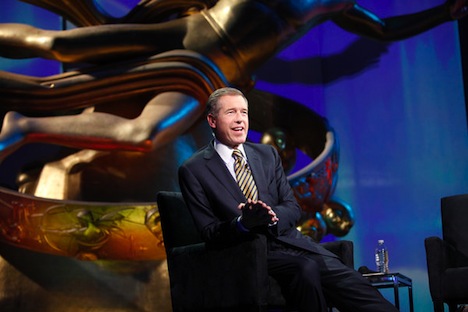 Brian Williams soon will be the rock star of Rock Center. NBC photo
By ED BARK
And the loser is --
The Playboy Club
-- which wins the annual race to become the fall season's first cancellation.
NBC deleted its retro bunnies after just three episodes on Monday nights at 9 p.m. (central).
Playboy Club
's replacement, beginning on Halloween night, will be
Rock Center with Brian Williams
, a news magazine fronted by the
Nightly News
anchor and staffed by correspondents Harry Smith, Kate Snow, Meredith Vieira and others.
Williams is positioning
Rock Center
(the title derives from NBC's "30 Rock" NYC HQ) as the next
60 Minutes
in terms of overall nutritional value.
"The format will be good, real hard journalism -- and then some," he says in a publicity release. "We intend to be the new home of quality journalism on a weekly basis, and on the web at all times."
The change can't come soon enough for NBC affiliates and owned-and-operated stations, including Fort Worth-based KXAS-TV. Late night local newscasts were getting skimpier lead-ins than the costuming on
Playboy Club
. Whatever the ratings for
Rock Center
, a news magazine audience will be more compatible with the local news that follows. And the change will be made just in time for the November "sweeps" ratings period.
In the interim, NBC has repeats of its new
Prime Suspect
series filling Monday's
Playboy Club
slot.
The
Playboy Club
sacking ended up edging NBC's Thursday cancellation of its Wednesday comedy
Free Agents
and The CW's decision to drop
H8R
. Four episodes and out for
Free Agents
while
H8r
lasted for three.
Free Agents
deserved better;
H8R
didn't, even from a full-blown guilty pleasure standpoint.
***
On the plus side for the Peacock, it has given the new comedies
Whitney
and
Up All Night
full-season pickups.
Also getting full-season votes of confidence from their networks are Fox's
New Girl
and CBS'
2 Broke Girls
.
***
Kelsey Grammer is basking in a new world of cable network largesse. His new Starz drama series
Boss
, in which he plays an iron-fisted Chicago mayor, isn't premiering until Friday, Oct. 21st. But the network already has announced a second season pickup.
Grammer's most recent comedy series,
Hank
, was dumped by ABC after just a handful of episodes that aired in fall 2009. Grammer recently told TV writers that he had asked for a mercy killing after realizing the show was awful. As were its ratings.