TV Bulletin Board (Thurs., Oct. 6) -- catching up on additions/subtractions (updated)
10/06/11 09:22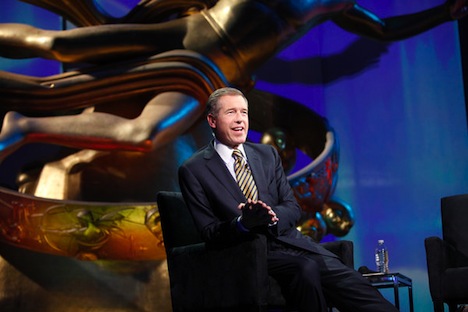 Brian Williams soon will be the rock star of Rock Center. NBC photo
By ED BARK
And the loser is --
The Playboy Club
-- which wins the annual race to become the fall season's first cancellation.
NBC deleted its retro bunnies after just three episodes on Monday nights at 9 p.m. (central).
Playboy Club
's replacement, beginning on Halloween night, will be
Rock Center with Brian Williams
, a news magazine fronted by the
Nightly News
anchor and staffed by correspondents Harry Smith, Kate Snow, Meredith Vieira and others.
Williams is positioning
Rock Center
(the title derives from NBC's "30 Rock" NYC HQ) as the next
60 Minutes
in terms of overall nutritional value.
"The format will be good, real hard journalism -- and then some," he says in a publicity release. "We intend to be the new home of quality journalism on a weekly basis, and on the web at all times."
The change can't come soon enough for NBC affiliates and owned-and-operated stations, including Fort Worth-based KXAS-TV. Late night local newscasts were getting skimpier lead-ins than the costuming on
Playboy Club
. Whatever the ratings for
Rock Center
, a news magazine audience will be more compatible with the local news that follows. And the change will be made just in time for the November "sweeps" ratings period.
In the interim, NBC has repeats of its new
Prime Suspect
series filling Monday's
Playboy Club
slot.
The
Playboy Club
sacking ended up edging NBC's Thursday cancellation of its Wednesday comedy
Free Agents
and The CW's decision to drop
H8R
. Four episodes and out for
Free Agents
while
H8r
lasted for three.
Free Agents
deserved better;
H8R
didn't, even from a full-blown guilty pleasure standpoint.
***
On the plus side for the Peacock, it has given the new comedies
Whitney
and
Up All Night
full-season pickups.
Also getting full-season votes of confidence from their networks are Fox's
New Girl
and CBS'
2 Broke Girls
.
***
Kelsey Grammer is basking in a new world of cable network largesse. His new Starz drama series
Boss
, in which he plays an iron-fisted Chicago mayor, isn't premiering until Friday, Oct. 21st. But the network already has announced a second season pickup.
Grammer's most recent comedy series,
Hank
, was dumped by ABC after just a handful of episodes that aired in fall 2009. Grammer recently told TV writers that he had asked for a mercy killing after realizing the show was awful. As were its ratings.