NBC's The Enemy Within doesn't have much of a grip
02/25/19 10:57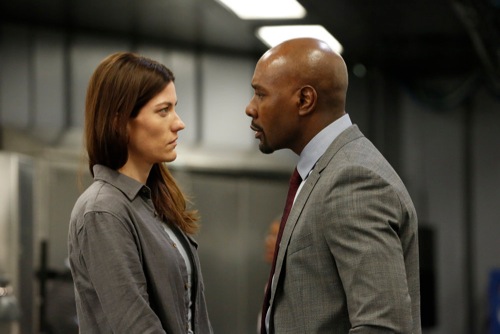 Jennifer Carpenter, Morris Chestnut square off in
The Enemy Within
. NBC photo
Premiering:
Monday, Feb. 25th at 9 p.m. (central) on NBC
Starring:
Jennifer Carpenter, Morris Chestnut, Raza Jaffrey, Kelli Garner, Noah Mills, Cassandra Freeman, Coral Pena
Produced by:
Ken Woodruff, Matt Corman, Chris Ord, Charles Beeson
By ED BARK
@unclebarkycom on Twitter
It's been a while, but NBC once made a nice prime-time living by mixing espionage and one-liners in quippy/trippy series such as
I Spy, The Man From U.N.C.L.E.
and
The Girl From U.N.C.L.E.
.
Now it's all a very serious business. While competitor ABC goes tongue in cheek with the new
Whiskey Cavalier
, NBC gets all taut and urgent again with
The Enemy Within
. Starring Jennifer Carpenter of
Dexter
fame, it's in league with two ongoing Peacock predecessors,
The Blacklist
and
Blindspot
. Everything's a crisis and there's no time to spare. But who can be trusted?
Getting a nice lift-off following the latest season premiere of
The Voice
on Monday, Feb. 25th,
Enemy Within
begins with a dire statistic. According to FBI estimates, at least 100,000 foreign spies are active in the U.S. today -- "more than anytime in history." Were
Enemy Within
to apprehend every last one of them, it would shatter all records for longest running drama series. Hell, even 100 captures nets about five seasons.
Carpenter plays Erica Shepherd, a former top level CIA operative who was branded "The Benedict Arnold of our generation" after being tried and convicted of consorting with terrorists who murdered four fellow U.S. operatives, including the fiancee of no-nonsense FBI supervising special agent Will Keaton (Morris Chestnut).
Housed in a maximum security prison cell and allowed no visitors for the past three years, Erica has been out of sight, out of mind until a multi-pronged terrorist attack kills 14 people, three of them CIA agents. A super-terrorist named Tal, with whom Erica is very familiar, is believed to be the mastermind. So Will very reluctantly comes calling on her, promising "extra showers" and an hour of music a week for starters if she'll help track Tal. Well, how can a girl resist?
The first two hours of
Enemy Within
were made available for review. Not to spoil anything, but Tal not surprisingly remains at large (and still unseen) at the end of them. His voice is heard once, though, conspiring with a mole within the FBI. This is what's known as a twist, although it's become a shopworn one. But whatever the level of Erica's cooperation, "there's no redemption for people like you," Chestnut snarls. "You're a traitor and a killer."
Erica also has a daughter she hasn't seen since being arrested. And she'll do just about anything to somehow bring about a reconciliation. That's supposed to be another one of the hooks in
Enemy Within
. And it has its moments.
The second hour made available for review begins with four DEA patrol boat agents being shot to death by Cartagena, Colombia drug-runners. One of their go-betweens is a crooked U.S. agent. So Erica intercedes with his wife, cajoling her to "stop lying to yourself. You know what your husband is." And so on.
Carpenter and Chestnut solidly play their roles, but
Enemy Within
doesn't crackle the way
The Blacklist
did in early episodes. There's nothing particularly special going on here, and it's hard to muster the enthusiasm to say much more than that. So I won't.
GRADE:
C+
Email comments or questions to:
unclebarky@verizon.net