Waylaying guilt trips in Fox's Proven Innocent
02/14/19 09:32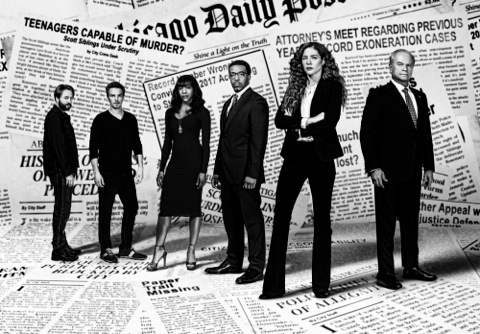 What condition's my conviction in? Kelsey Grammer (far right) doesn't much like the answers in Proven Innocent. Fox photo
Premiering:
Friday, Feb. 15th at 8 p.m. (central) on Fox
Starring:
Rachelle Lefevre, Kelsey Grammer, Russell Hornsby, Vincent Kartheiser, Nikki M. James, Riley Smith, Clare O'Connor
Produced by:
Danny Strong, David Elliot, Stacy Greenberg, Adam Armus
By ED BARK
@unclebarkycom on Twitter
The benign egotism of Frasier Crane made Kelsey Grammer a TV superstar -- and he's lately confirming that a reboot is getting closer to being a reality.
But in the interim, a trio of quickly canceled sitcom followups --
Back to You, Hank, Partners
-- has prompted Grammer to strut into the dramatic roles of Chicago-based villains. Starz's
Boss
, which ran for two seasons, starred Grammer as corrupt Windy City mayor Tom Kane. Fox's
Proven Innocent
, which premieres on Friday, Feb. 15th, finds Grammer embracing the role of vainglorious Chicago prosecutor Gore Bellows, who had the milder first name of Cole before Brian d'Arcy James was replaced in the role.
The boo-hiss parameters are set up early in the first episode. Madeline "Maddy" Scott (Rachelle Lefevre), exonerated after spending 10 years in prison for a murder she didn't commit, is now intent on disgracing the man who sent her there -- which of course is Gore.
"Are you sure you want to poke the bear?" asks her partner, Ezekiel "Easy" Boudreau (Russell Hornsby).
"No. I want to rip his heart out," Maddy retorts. By the way, Gore has just announced his candidacy for state attorney general.
Maddy and Easy lately run the Injustice Defense Group with help from communications director Violet Price (Nikki M. James) and investigator Bodie Quick (Vincent Kartheiser from
Mad Men
). Violet also hosts a true-crime podcast,
Until Proven Innocent
, that documents the firm's adventures.
Fox made the first and fourth hours available for review. In each of them, Maddy and company go to bat for a convicted murderer that the ruthless Gore happily put on ice. The first is a black woman accused of killing her child. And in Episode 4, Maddy represents a Muslim woman who's been behind bars for depositing her newly born baby in a trash can. "The man is a monster," says Client No. 1. OK, got it.
Proven Innocent
's overriding story line also has Maddy searching for the real murderer of her high school friend, Rosemary Lynch. Maddy's troubled brother, Levi (Riley Smith), likewise was implicated and later exonerated. He's been coaching a youth soccer team, but his sister's return to headline-making is not working out well for him.
Grammer plays his part with an affixed sneer, save for when Maddy is vanquishing him in court with evidence that was ignored or suppressed at the time. This doesn't deter his non-stop plotting and scheming. Looking for a favor in Episode 4, Gore butters up the "greatest legal journalist of our time," who's obviously a mockup of notorious Nancy Grace. "Keep kissing. My ass loves it," she replies a few beats before the married Gore is smooching her.
Kartheiser, who's taking what he can get these days, has grown a beard for the role of the rather zany Bodie. The role is somewhat fleshed out in Episode 4, but it's still not much to speak of.
Lefevre, who co-starred in CBS' summertime
Under the Dome
series, has some crackle as the head protagonist in
Proven Innocent
. Away from the courtroom, her personal life, both in flashbacks and present-day, is slowly peeled away. This includes a somewhat unexpected scene at the close of Episode 4.
Proven Innocent
also can be transparently heavy-handed in its political leanings. This is particularly evident when a white male pro-life judge strong-arms the featured trial in Episode 4. Then, when things don't go as planned, he snaps at the "little lady" opposing Maddy.
The series also risks making something of a hapless Hamilton Burger of Gore. Those of a certain vintage will remember him as the prosecutor who always lost to Perry Mason in the long-running TV series. Ditto so far In
Proven Innocent
, where wronged women are on a #MeToo roll while Gore the Neanderthal keeps getting his just desserts.
GRADE:
C+
Email comments or questions to:
unclebarky@verizon.net