The curriculum is Killing 101 in Syfy's hard knocks Deadly Class
01/16/19 10:10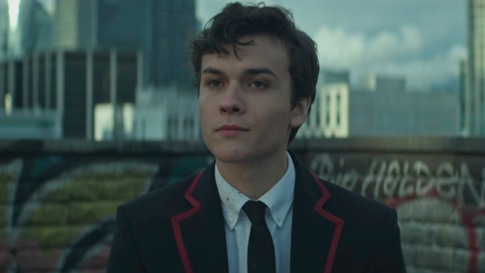 Benjamin Wadsworth plays newest assassin trainee in
Deadly Class
. Syfy photo
PREMIERING:
Wednesday, Jan. 16th at 9 p.m. (central) on Syfy
STARRING:
Benjamin Wadsworth, Benedict Wong, Lana Condor, Maria Gabriela de Faria, Luke Tennie, Liam James, Michel Duval, Henry Rollins, Taylor Hickson, Siobhan Williams, Sean Depner, Jack Gillett, Isaiah Lehtinen, Ryan Robbins
PRODUCED BY:
Rick Remender, Anthony Russo, Joe Russo, Miles Orion Feldsott, Mick Betancourt, Lee Toland Krieger, Mike Larocca, Adam Targum
By ED BARK
@unclebarkycom on Twitter
You'll make the grade in Syfy's
Deadly Class
if you're getting consistently high marks in AP Black Arts, Hand-to-Hand Combat, Poison Lab and Dart Workshop. That is, if you can survive your classmates or the companion regimen of King Dominion's Master Lin.
Adapted from the same-named graphic novels by Rick Remender and initially set in 1987, this is a jarringly visceral drama series from a network that's gotten progressively grimmer and also better at doing so.
Deadly Class
also misfires at times with this tale of disaffected, dysfunctional young outlaws being trained to lethally rage against the machine. But the first four episodes also vividly embed themselves with their blend of fierce action, relatable characters, striking visuals and a pounding, dynamic soundtrack that offsets some of the ham-fisted spoken words.
King Dominion's newest recruit, Marcus Lopez Arguello (Benjamin Wadsworth), has been severely emotionally impaired ever since witnessing his parents being collateral damage when a psychopath jumped from a tall building and landed on them. Their deaths are shown in anime, which
Deadly Class
deploys at the rate of one sequence per episode.
Marcus blames President Reagan, who "cut funds to the local nut houses" and left hundreds of mentally ill Americans untreated. "I'm gonna kill the guy who ruined my life. I'm gonna assassinate Ronald Reagan," he vows while King Dominion's peasant faction (dubbed "Rats") reacts as though he's out of his mind.
This also is a series in which Syfy joins the FX basic cable club by deploying a few un-bleeped f-bombs. And where a framed gun "belonging to Lee Harvey Oswald" is proudly displayed in a King's Dominion hallway. If you're already put off, that's understandable. But
Deadly Class
also earns some merit badges after its initial shock waves wear off.
Marcus, who was sent to an abusive boys' home after his parents' deaths, is a tough guy rhetoric-wise and a softie beneath the veneer. He despises bullies above all, and there are plenty of them within the walls of King's Dominion, including white supremacist and mob cliques. Not that the new kid on this chopping block is physically equipped to deter their brutality. Marcus' face is soon marred by bruises and cuts, although he had it no better on the outside. "It's a cold, cruel world, and you can't survive without a family," he reasons. "Even if they are liars and murderers."
The imposing Master Lin (Benedict Wong) founded King's Dominion after his great-grandfather came to the U.S. in pursuit of the American dream and instead encountered a "nightmare of indentured servitude and abuse." Now in
Dexter mode
, he's dedicated to the "self-liberation of oppressed people," which includes killing those who need killing. But there's nothing idealistic about many of his cold-blooded recruits.
Among them are Marcus' principal nemesis, Chico (Michel Duval), who has the cowed Maria (Maria Gabriela de Faria) under his thumb. There's also thuggish Viktor (Sean Depner), son of a Nazi assassin and slave to the dictates of his penis. Another classmate, Willie (Luke Tennie), is all swagger but secretly a pacifist. Benjamin's "sponsor", Saya (Lana Condor), is a martial arts whiz who knows better than to cross Master Lin when it comes to handling her new recruit.
Marcus' fellow Rats include live wire Billy (Liam James) and goth girl Petra (Taylor Hickson). Another ridiculed outcast, roly poly Shabnam (Isaiah Lehtinen), might as well be a Rat. But his privileged family background gives him a leg up in this cutthroat caste system.
In Episode 4, which is something of a "Breakfast Club" sendup, Marcus and some of his tormentors are all given detention for their roles in disrupting a head-banging school dance. A bit of bonding goes on during the course of what otherwise is an action-loaded hour spiked by two invading ninjas hired to bring Saya back home.
Deadly Class
isn't about to make perfect sense, or for the most part, even imperfect sense. Its intentions, however, take on a certain nobility in due time. What you'll see and hear is often eye- and ear-popping. Beyond that, we have an ambitiously mounted morality tale of lost youth whose base desires and motivations are orchestrated by a
Fagin
of the '80s. However it all comes out, it's quite a bit more than Syfy fo fum.
GRADE:
B
Email comments or questions to:
unclebarky@verizon.net